UNLV Foundation hosts Clinton, honors donors
October 18, 2014 - 10:38 pm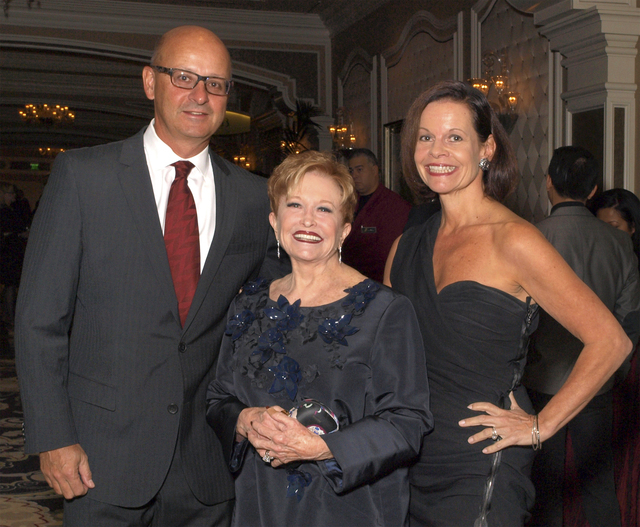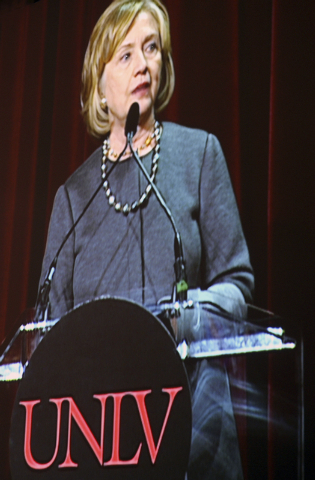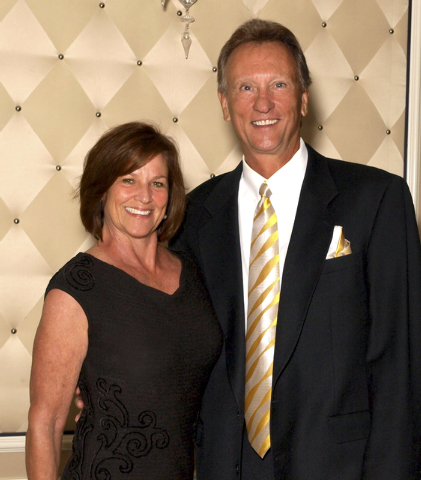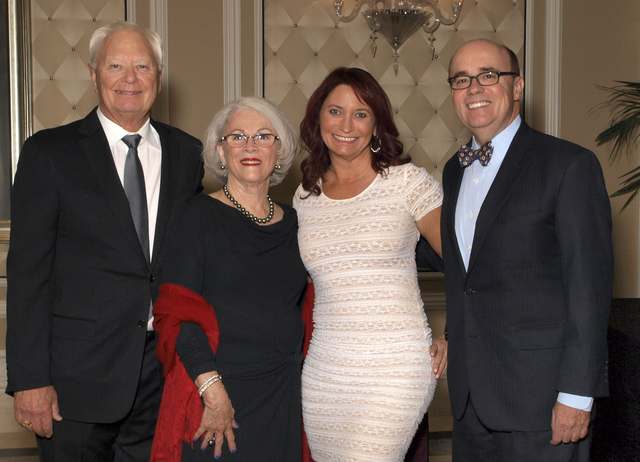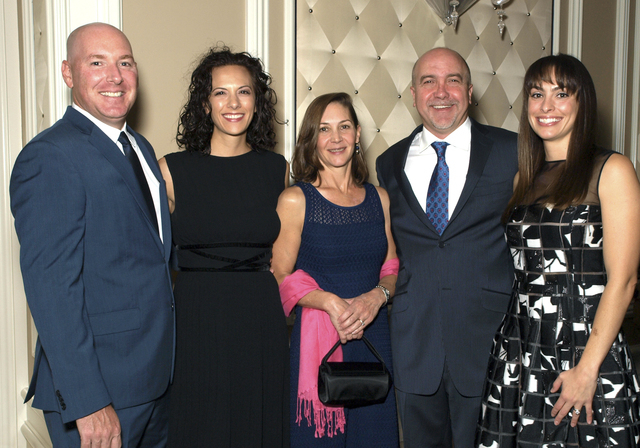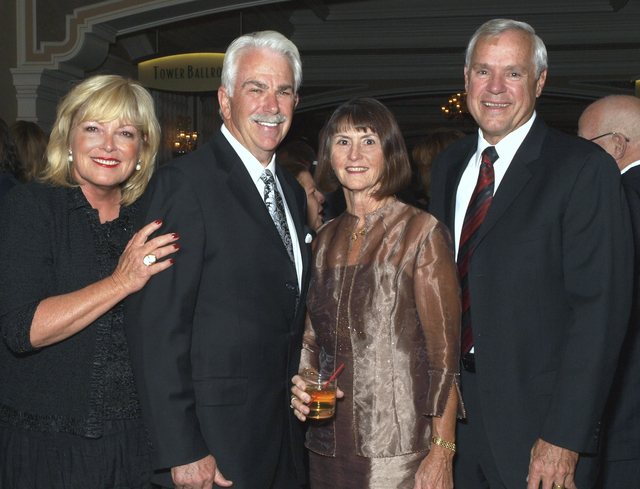 Former Secretary of State Hillary Clinton gave the keynote address during the 20th annual UNLV Foundation dinner Monday at Bellagio.
More than 900 guests attended the event honoring monetary supporters and inducting two new members to the Palladium Society: Las Vegas Sands Chairman Sheldon G. Adelson and the late Kitty Rodman.
The society's membership is made up of people whose cumulative donations to the university are more than $1 million.
UNLV President Don Snyder welcomed Sheldon and Miriam Adelson to the stage to thank them for their $7 million gift to UNLV's hotel college. In memoriam, Rodman was honored for her estate gift of $12.9 million for special education programs.
Clinton's speech stressed the importance of education for all, and then she joined Brian Greenspun, a good friend of the Clinton family, for an informal question and answer period.
She said one of the most difficult decisions she participated in was the operation to go after Osama bin Laden in Pakistan, where the terrorist leader was killed.
In response to another question, she said the most interesting and admired man she met was former South African President Nelson Mandela.
The evening began with two cocktail receptions where UNLV President Don Snyder and Dee Snyder and Vice President of University Advancement William Boldt and Genene Boldt welcomed Nancy Houssels, Joyce Mack, Mel Wolzinger, Diana Bennett, Ted and Maria Quirk, Tamara and Jay Kornmayer, Nicole and Perry Rogers, Carolyn Sparks, Rob Roy, Staci and Randy Garcia, Michael J. Brown, Jeri Crawford, Scott Menke, Jody Ghanem, Wendy and Richard Plaster, and Lovee and Bob Arum.
The UNLV Brass Ensemble welcomed guests into the dining room where Michael Yackira, chairman of the UNLV Foundation board of trustees, introduced Don Snyder, who spoke about the university embarking on its long-range initiative.
UNLV student Jeremy Klewicki, a music major from New York, entertained on the drums, and the UNLV Student Jazz Trio played during dinner.
More guests in attendance were U.S. Sen. Harry Reid and Landra Reid, former U.S. Sen. Richard Bryan and Bonnie Bryan, former Gov. Bob Miller and Sandy Miller, Secretary of State Ross Miller and Leslie Miller, District Attorney Steve Wolfson and Jackie Glass, and university Chancellor Dan Klaich and Denise Klaich.
Other attendees included Carol and Michael Harter, Neal Smatresk, Lori Tuntland, BeBe Adams, Rose McKinney-James, Judi Steele, Bruce Spotleson, Julie Murray, Brian Burton, Suzanne Rogers, Cheryl Purdue, Nancy Strouse, Danielle and Colin Smeeton, Susan Smeeton, Kari Uyehara, Shannon Toucett, Beth Barbre and John Mangan, Sara Denton, Melissa and Clark Warren, and the Hae Un Lee family.
The UNLV dinner raised more than $350,000 from donors and the evening concluded with a pledge drive of $235,000 for students.