Used book, record stores a popular way to get cash, lighten load
April 17, 2010 - 11:00 pm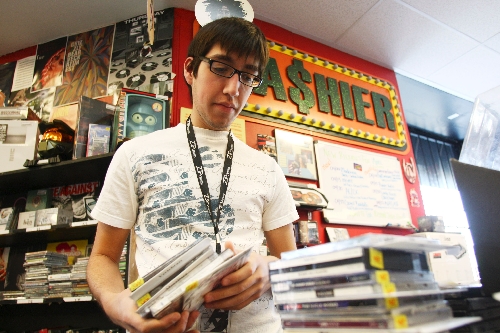 Chalk it up to the twin imperatives of an ongoing recession and the inherent human desire to score a deal.
Used book and record stores — places that, in good times, are the haunts mostly of hard-core biblio- and audiophiles — are seeing increased traffic from shoppers seeking to save a few bucks on written and recorded entertainment.
And, at the other side of the buy-sell equation, they're seeing more and more cash-strapped customers who are hoping to earn a few bucks by selling off some of the books or CDs they already own.
"The irony is that, as economic times are more uncertain, it seems like the better my business gets," says Michael Clark, owner of Michael's Books and CDs, 3430 E. Tropicana Ave., which sells used books, CDs and DVDs.
Opting for used books and music over new can help consumers shave a few bucks off of their entertainment budgets. Take Joshua Raoul Brody of San Francisco, who was browsing the stacks at Amber Unicorn Books, 2101 S. Decatur Blvd., during a recent visit to Las Vegas.
Brody says he regularly browses used book shops, mostly in search of out-of-print books and other deals. But, he says, buying used books also is a way to avoid the "oppressive" prices being charged for new books these days.
Meanwhile, Amber Unicorn customer Emilee Prescia of Las Vegas says she finds used book shops to be a great way to save money on materials she uses to home-school her children.
Clark says he began to notice an increase in both sales and customer traffic at his store just more than a year ago. According to Clark, sales at his store are up about 20 percent over 2008.
"In fact, we had the best March we've ever had," he says. "It seems to me like we used to sell about 800 items a month, and we're (now) selling about 1,000, and I think the last month it must have been 1,100."
Myrna Donato, who, with her husband, Lou, owns Amber Unicorn Books, says she has seen increased traffic there not only from book purchasers, but among people who have stopped in to sell or trade books they already own.
"People are hurting, and they just need money to make the mortgage or put food on the table or gas in the car," she says. "It's kind of sad."
In addition, financial problems have forced many Southern Nevadans to simplify their lifestyles, Donato says. "They've lost their homes and they're having to downsize and can't afford a storage unit for their books, and we've had a lot of people come in who are moving out of the state or out of the country."
"I see a lot of people trying to get rid of books," agrees Linda Piediscalzi, owner of Dead Poet Books, 937 S. Rainbow Blvd. "They've lost their homes, and you hear heartbreaking stories."
The same money-saving imperative holds true for recorded entertainment.
"I've got one woman who came in looking for DVDs, and she told me she had been over at Wal-Mart and they're like $15," says Clark, who sells used CDs and DVDs at his shop, typically at prices ranging from $2 to $5 apiece.
"I did have the movie she was looking for and she bought the movie and two books for what it would cost her to buy the DVD (alone)."
Brian Faber, general manager of Zia Record Exchange, with stores at 4503 W. Sahara Ave. and 4225 S. Eastern Ave., says he has noticed a steady increase in customers. However, Faber attributes that mostly to Southern Nevadans becoming more familiar with the used records concept since Zia came to town five years ago.
"It's not something I could point to, 'at this date we saw more people or sold a lot more stuff,' " he says. " 'Used' has just been such a big part of our culture … and I think as people learned more about it they were more inclined to embrace it than in the past."
Even in good economic times, used book and record stores are challenging businesses to run. In fact, while Piediscalzi has noticed a slight increase in casual traffic at her store lately, she says demand for pricier collectible used books has dropped.
"I think people are just afraid to spend money of any kind," she says. "I see a little upswing now, but I think it's still very fragile."
On the upside, Piediscalzi says, demand for inexpensive popular books — for instance, "people buying a paperback to read at lunch" — is fine.
Still, potential book unloaders should understand that Grandpa's science fiction collection or Grandma's collection of Harlequin romances probably won't be enough to pave the way to a cushy retirement.
First, used book and record stores typically work on cash-and-trade business models. That means the reader will receive only some of the agreed-upon payment for a used book or record in cash and the rest in store credit.
Donato, for example, says she may give a seller one-quarter of a used hardcover book's cover price in trade and credit. That book then will go onto the shop's shelves for resale for — in the case of most fiction, for example — one-half of its cover price. And, Donato says, if the store does choose to make an offer on used paperbacks, it'll typically be for 10 to 25 cents apiece.
In addition, not all books are created equal. In offering a price to a prospective seller, a used book dealer will gauge not only the merits of the volume itself — for instance, its condition, whether it has its original dust jacket, whether it's a first edition — but its potential for resale.
That is, of course, the goal of any used bookseller: earning enough on books' resale to pay business expenses and, ideally, make a profit along the way.
Obviously, books that aren't run-of-the-mill volumes will merit higher purchase prices to their original owners. "I mean, a couple of weeks ago, I paid 80 bucks for one book because it was a valuable book," Donato says.
What book was it? She laughs. "I'd rather not say," she answers, "but it is an expensive book."
And sleepers certainly do exist. "I had a Las Vegas Valley Water District 1972 history of water use in the Las Vegas Valley, and I sold that for about 125 bucks," Clark says.
Similarly, Donato recalls purchasing a collection of old science fiction books from a woman whose husband had died. But, she says, "after we started pricing them, we realized, oh my God, they were going for a lot more. So we called her to say: 'Know what? We owe you more money.'
"She was flabbergasted we did that. She said, 'You didn't have to do that.' But we said, 'Yeah, we have to look at ourselves in the mirror.' "
Some prospective book unloaders inevitably do leave the shop disappointed. And, in this economy, that can be as wrenching for the dealer as it is for the seller.
Sometimes, after hearing a customer talk about a layoff, foreclosure or other financial setback, "I feel like Simon Legree when I tell them it's not going to be much, or I can't buy them," Piediscalzi says. "The look on their face (is), 'What am I going to do?' "
Contact reporter John Przybys at jprzybys@ reviewjournal.com or 702-383-0280.