2016 UNLV graduates optimistic about the future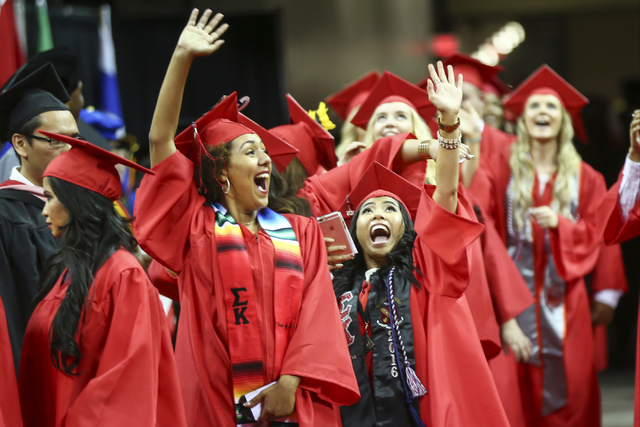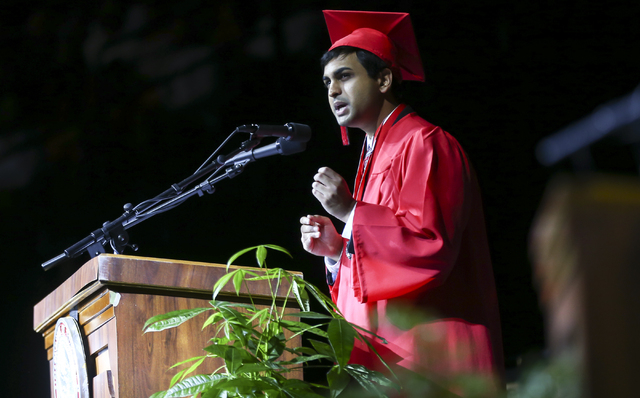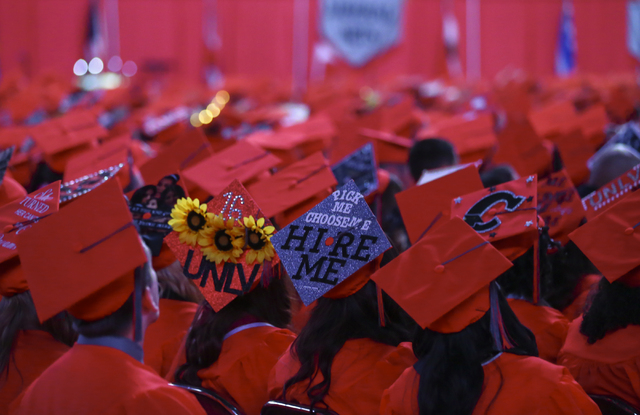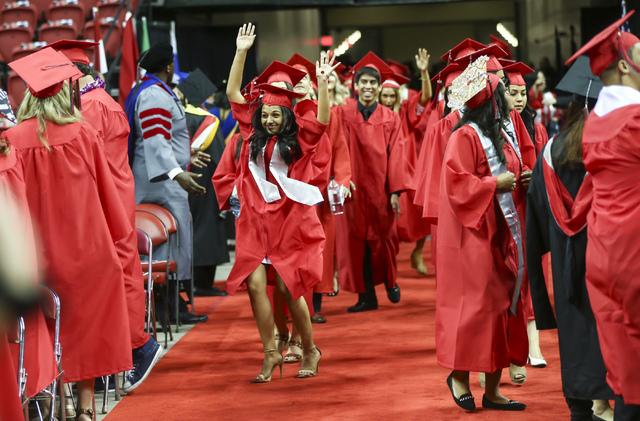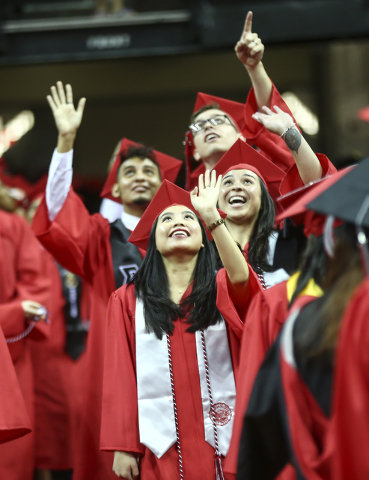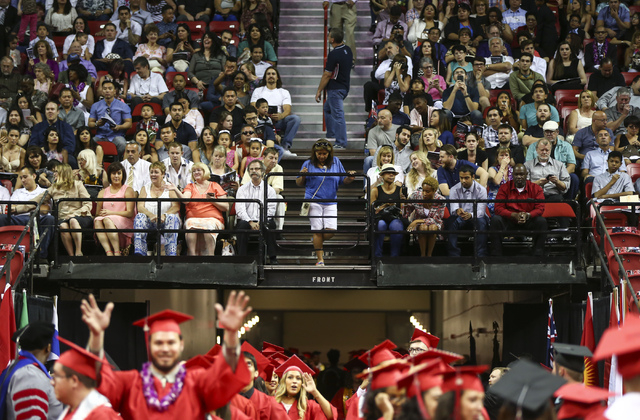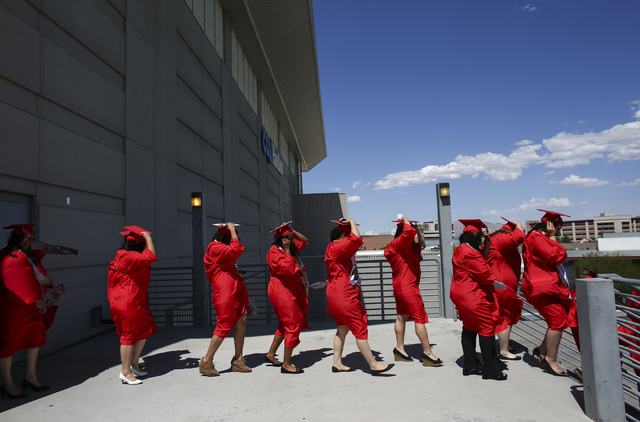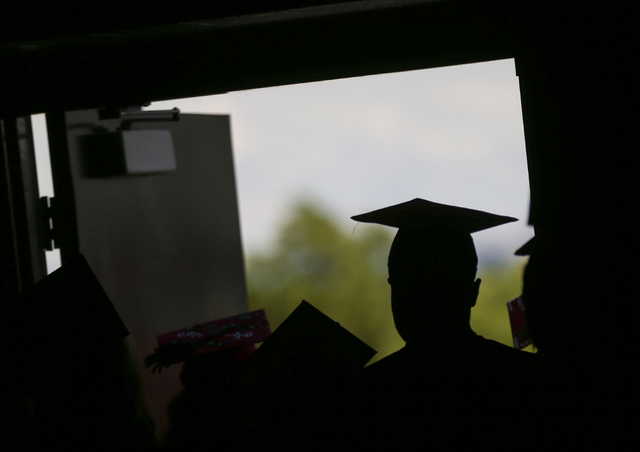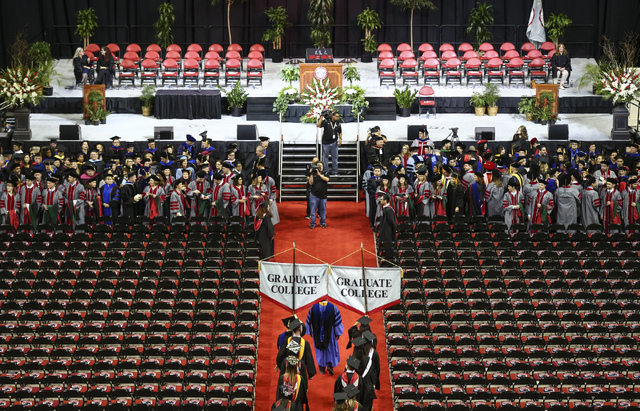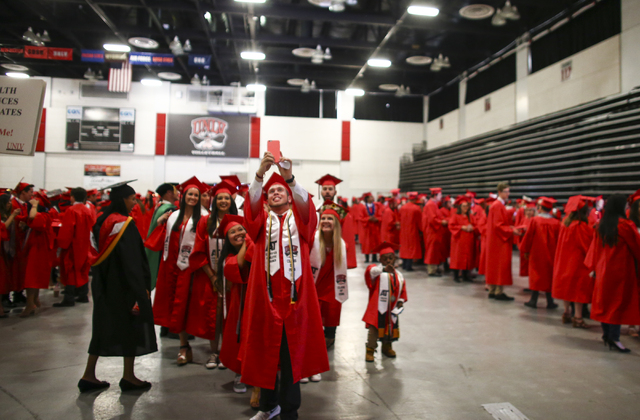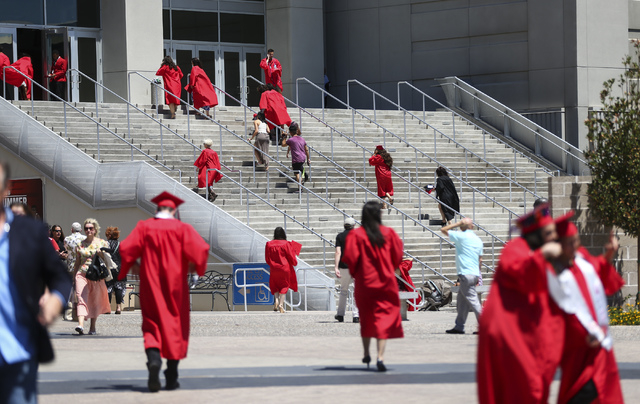 "Challenging, invigorating and inspiring" is how Sara Beth Brooks, a 2016 graduate of the University of Nevada, Las Vegas, describes her time spent at the university.
"The university has been an amazing place for me to get my education," Brooks said. "Not only with regard to classroom learning, which is necessary to get a degree, but with hands-on, extracurricular activities as well."
Brooks, regarded as one of the top intercollegiate policy debaters in the nation, is one of more than 2,700 students who officially became UNLV graduates during spring commencement ceremonies Friday and Saturday at the Thomas & Mack Center. She received a B.A. in communication studies Saturday afternoon.
Brooks was named as one of the spring 2016 outstanding graduates — a UNLV commencement tradition that honors a few exceptional students who embody the academic, research and community impact of the graduating class.
"It's an honor," said Las Vegan Alex Lopez, who also was named an outstanding graduate.
"I'm very grateful for this support, particularly the support I received from the Lee Business School," said Lopez, 27, who received a B.S. in finance. "For the last three years of my education, they put me into a really good position to develop skills and network with the Las Vegas community."
Lopez, a U.S. Marine, served as the chief economist for UNLV's student-led Rebel Investment Group, was a lead team member for a global student research challenge, coordinated the Lee Business School's Medallion Program and interned for the UFC.
The Class of 2016 hails from 42 states and 53 countries, but approximately 84 percent are Nevada residents. The oldest graduate is 72, and the youngest is 18. Since 1964, UNLV has awarded more than 120,000 degrees.
Joseph Dagher, a 21-year-old Las Vegas resident, put his graduation in perspective this way: "The future is bright."
Dagher, who graduated with a political science degree, will attend UNLV's Boyd School of Law in the fall.
"It's an exciting day to be a UNLV Rebel and an exciting day to be at UNLV," he said. "I feel ready and confident about the quality of education that I have received here."
Dagher received his degree during the 2 p.m. commencement ceremony, where his fellow classmate, Daniel Hasan Waqar, addressed the Class of 2016.
Waqar, a native of Las Vegas and a Muslim, said it was because of UNLV that he was able to study abroad in Israel, the only country in the world with a Jewish majority.
"The seeming contradiction in my background is only possible here at UNLV," Waquar told the gathered graduates.
"In a world that questions and isolates different ethnicities and different cultures, at UNLV, instead, we embrace them," he said. "If we as graduates learned anything from our time here, it's that our strength as individuals is fortified by our membership in this collective mosaic of life."
Contact Natalie Bruzda at nbruzda@reviewjournal.com or 702-477-3897. Find @NatalieBruzda on Twitter.