$41 million effort to merge Nevada university and college services delayed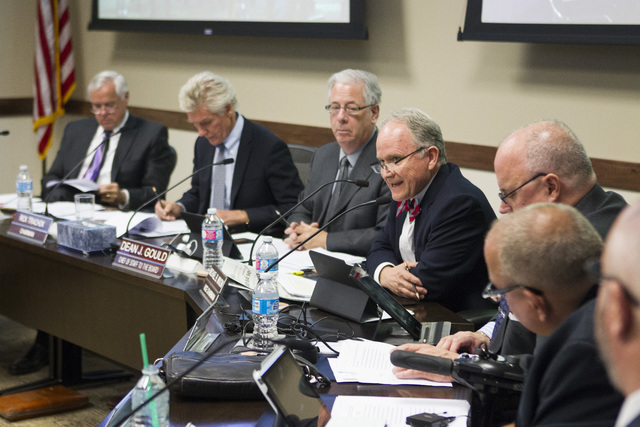 Calling her project "resource-constrained," Renee Yackira told Nevada's higher education board Thursday that a $41 million effort to merge operations at the state's colleges will take at least another year to finish.
"We … had an unachievable project plan, timeline and underestimate on resources that were necessary," said Yackira, who began leading the massive undertaking last year as a special advisor to retired Chancellor Dan Klaich.
Dubbed Integrate 2, the project has been billed as a way to transform how the Nevada System of Higher Education handles money and manages employees, streamlining everything from the way it pays contractors to how it hires college presidents.
Higher education officials have long sought ways to consolidate operations across Nevada's seven public colleges and universities, and Integrate 2 — partly funded using student fees — plays a key role in their strategy.
But plans to unify the system contradict efforts from a group of state lawmakers intent on restructuring NSHE — some are even drafting legislation to dismantle the agency. The expensive, delayed Integrate 2 project drew criticism Thursday from at least one state lawmaker who called it a waste of money that "may or may not be" functional if the system is split.
"We should be spending that money on students and programs," Assemblyman Stephen Silberkraus said. "I'd much rather spend that money to put good, hardworking Nevadans to work."
Integrate 2 is the second phase of a project meant to unify services across the state's higher education system. The first — which created a new student management network across the state's seven colleges — was implemented in late 2011. NSHE has funneled student fees into the program since 2010: University students pay $3 per credit hour, while state and community college students pay $1.50 per credit hour.
A staunch supporter of the initiative, Regent Michael Wixom said delays were necessary to "stop the train from going on the wrong tracks" and called the effort an "enormously complex project." Yackira said the program was scheduled for completion in October, but now that deadline will be extended by a year.
With higher education poised to be a top priority during next year's legislative session, lawmakers and community leaders will be paying special attention to NSHE and its governance structure.
A group of legislators have vowed to propose a system overhaul, which they say is necessary to better serve the state's 100,000 college students and prepare them for the Nevada's developing technology industry. Their efforts have intensified in the wake of Klaich's May retirement, which followed a Las Vegas Review-Journal investigation raising concerns that the ex-chancellor misled lawmakers about a new system for distributing money among NSHE schools.
Some board members have protested those efforts because they believe the state's colleges will suffer if they are divided.
At Thursday's meeting, Wixom lauded Integrate 2 as a "transparency project" and said the program would make it easier to share NSHE information with the Legislature and the governor's office.
"I find it a little ironic, over the last few months, that there's been a lot of noise about the system not being transparent," Wixom said. "There is no effort at transparency greater than this."
Contact Ana Ley at aley@reviewjournal.com or 702-224-5512. Find her on Twitter @la__ley.