CCSD bars Trustee Kevin Child from making school visits
December 5, 2016 - 6:27 pm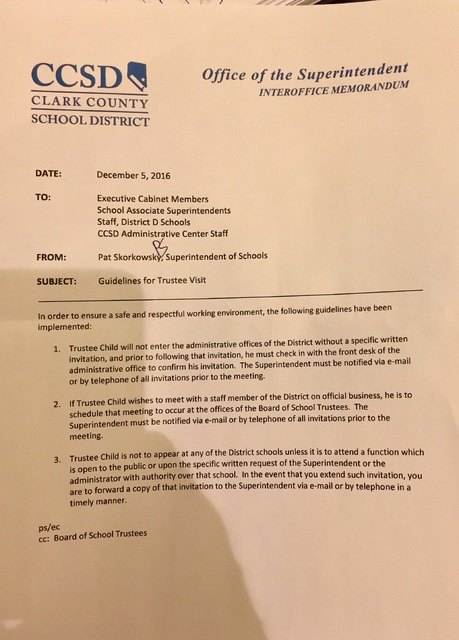 Clark County School District D Trustee Kevin Child has been barred from entering schools without specific invitation from administrators, according to a letter sent by Superintendent Pat Skorkowsky to district staff on Monday.
The letter provides guidelines for Child's school visits and interactions with district staff "in order to ensure a safe and respectful working environment." The notice comes after numerous complaints regarding Child's visits to schools and comments to students and staff.
The guidelines state that Child cannot appear at a school unless he receives a written request from the superintendent or the appropriate administrator, or if he is there to attend a public function.
"In the event that you extend such invitation, you are to forward a copy of that invitation to the Superintendent via email or by telephone in a timely manner," reads the letter, obtained by the Review-Journal.
Child also needs a "specific written invitation" to enter the district's administrative offices, and must check in with the front desk to confirm his invitation.
If he wants to meet with staff members for official district business, Child must also schedule that meeting in the Board of School Trustees office.
The guidelines require the superintendent to be notified in all such instances.
Efforts to contact Child for comment were unsuccessful Monday.
The district would not elaborate on specific reasons behind the restrictions for Child.
"Under Nevada law, principals and administrators may restrict access to their buildings," the district said in a statement.A spokeswoman for the district said Skorkowsky would not comment.
But the Clark County Education Association claims it has fielded numerous complaints about Child disrupting classes and making inappropriate comments at schools.
CCEA Executive Director John Vellardita said Child has made "inappropriate unprofessional gestures" to employees, particularly female. He said Child has also made unannounced visits and directives, disrupting classrooms and making inappropriate comments.
"It's about time," Vellardita said. "This guy should be banned from every building."
Vellardita said Child is a bully who has felt entitled to enter any classroom at any time, but people have been afraid of speaking out because of his position of authority.
"There have been numerous complaints filed against this guy," he said. "For the longest time it didn't appear that anything was being done."
Child's behavior has stirred controversy in the past. Stephen Augspurger, the executive director of the Clark County Association of School Administrators and Professional-Technical Employees, claimed that Child once threatened him over the union's support for the district reorganization mandate known as AB394.
"He said, 'Steve, I am so mad at you, I'm going to kick your ass,'" Augspurger told the trustees during a board meeting in August.
Child also came under fire for a Facebook post in July that asked: "If protesters are in the road and blocking it and not in the crosswalk…would you run them over?"
It's not the only post that's caught the public's attention.
In May 2013, Child blamed parents who can't speak English for the district's failure to teach the language to children. He wrote that most of those parents are here illegally, and said it's not right that taxpayers have to pay for these "law breakers."
District A Trustee Deanna Wright said Child probably attends more school events than the average trustee.
She said she can only count on one hand the number of times she's visited schools unannounced. She said she's never seen restrictions like these for a trustee during her eight years on the board.
"All of us, as trustees, need to be very aware that our presence does disrupt the instructional day," she said. "Not only for students and teachers, but for administrators, because they feel a sense of responsibility to make sure that they're kind of hosting us in their school."
Review-Journal writer Meghin Delaney contributed to this report. Contact Amelia Pak-Harvey at 702-383-4630 or apak-harvey@reviewjournal.com. Follow @AmeliaPakHarvey on Twitter.
RELATED
Clark County School Board trustee under fire for Facebook post about protesters