CCSD struggles to retain bus drivers who are in for the long haul
October 31, 2016 - 10:07 am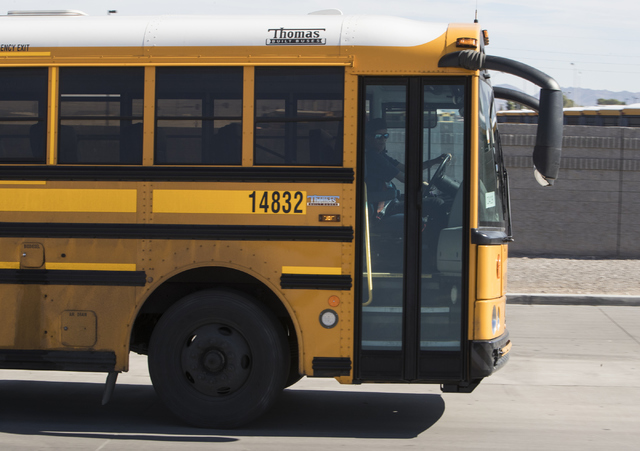 Nichole Bollinger knows she could find employment with better pay than her job as a school bus driver for the Clark County School District.
But she's stayed with the district for 10 years, she said, because she enjoys driving and the kids.
Yet Bollinger sees vacancies for school bus drivers continuously. Most people don't realize, she explained, how much work actually goes into the job.
"You're trying to drive, you've got 80-85 elementary students — these aren't the quiet ones — sitting behind you," she said. "You're trying to watch them, make sure they're not causing problems, hitting each other…(while) at the same time watching the road."
Bollinger's tenure makes her familiar with the bus routes she chooses every year.
But elsewhere across Clark County, schools face a bus driver shortage that has the district relying on substitutes who might not know routes very well.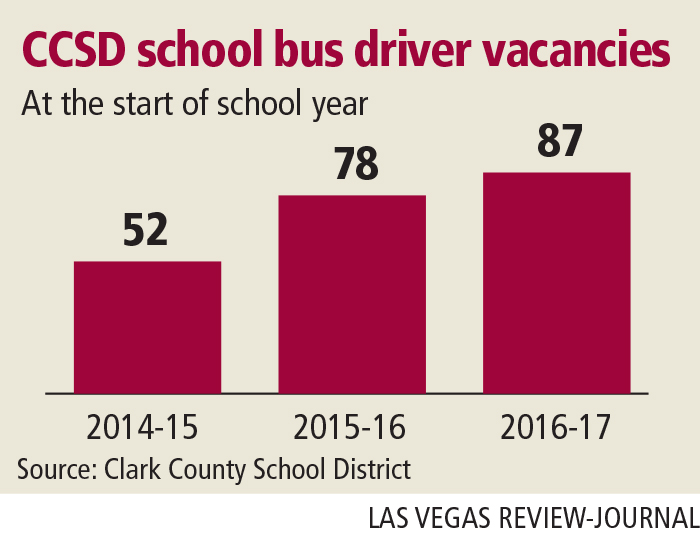 That can cause delays, which in turn can frustrate parents.
Earlier this month, one parent in the east valley cracked a school bus window in frustration over a substitute driver who was late for pick-up, according to district police.
It's a frustration that the district dealt with as it faced 87 driver vacancies at the start of the school year. It now has roughly 1,531 drivers out of 1,601 needed total.
Yet it's not a new issue for the district — vacancies have steadily risen as the system struggles to retain drivers in an entry-level job that only lasts for the school year.
And this year, the district was particularly caught off guard: 35 drivers didn't let the district know they wouldn't be returning to their jobs, Evans said.
It's also an issue that's hitting districts nationwide.
"CCSD's struggles are not any different from any other school district throughout the nation," said Shannon Evans, executive director of the district's transportation department.
There are a number of factors that could cause the vacancies, Evans explained. The job is a nine-month position with routes that typically offer just 6.5 to 8 hours a day. The hourly rate for starting drivers is $14.96.
And in a city that offers a plethora of other driving jobs, recruiting drivers to carry dozens of kids through hectic traffic may be a hard sell.
"Over the last three to four years, we have not been fully staffed on drivers," Evans said. "We lost about eight to 12 drivers a month."
She said the district has seen a dramatic increase in employees taking other jobs over the summer and not returning, many as casino shuttle drivers.
"We usually have a handful, but this year we had three times the number that we normally do," Evans said. "That was completely unexpected."
On top of that, drivers and other members of the Education Support Employees Association union have had a salary freeze that's left them without any recent raises.
The district invests roughly $1,600 in each new hire, paying for a required physical, training for a Commercial Drivers License and a drug test, according to Evans. Despite that investment, selected drivers may still take their commercial license and leave for other higher-paying jobs.
A national survey of 231 school districts found that 90 percent are experiencing a driver shortage, according to a new report from School Bus Fleet magazine.
The magazine's executive editor, Thomas McMahon, has noticed that shortages generally are worse when the unemployment rate decreases.
The average starting pay for a driver is $15.61, the survey found — slightly higher than the Clark County School District.
"There are other commercial driving jobs that pay more than being a school bus driver and have less pressure, you might say less responsibility," McMahon said.
In the meantime, the district finds itself caught in a cycle of continuously trying to fill its open positions. Ideally, with drivers like Bollinger who stay for the long term.
Evans said there are more efforts to address those vacancies than possibly ever before.
"If anybody's not working," she said, "we have a job."
Contact Amelia Pak-Harvey at 702-383-4630 or at apak-harvey@reviewjournal.com. Follow Amelia at @AmeliaPakHarvey.