Clark County schools make major shift in effort to close language gap
April 24, 2016 - 11:51 am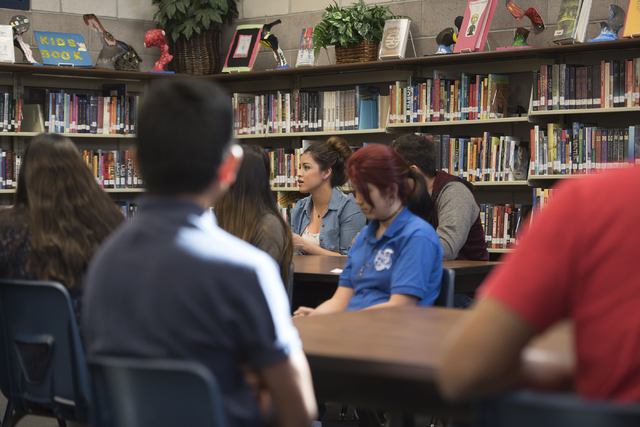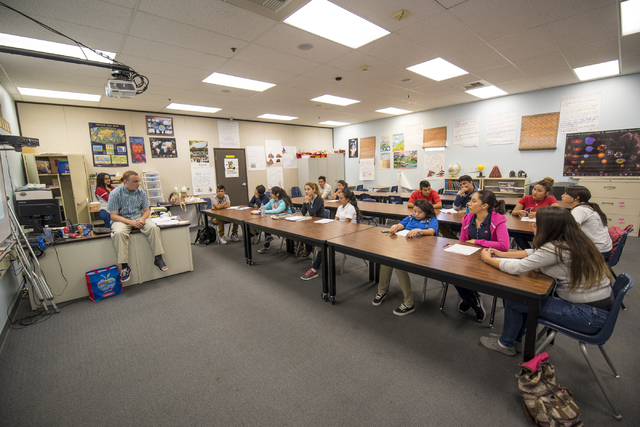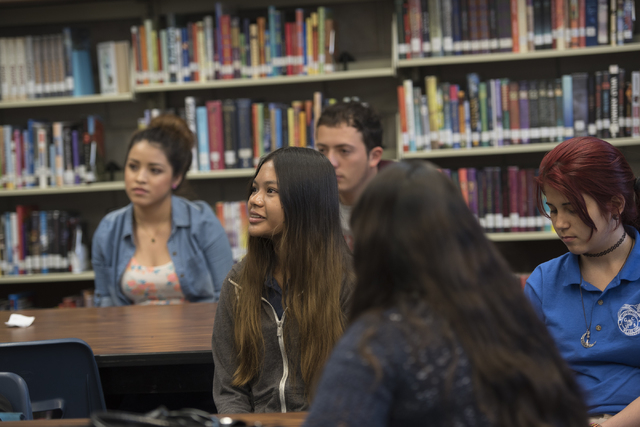 When Edith Fernández entered the second grade in the Clark County School District, her mother had to fight to keep her out of a special education program.
Fernández, the daughter of Mexican immigrants, spoke only Spanish at home and had a slight accent when speaking English. School staff assumed she had a learning disability.
"I was forced into special education because I said 'shicken' instead of 'chicken,'" Fernández, now an associate vice president at Nevada State College, told the Clark County School Board on April 14.
"But, I had a mother who reminded me to not worry, because I also knew what gallina and pollo was," she said. That "added a layer of cognitive complexity that wasn't present in the English language."
Nearly three decades after Fernández graduated from Bonanza High School, district officials admit they still have a problem with schools identifying too many English language learners, or ELLs, as special education students.
The district also struggles with a staggeringly low graduation rate for ELLs. Those students tend to miss more school and drop out in greater numbers than their non-ELL peers.
Their performance on standardized tests — written in an unfamiliar language — drags down the scores of the general student population. And ELLs have virtually no presence in gifted and talented programs, despite any mastery they demonstrate in their native language.
Clearly, the stakes couldn't be higher for a district struggling to absorb a soaring population of students who possess little to no proficiency in English.
GROWING CHALLENGE
Schools in Clark County serve the third-highest number of ELL students in the country, trailing only Los Angeles and New York City, according to a 2015 study by the National Center of Immigrant Integration Policy.
About 105,000 students — or nearly a third of all students — identify as a current or former ELL. And while the general student population rose barely 2.5 percent over the past five years, the population of active ELL students surged 15 percent since 2011.
District officials have no control over the background of their students. However, they have taken what experts described as an ambitious and innovative step to overhaul ELL instruction in every classroom across the district.
"This will be an example for the entire nation," said Maria Santos, an engagement director for school and district services at WestEd, a national education think tank.
The organization helped the district craft a 300-page plan that aims to remove barriers for all students to become proficient in reading, writing and speaking English.
The plan also includes support for students in their native language, providing an advantage for bilingual graduates entering an increasingly competitive workforce.
Earlier this month, the school board granted its unanimous blessing to start the plan at every school and in every department.
"Even half of the implementation of the plan will be a huge example for the country," Santos insisted.
"It really shifts the mindset in Clark County," she said. "It's a shift to looking at students as coming to school with incredible potential and rich resources that we can build on (versus) a perspective where if you don't know English, you're at a deficit."
FIVE-YEAR PLAN
Administrators spent 10 months developing the master plan and will spend the next five years putting it into place.
In the first year, schools with high-ELL populations will begin adopting a so-called "academic language" model that requires intensive training for teachers and administrators. The model acquaints all students with the vocabulary and grammar they need to actually do school work, such as essays and lab reports.
All 18,000 CCSD teachers will eventually be trained to use that model in every class.
"This work will help with literacy for all of our students, regardless if they're English language learners or not," said District F Trustee Carolyn Edwards. "It's work that will take time to do, but it's very important work."
Depending on their ELL population, each school can chose from three additional models to help students succeed.
A dual-language model will help both ELL and non-ELL students become bilingual and bi-literate. For students classified as ELLs for five years or more, schools can offer more intentional and intensive support to develop academic language and literacy.
A final "newcomer" model is meant for students with two years or less of formal education, either because they just moved to the U.S. or are new to school. School staff will develop an individual learning plan and offer extensive instructional support to each student.
That work already happens at Global Community High School, where all 200 students have been in the country for less than two years or have very limited English proficiency.
"We made this a true newcomer campus," said Gerald Bustamante, who in 2012 took the reins as principal there.
Students often enroll in Global Community High, located on Washington Avenue east of Pecos Road, just days after leaving Thailand, Ethiopia or the Ivory Coast.
During a recent visit to the school, students in English, science and math classes huddled in groups to tackle a lesson on cellular mitosis, analyze the class novel "Of Mice and Men" and prepare for a writing proficiency exam. Their teachers frequently flowed between languages to connect the meaning of a scientific term or literary prompt.
Bustamante requires every educator there to be certified to teach English as a second language, regardless of their subject area. It's a requirement that some state officials have considered for all new teachers in Nevada.
"We're here for a reason, and we're here for a purpose," Bustamante said. "It's to get you educated, to get you to learn English and to get you to graduate so that you can be successful in this country that offers so many opportunities."
That resonated among a group of 10 students at Global Community High.
Gathered in the library, each raised their hand when asked if they plan to attend a college or university. Their fluency varied, but all expressed a strong desire to master English — but not at the cost of their native language.
"We're from different parts of the world. We were raised different and have different religions, languages," said Gabriela Solano, who enrolled in Global Community High three years ago.
"We all suffer and cry at the end of the day," Solano, 16, said. "All we can do is talk and smile to everybody, telling them that we know there will be a better tomorrow."
'LONG OVERDUE'
Experts said volunteering to adopt such a comprehensive ELL plan sets Clark County schools apart.
Other districts have implemented similar plans only at the behest of the U.S. Department of Education's office of civil rights or to settle a lawsuit with student advocates.
The oversight structure also increases the likelihood of success in Clark County, said Santos, with WestEd.
"Many districts create plans. Many times the plans are good ideas, but they sit inside someone's desk and never see light," she said.
"An oversight structure that reports regularly (and) tracks metrics and benchmarks, that's pretty unique," Santos added.
Led by Edwards and Mike Barton, CCSD's chief student achievement officer, an oversight committee will meet monthly to ensure the district meets certain performance targets. They will report on the ELL graduation rate; participation in advanced and career and technical education courses; the number of teachers trained; and more.
Last year, the district reported an overall graduation rate of 72 percent. Only 26 percent of ELLs graduated in the Class of 2015; 58 percent dropped out.
Chronic absenteeism and suspension rates for ELL students in high school also far exceed that of their former and non-ELL peers. And in gifted and talented programs, current ELLs had the lowest participation rate of approximately four to 10 times that of the other student groups, depending on the school level.
"We have a ways to go (but) we're going to see gaps close," Barton said. "We're going to see graduation rates go up. All the metrics will move, and they'll move rapidly."
UNCERTAIN RATE OF PROGRESS
It remains unclear how much the district can or will spend to meet the master plan's aggressive five-year timeline. The school board recently approved class size increases and made cuts to balance its 2016-17 budget.
Lower than expected property tax collections and contract negotiations with employee unions may require trustees to trim still more, even as state funding increases.
The school board is expected to finalize its 2016-17 spending plan next month, and Edwards already has requested a full accounting of ELL costs.
"This a big decision on the trustees part on how rapidly this plan will progress," Barton said, who estimated the plan's initial phase will cost millions of dollars.
"This will take some money," he added. "Obviously we know as a district right now there are some competing priorities. The budget's tight."
District officials can expect ELL advocates, including Fernández, to monitor what resources the district actually commits to its master plan.
Administrators worked with community groups and leaders to help build support for the plan, and they appear ready to make sure it doesn't gather dust in someone's desk.
"Twenty-five percent of our students are (long-term) ELL," said Fernández.
"For far too long, we saw that as a liability and as a problem versus 'this could immediately connect students to a global world,'" she added. "There was never the leadership here before, with the vision to see that as an asset to build upon, not a problem."
Contact Neal Morton at nmorton@reviewjournal.com or 702-383-0279. Follow @nealtmorton on Twitter.
RELATED
Officials consider master plan to improve students' English language skills
School district gathering data to help English language learners
EDITORIAL: ELL numbers sink Nevada's education ranking
Lawmakers back more funding for poor students, English language learners
Sandoval OKs $50 million for students learning English