CSN provides scholarship for undocumented students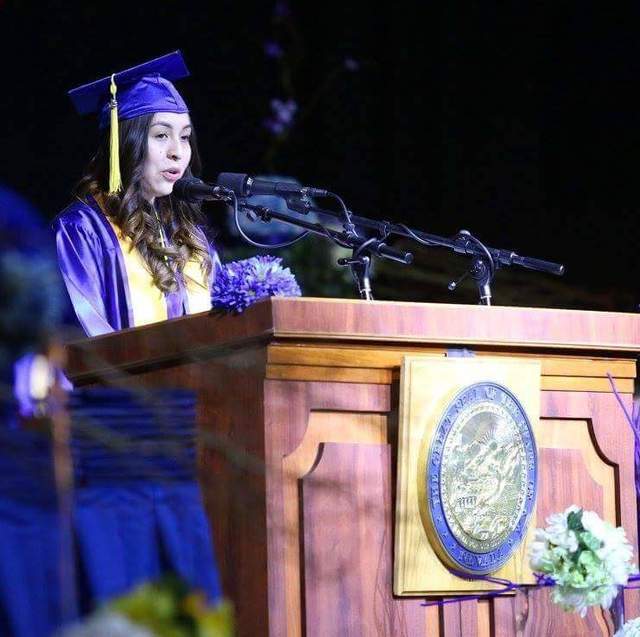 The United States is known as the land of opportunity for immigrants who escape the harsh conditions of their native countries and hope to pursue a better tomorrow. Yet the country that was founded by immigrants has also turned its back on them with harsher immigration laws and barriers on higher education.
After hearing the struggles of Las Vegas Valley students, the College of Southern Nevada created the Dream Scholarship as a way to assist both documented and undocumented students who face such financial hardships.
"Undocumented students are a significant part of our population as a community college," said Patty Charlton, senior vice president of strategic initiatives and administrative services at CSN. "A lot of students come here with remedial needs, and the first step for opportunity is to gain workforce skills. There's a large population of at-risk students or those with many financial barriers that may prohibit success."
Although the scholarship was inspired by the challenges that undocumented students face, any student taking at least six CSN credits in the fall with at least a 2.5 grade point average was eligible for one of two scholarships valued at $1,500 each.
Students submitted letters of recommendation, academic information, descriptions of community service and a personal essay describing how undocumented students' pursuit of higher education has inspired them. They were not required to disclose if they are undocumented, nor was the federal student aid application required.
Brenda Romero, outgoing president of the Associated Students of the College of Southern Nevada, led the initiative.
The scholarship holds a special significance for Romero, who knows the hardships that undocumented students face. Romero's family immigrated to Las Vegas from Mexico when she was 2 years old. She is a graduate of Clark High School and an undocumented student who received Deferred Action for Childhood Arrivals, a two-year work permit that provides a Social Security number to those who enter the country unauthorized before their 16th birthday.
Romero graduated from CSN in May and received a summer internship in Washington, D.C., through the Congressional Hispanic Caucus Institute, a nonprofit and nonpartisan leadership development organization.
"I was working full-time and still had to make time for school," Romero said. "It was always a balancing act for me. I wanted to create this scholarship to give other students a chance to not worry so much and provide them with extra time to hang out with their families or work or study."
The Dream Scholarship was funded through the student fees collected by CSN's student government.
Romero said she was inspired to create the scholarship by Truckee Meadows Community College in Reno, which has a similar program in place for DACA recipients.
Truckee Meadows has a one-year, $1,000 grant awarded to 40 students. The grant uses a portion of student fees that was calculated based on the number of students at the school who are not U.S. citizens.
The CSN Dream Scholarship isn't the only scholarship program in Nevada that benefits DACA recipients. DREAMers can also qualify for the Millennium Scholarship because it is funded through the state.
There are an estimated 11 million undocumented people living in the United States. Of that, an estimated 65,000 to 80,000 undocumented students graduate from high school each year.
The number dwindles when it comes to college. It is projected that between 7,000 and 13,000 pursue higher education, according to Educators for Fair Consideration, an organization that focuses on improving undocumented students' access to attend higher education.
Being ineligible for federal financial assistance creates an enormous barrier for students, according to Romero, and some students exhausted by the bureaucracy have opted to drop out of school and search for full-time work instead.
Erika Castro, 27, is an undocumented student at CSN who plans to apply for the scholarship.
"It's great to see how the school has come a long way since I graduated from high school," Castro said. "I worked for a couple of years after high school to save money for tuition, but when I went to apply, CSN turned me down because I didn't have a Social Security number. When the woman at the register turned me away, it caused me to shut down even more."
Once Castro was able to receive DACA in 2012, she reapplied at CSN and began pursuing her dream of majoring in political science.
While many questioned the right of undocumented students to receive scholarships to attend U.S. colleges and universities, Castro said they are like every other student.
"We went to kindergarten, elementary and high school here," Castro said. "We're trying to educate ourselves and get a degree. We're not taking anything away from anyone. Just like other students deserve education, so do we. It will only empower our community as a whole"
Although the deadline passed for the one-time allocation of the student government's scholarship, Charlton hopes to bring it back.
"We've had a lot of support as far as people who want to donate money to continue to fund this scholarship to enhance opportunities for students," she said. "I think we'll be awarding this scholarship in the future. I think the funding will be there."
Those looking for additional resources can also download the free DREAMer's Roadmap app, which contains a database of more than 500 scholarships available for undocumented students.
"We're just like everyone else," Romero said. "The only difference is that we don't have a nine-digit number next to our names. We work hard and do the same thing as anyone else. I don't think this is special treatment for us because it is open to anyone."
Individuals interested in donating to the scholarship to help create an endowment to make the scholarship permanent can contact CSN's Office of Community Relations, Diversity and Multicultural Affairs at diversity@csn.edu or 702-651-7607.
To reach North View reporter Sandy Lopez, email slopez@viewnews.com or call 702-383-4686. Find her on Twitter: @JournalismSandy.