District names 5 Vegas 'turnaround' schools in need of extra help
February 10, 2015 - 6:07 pm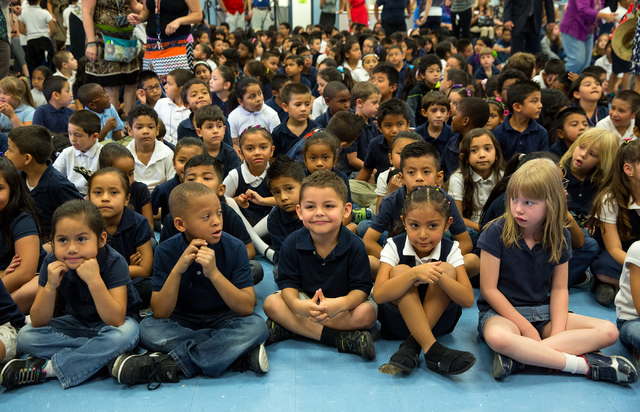 Five under-performing Clark County schools have been given the "turnaround" tag, meaning those campuses will receive extra money and undergo significant staff changes to improve student performance.
"It's the equivalent of emergency room treatment. These schools are sick. We are a treatment zone," said Jeff Geihs, the Clark County School District's assistant chief student achievement officer who oversees the "Turnaround Zone."
The five schools entering the zone due to decreased student achievement are Hickey, Lowman, Priest and Vegas Verdes elementary schools and Desert Pines High School.
Two of the schools, Priest and Desert Pines, were on the short list to enter the zone last year, along with 13 other schools. Geihs said those schools were given improvement plans, but Priest and Desert Pines did not show achievement gains.
As part of the intervention by school administrators, three of the schools — Hickey, Vegas Verdes and Desert Pines — will be assigned new principals. Lowman and Priest will keep their principals, who were only recently assigned to those schools.
Geihs said three schools that were in the district's "Turnaround Zone" have shown an increase in student achievement and graduation rates to leave the zone next school year. Those schools are Hancock Elementary School, Chaparral High School and Western High School.
With Tuesday's announcement, 19 schools are in the turnaround zone, created in 2012. Geihs said that of the 14 schools that have been in the turnaround zone, 13 are showing marked improvement. The 14th, O'Callaghan Middle School in the east valley, is still struggling.
Geihs hopes some recent changes at that middle school, including recently reassigning the principal, will change the school's direction.
Schools are chosen for the turnaround zone after thorough internal and external reviews, where includes interviews with every licensed staff member.
Once the school is chosen and new leadership brought in, Geihs said the principals are given "kickstarter" money. An elementary school will receive about $250,000 and a high school about $500,000.
In the past, principals have used that money to pay for teachers to spend extra time instructing students outside of scheduled classes or for teachers to collaborate with each other to learn effective teaching techniques, Geihs said.
The schools will also see an influx of instructional coaches to work with teachers, he said. "How can we make an ineffective teacher effective or an effective teacher highly effective," are some goals, Geihs said.
All schools do this, he said, but schools in the turnaround zone "do it on steroids."
Geihs said teachers and staff at these schools have to buy into his philosophy. "I don't want teachers or principals that do not own the problem," he said. "Our overarching belief is that those issues (proficiency issues in English and Math) are always adult issues, never student issues."
He explained that those who complain that a student's parents didn't read to him or her, or kids watch too much TV or we live in a culture that doesn't support literacy, "that's a bunch of malarkey" and is a waste of time.
"What we have to do is something about it," Geihs said. "It may not be our fault, but we have to own it as our problem."
In a statement, Superintendent Pat Skorkowsky said he was excited for the students at the schools who will receive these interventions. "We are also especially proud of the staff and students at the schools who are exiting the Turnaround Zone, demonstrating that this program produces results."
Contact Francis McCabe at fmccabe@reviewjournal.com or 702-224-5512. Find him on Twitter: @fjmccabe.