Education Notebook, Feb. 12-18, 2015
February 6, 2015 - 9:50 am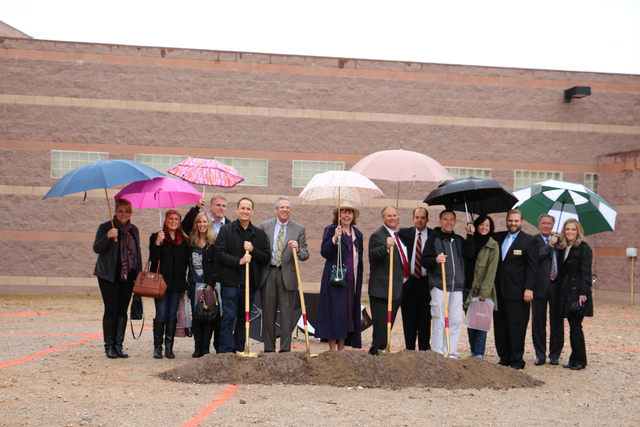 CONSTRUCTION BEGINS ON MOCK COURTROOM AT FAITH LUTHERAN
Faith Lutheran Middle School and High School, 2015 S. Hualapai Way, held a groundbreaking ceremony Jan. 30 for its Crusader Justice and Advocacy Mock Trial Courtroom, which will serve as a training tool for the school's Justice and Advocacy Academy. The academy is part of a $4.5 million dollar, 10,000-square-foot expansion that includes the mock courtroom and an additional five classrooms to be used in a variety of settings.
Completion is slated for July. For more information, visit faithlutheranlv.org.
AFTER-SCHOOL ALL-STARS PLANS DODGEBALL TOURNAMENT
After-School All-Stars Las Vegas plans to kick off a yearlong celebration of its 20th year of service in Southern Nevada with a dodgeball tournament, planned for 10 a.m. to 1 p.m. Feb. 21 in Mendenhall Center at UNLV, 4505 S. Maryland Parkway. Locals are invited to gather a team, wear costumes and compete in support of underserved children in Southern Nevada.
Teams must have at least two women with a minimum of six players and a maximum of 10. The entry fee for corporate teams is $500, while community teams (nonprofits or groups of friends) may enter for $250. Spectator VIP tickets are $40 and include a private viewing area, food and beverage, while general admission is $20. Children 12 or younger will be admitted free. All proceeds will support After-School All-Stars' free, comprehensive after-school academic and enrichment programs for underprivileged students at 13 Clark County School District at-risk elementary and middle schools.
For more information or to register a team or buy tickets, visit asaslv.org.
PBS KIDS WRITERS CONTEST UNDERWAY THROUGH MARCH 27
Children in kindergarten through fifth grade are encouraged to submit original stories for Vegas PBS' annual PBS KIDS Writers Contest. First-place winners in kindergarten through third grade will be forwarded for judging in the national competition.
Submissions will be judged for creativity and originality of plot and/or themes, story structure and use of literary devices, and relevance, quality and originality of illustration.
Entries can be mailed or delivered to Vegas PBS Ready To Learn, 3050 E. Flamingo Road, Las Vegas, NV 89121 and must be received by 5 p.m. March 27. Local winners are set to be selected in the spring, and prizes for first-place winners include free tuition for contest partner Southern Nevada Writing Project's annual summer writing camp.
For more information, visit vegaspbs.org/writers-contest.
JOB FAIR SET FOR FEB. 25 AT UNLV
UNLV Career Services plans to host a job fair for current UNLV students and UNLV alumni from 10 a.m. to 3 p.m. Feb. 25 in the Thomas & Mack Center at UNLV, 4505 S. Maryland Parkway. For more information, visit unlv.edu/event/spring-job-fair.
BONNER ELEMENTARY PLANS RUNNING FUNDRAISER FOR MARCH 14
Bonner Elementary School, 765 Crestdale Lane, plans to host its fourth annual Bonner Run for Education from 8 to 11 a.m. March 14. All proceeds from the 5K run/1.5-mile walk will go toward maintaining low class sizes.
Along with monetary donations, organizers are seeking donated items to be used for a raffle/silent auction, such as gift certificates, gift cards and actual items and services that can be raffled individually or in gift baskets. Business sponsor opportunities also are available. For more information, call Paul Catania at 702-799-6050.
Registration to participate in the event is $15 in advance and $20 the day of for participants 11 or younger and $25 in advance or $30 the day of for those 12 or older
For more information, call Kristi O'Donnell at 702-561-4872.
KOHL'S OFFERS SCHOLARSHIPS
Kohl's plans to award nearly $400,000 in Kohl's Cares scholarships this year to students 6 to 18. To nominate a student, visit kohlskids.com through March 13. The program recognizes young volunteers who have made a positive impact in their communities.
Ten national winners will each be awarded a $10,000 scholarship for higher education, and Kohl's will donate $1,000 to a nonprofit on each national winner's behalf. Nearly 200 students will win regional scholarships worth $1,000 toward higher education, and more than 2,000 local students will receive a $50 Kohl's gift card.
The scholarship program is part of Kohl's Cares, a philanthropic program focused on improving the lives of children.
SUMMER BUSINESS INSTITUTE TAKING APPLICATIONS
The Summer Business Institute is accepting online applications from high school sophomores, juniors and seniors through Feb. 27. The program is a collaborative effort between the Clark County Human Resources Department, the Clark County School District, UNLV and the local business community. The focus of the program is to give youths opportunities to experience a corporate environment. Internships are eight weeks and include business mentoring, life skills training, financial management and a civic engagement project.
A high school transcript, high school statement and two letters of recommendation are required to apply. Qualifying students are scheduled to be interviewed over spring break in March.
To apply, visit tinyurl.com/7ukno22.
HENDERSON LIBRARIES SPONSORS TEEN WRITING CONTEST
Henderson Libraries is accepting entries for its sixth annual Teen Writing Contest through Feb. 28. Students in grades six through 12 are invited to compete. One work per student will be accepted (no school assignments). The entry can be in one of the following categories: poetry; one-act play; short story; or essay (up to 2,000 words). All work must be original and unpublished.
Winners will be chosen by a panel of Henderson District Public Libraries librarians and collected and published as a digital literary magazine, which will become part of the library district's Digital Collections. Winners will be notified by the end of March if their work has been selected for publication.
A reception and unveiling of the magazine are planned for April.
For more information or to enter, visit tinyurl.com/oxqy4js.
LEADERSHIP TRAINING SET FOR PEOPLE WITH DEVELOPMENTAL DISABILITIES
Partners in Policymaking plans to offer leadership training for people with developmental disabilities, parents and family members. The training is designed to teach the power of advocacy and change the way people with disabilities are supported, viewed, taught, live and work. The program will provide information about issues and policies related to disability and develop participant competencies to become more effective in influencing policy development at all levels.
Parents of children with developmental disabilities and adults with developmental disabilities are encouraged to apply. Classes are planned from 8 a.m. to 4:30 p.m. once a month through August at the University of Nevada Cooperative Extension's Lifelong Learning Center, 8050 Paradise Road. Participants are expected to commit to all classes or complete make-up assignments. Remaining dates are: Feb. 28, March 21, April 18, May 16, June 20, July 19 (in Reno) and Aug. 15. Participants will receive a stipend to help with childcare and transportation costs.
For more information or to apply, visit nced.info/pip.
MINI-INTERNSHIPS AVAILABLE FOR HIGH SCHOOL STUDENTS IN MARCH
The Clark County Medical Society is offering a spring break mini-internship program March 9-26 for high school students.
For more information, visit 702-739-9989.
COASTER OFFERS DEAL FOR STRAIGHT-A STUDENTS
The Big Apple Coaster at New York-New York, 3790 Las Vegas Blvd. South, plans to offer two-for-one ride passes to Clark County School District students who bring in their most recent report cards showing straight A's. The offer is valid for one-time use through August. Guests must be at least 54 inches tall to ride.
For more information, visit nynyhotelcasino.com.
SPLASHDOWN FOR KIDS TO RAISE FUNDS FOR NONPROFIT GROUPS
Communities In Schools of Nevada and After-School All-Stars Las Vegas announce that tickets for the second annual Splashdown For Kids are on sale. The event is planned for April 25 and 26 at Wet'n'Wild water park and offers a preview to summer with proceeds benefiting both local nonprofits.
Tickets are $25 and include entry to Wet'n'Wild. For tickets, visit shop.omniticket.com/WWL/index.cfm and use the promo code "CISASASDAY." Select general admission tickets, enter the code, and ticket options will become available.
For more information about Communities In Schools, visit cisnevada.org.
For more information about After-School All-Stars, visit asaslv.org.