Education Notebook, Oct. 30-Nov. 5, 2014
October 24, 2014 - 2:09 pm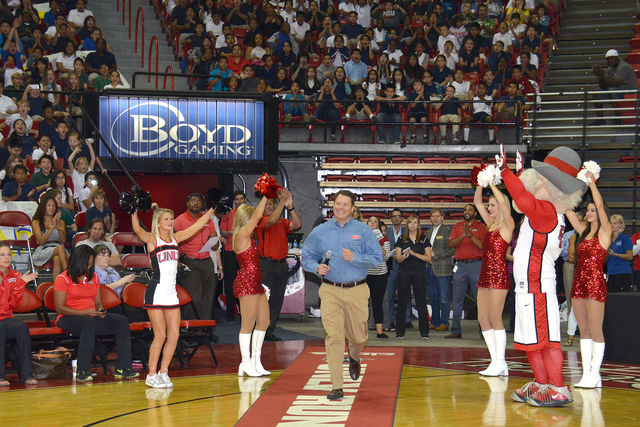 LOCATIONS ANNOUNCED FOR CHILD AND ADULT CARE FOOD PROGRAM
The Culinary Academy of Las Vegas has announced locations for the 2014 Child and Adult Care Food Program, a federally funded program administered by Nevada's Department of Agriculture to youths living in low-income areas. The academy, 710 W. Lake Mead Blvd., is providing the free and nutritious after-school meals to children 18 or younger Monday through Friday.
The academy prepares about 500 meals a day for 14 sites. The following six sites are open to any child, with no registration required: Doolittle Community Center, 1950 N. J St.; Fresh Wind Ministries, 3660 N. Rancho Drive; Pearson Community Center, 1625 W. Carey Ave.; Richard Steele Boxing Club, 2475 W. Cheyenne Ave., Suite 110; The Salvation Army Citadel Corps, 2900 Palomino Lane; and Stupak Community Center, 251 W. Boston Ave.
For more information, contact zshah@theculinaryacademy.org or 702-924-2102.
NORTHWEST CAREER AND TECH PLANS FUN RUN/WALK FOR FUTURE TEACHERS NOV. 8
Northwest Career and Technical Academy, 8200 W. Tropical Parkway, plans to host the fourth annual Fun Run/Walk for Future Teachers from 9 a.m. to noon Nov. 8. Funds raised will support future teachers through the Feature Educators Association's College Scholarship Program.
Participants can choose a 3K, 5K or 10K (for runners only). Student performances by the school's cultural clubs are planned throughout the event.
Registration is $20 for individuals and $15 for those on a team of five or more. Register by Oct. 30 and receive a T-shirt.
To register online, visit nwctahawks.net or active.com (search for FEA Fun Run).
WINDERMERE REAL ESTATE GIVES $11,000 GRANT FOR SCHOOL UNIFORMS
Funds from the Windermere Foundation of Southern Nevada offices of Windermere Real Estate has donated an $11,000 grant to Communities In Schools of Nevada, which will help with purchasing school uniforms for students in need at four elementary schools.
During Windermere's Community Service Day Oct. 17, CIS of Nevada and volunteers from Windermere met at HELP of Southern Nevada, 1640 E. Flamingo Road, No. 100, to sort, package and label school uniforms. Mini-stores were set up to distribute uniforms at Tate Elementary, 2450 Lincoln Road; Hewetson Elementary, 701 N. 20th St.; and Diaz Elementary, 4450 E. Owens Ave.
For more information about CIS of Nevada, visit cisnevada.org.
RANCHO HIGH STUDENTS TAKE PART IN STEM CONFERENCE
The Department of Employment, Training and Rehabilitation partnered with the Aviation Institute of Maintenance to hold a Science, Technology, Engineering and Math (STEM) conference for students at Rancho High School, 1900 E. Searles Ave., on Oct. 17.
The objectives of the conference were to increase awareness of STEM college majors and careers and to encourage youths to take college preparatory math and science courses in high school to prepare for related careers. Students interacted with professionals who have STEM-related careers, and learned about job duties and professions during workshops.
CAREER EXPLORATION CLASS OFFERED AT CHAPARRAL
Chaparral High School, 3850 Annie Oakley Drive, is offering students a Career Exploration class through a partnership with the Caesars Foundation, Caesars Entertainment, Communities In Schools of Southern Nevada, Teach For America and Vegas PBS. The weekly class educates seniors about career opportunities available in Las Vegas, including hotel operations, catering and valet.
Through a specially designed curriculum from CIS, Vegas PBS and Caesars Entertainment, one class each week will feature a Caesar Entertainment HERO employee volunteer discussing his career with students through a presentation or hands-on experience at the school. In addition, students will participate in the Vegas PBS Profiles Pathway Assessment to assist their exploration of career options available in the Las Vegas market.
At the end of the school year, and to finalize the course, a job fair will be hosted at the school, and students will have the opportunity to explore various facets of job searching and career preparation through programs offered by Caesars Entertainment, Vegas PBS and other local organizations.
SYMPOSIUM EXPLORES ACADEMIC SUPPORT FOR DOWNTOWN STUDENTS
Las Vegas Downtown Achieves hosted a symposium Nov. 3 at Western High School, 4601 W. Bonanza Road, to explore ways to transform lives of students in downtown schools. The event was attended by Las Vegas Mayor Carolyn Goodman, Clark County School District Superintendent Pat Skorkowsky and Joseph Morgan, Ph.D., from the UNLV Department of Education and Clinical Studies.
LVDA seeks to create systems that can be replicated throughout Nevada to ensure academic success for students, resulting in improved learning, improved test scores, increased attendance, more parent participation and additional support and resources to better serve students.
The program was launched more than a year ago with a focus on ensuring the academic success for 12,500 children attending schools in and around the downtown core of Las Vegas. It is made up of multiple government, nonprofit and private sector partners and is designed to improve the academic outcomes of children in seven elementary, two middle and two high schools aligned in a feeder pattern within the Clark County School District.
The city of Las Vegas is helping to facilitate the program, and UNLV is assisting with analytics. For more information, visit downtownachieves.org.
OPEN HOUSES PLANNED FOR CAPITAL ONE/JUNIOR ACHIEVEMENT FINANCE PARK
Capital One Financial Corp. and Junior Achievement of Southern Nevada plan to host two open houses for sponsors, potential supporters and those seeking to volunteer in the efforts of Junior Achievement. Open house attendees will get to experience what more than 4,000 Clark County students will experience at its mock city, Capital One/Junior Achievement Finance Park.
Capital One/Junior Achievement Finance Park teaches students financial lessons applicable to everyday life, including personal financial management, career exploration by classroom instruction and active participation in a small-size simulated city. The program will run for 40 days.
Open houses are scheduled from 8 to 10 a.m. and 11 a.m. to 1 p.m. Nov. 4 and 11 a.m. to 1 p.m. and 6 to 8 p.m. Nov. 6 at the Las Vegas Library, 833 Las Vegas Blvd. North.
To RSVP for an open house, visit jalasvegas.org/events/finance_park_rsvp.
DESERT BREEZE TO HOST INTERIOR DESIGN CLASSES
The Desert Breeze Recreation Center, 8275 Spring Mountain Road, plans to host Interior Design 101 from 11 a.m. to 12:30 p.m. and 6 to 7:30 p.m. Thursdays beginning Nov. 6.
Dennie Fidler, an accredited interior designer, is set to instruct the course and show participants how to tackle the spaces in their homes and offices that frustrate them the most. Instruction is set to include space planning, furniture placement, accessories, color, lighting, flooring and window coverings. Fidler also will tell participants where to find home furnishings in Las Vegas along with allowing access to the World Market and other wholesale showrooms.
The cost is $35 for six weeks. To sign up, visit clarkcountynv.gov/parks or call 702-455-8334.
TOURO UNIVERSITY ANNIVERSARY GALA SET FOR NOV. 9
Touro University's 10th Anniversary Gala celebration is set for 6 p.m. Nov. 9. at the Keep Memory Alive Events Center at the Cleveland Clinic Lou Ruvo Center for Brain Health, 888 W. Bonneville Ave.
It will honor Sen. Harry Reid and other community leaders who have been instrumental in helping Touro University. The City National Bank chairman and CEO Russell Goldsmith is set to be the event's keynote speaker.
The cost is $180. For more information, visit touro.edu.
LAS VEGAS ACADEMY TO HOST GALA NOV. 10 AT THE RIO
Las Vegas Academy of the Arts, 315 S. Seventh St., plans to host its second annual fundraising gala at 5:30 p.m. Nov. 10 in the Pavilion Ballroom at the Rio, 3700 W. Flamingo Road.
A silent auction and sideshow are planned, followed by dinner, a live auction and entertainment featuring stars from the Strip. Master artist Graham Knuttel is the 2014 Gala Honoree. Knuttel worked in collaboration with 13 students on "Fremont Street," a landscape of characters and architecture painted to capture the essence of Las Vegas. A numbered and signed Artist's Proof will be auctioned off during the gala in support of LVA. The canvas will be unveiled earlier in the week for the first time at The Knuttel Gallery, 3327 Las Vegas Blvd. South. Limited edition prints will be available for purchase with a percentage of the proceeds donated back to LVA.
For more information or to purchase tickets, visit lasvegasacademy.net or call 702-875-1477.
YES! PARTNERS WITH SCHOOL DISTRICT FOR THINK CLEAN CONTEST
Yes! Air Conditioning & Plumbing is partnering with the Clark County School District-Community Partnership Program to raise water conservation awareness in schools through the Think Clean contest.
The contest encourages students in kindergarten through 12th grade to submit their best creative ideas on how to conserve water in the form of essays, drawings and models, showcasing what the impact would be on the community. Two winners will be selected in each category and rewarded with cash prizes. The first-place winners from the high school level will receive $250, the second-place winners from middle school $150, and the elementary school winners will receive third place and $100. In addition, Yes! will donate $100 to each of the winners' schools.
Submissions will be accepted through Nov. 14. All entries must include a thorough explanation of the idea, the potential impact of the idea on the economy and community and how the idea can be implemented throughout the community. Projects must be submitted via email to toyesthinkclean@boltpr.com or mailed to Yes! Think Clean, 9731 Irvine Center Drive, Irvine, CA 92618.
For more information, email yesthinkclean@boltpr.com or visit ccsd.net.
STEM CAREERS PROGRAM PLANNED FOR HIGH SCHOOL STUDENTS
The Nevada System of Higher Education plans to host a free STEM Careers Investigation Program at 4:30 p.m. Thursdays through Nov. 20 to introduce high school students to the possibility of pursuing career in science, technology, engineering and math.
The sessions will be about 90 minutes and are scheduled at the Bennett Development Center on the north side of the UNLV campus, 4505 S. Maryland Parkway. An expert in the field from each STEM area will present each week. Some of the speakers invited include safe drinking water specialists from the Nevada Division of Environmental Protection; a representative from NV Energy; a civil engineer who works in data visualization; a soil scientist; and software developers/game designers from Petroglyph games.
Students who sign up must plan to attend all six courses. Students can sign up by emailing vallett@unlv.nevada.edu or calling 702-895-4756.
ADELSON EDUCATIONAL CAMPUS TO HOST GALA NOV. 22
The Adelson Educational Campus, 9700 Hillpointe Road, plans to to honor activist, writer and politician Ayaan Hirsi Ali at the 11th annual In Pursuit of Excellence Gala, scheduled for 6 p.m. Nov. 22 at The Venetian. Hirsi Ali will be honored with the campus' highest recognition, the In Pursuit of Excellence Award, for her support of human rights and access to education for all people. She is the founder of the AHA Foundation, which works to protect and defend the rights of women and girls in the United States from harmful traditional religious and cultural practices such as honor violence, forced marriage and female genital mutilation.
Tickets are $250 or $125 for university students, educators, military personnel, retirees, nonprofit employees and Adelson Educational Campus parents. Corporate sponsorships and tables are available. Proceeds will benefit the school's scholarship program to provide funds for students in need.
To purchase tickets or make a donation, visit adelsoncampus.org or call Davida Sims, director of development, at 702-515-8203.
CITY NATIONAL BANK ACCEPTING APPLICATIONS FOR LITERACY GRANTS
City National Bank is accepting applications for grants to support literacy and financially based literacy projects at public and private elementary, middle and high schools. Administered through the bank's Reading is The way up literacy program, this year's program will again award up to $100,000 in grants.
Any full-time teacher, librarian or administrator is eligible to apply. Grants will provide up to $500 for the recipients to create, augment or expand literacy projects that are judged to be creative and engaging and that may help improve student achievement. Awards also can be used for books, videos, CDs, DVDs, computer software or hardware, or in other ways so long as the recipient shows that the project for which funds are sought will support literacy and financial literacy. Applicants from the same school may apply individually or as part of a team. Each team may receive up to $1,500.
To apply, visit readingisthewayup.org.
AFTER-SCHOOL TUTORING AVAILABLE AT CIMARRON ROSE COMMUNITY CENTER
The Cimarron Rose Community Center, 5591 N. Cimarron Road, offers after-school tutoring in mathematics, science and reading to students in grades one through six. Weekly 30-minute sessions may be scheduled from 4 to 6 p.m. Mondays, Wednesdays or Thursdays and from 5 to 7 p.m. Tuesdays.
The cost is $45 per month during the school year (prorated for holidays). A licensed Clark County School District substitute teacher is the tutor. To register, visit the center or call 702-229-1607.
DISCOVERY CHILDREN'S MUSEUM AND SPREAD THE WORD PLAN BOOK DRIVE
The Discovery Children's Museum, 360 Promenade Place, has partnered with nonprofit Spread the Word Nevada to host a book drive through Jan. 4.
The museum will collect new or gently used books targeting a pre-kindergarten to eighth-grade reading level, to be distributed to children in Southern Nevada. Anyone donating a book will receive $2 off museum admission.
The book drive is being held in conjunction with the literacy-based traveling exhibit "Storyland: A Trip Through Childhood Favorites," which features seven beloved children's books. It will be at the museum through Jan. 4.
For more information, visit discoverykidslv.org. For more information on Spread the Word Nevada, visit spreadthewordnevada.org.
PARENT/CHILD LITERACY CLASSES SCHEDULED
The University of Nevada Cooperative Extension is offering a parent/child interactive literacy series at the Whitney Ranch Recreation Center, 1575 Galleria Drive, this fall. The Family Storyteller program is a six-week program aimed at encouraging and training parents to play a vital role in the early literacy development of their children. The class is set to meet from 12:30 to 1:30 p.m. Tuesday. Parents and their children will participate in reading and language activities together. Session II is scheduled for through Dec. 2.
To register, visit the information desk at the center or cityofhenderson.com/parks, or call 702-267-5850.
STUDENTS INVITED TO ENTER LEIF ERIKSON DRAWING CONTEST
Children in grades one through five are invited to enter the Leif Erikson drawing competition sponsored by the Vegas Viking Lodge of the Sons of Norway. Drawings should depict the Viking Leif Erikson and his men traveling to America. The four key traits of Erikson and his men should be incorporated: imagination, vision, collaboration and fearlessness. Leif Erikson Day was Oct. 9.
Drawings must be submitted on 11-inch by 8½-inch or 11-inch by 17-inch paper using any medium. The winning students in each grade will receive Target gift cards valued at $100, $50 and $25 for first, second and third place, respectively.
Entries must be postmarked by Dec. 15 and mailed to the attention of Christian Schoyen, Leif Erikson drawing competition, 1930 Village Center Circle, No. 3-211, Las Vegas, NV 89134. All entries must include the child's name, address, grade, home phone number and school.
UNITED WAY GRANTS TO HELP PROVIDE EARLY CHILDHOOD SCHOLARSHIPS
United Way of Southern Nevada was awarded a $1 million grant to provide children 5 or younger with an opportunity to attend high-quality preschool programs. Windsong Trust, a private foundation for children's education, funded the grant that will provide 250 full-time scholarships for one full year, as well as teacher training and professional development for 135 teachers. This is the fourth year that United Way has received the grant.
Licensed centers interested in partnering with the United Way should call 702-892-2309. Scholarships are available. Interested applicants may apply at uwsn.org/taps.
For more information, contact Angela Rose, director of community development, at 702-892-2324 or angelar@uwsn.org.