Las Vegas high school testing new learning 'Xperience'
September 9, 2017 - 11:11 pm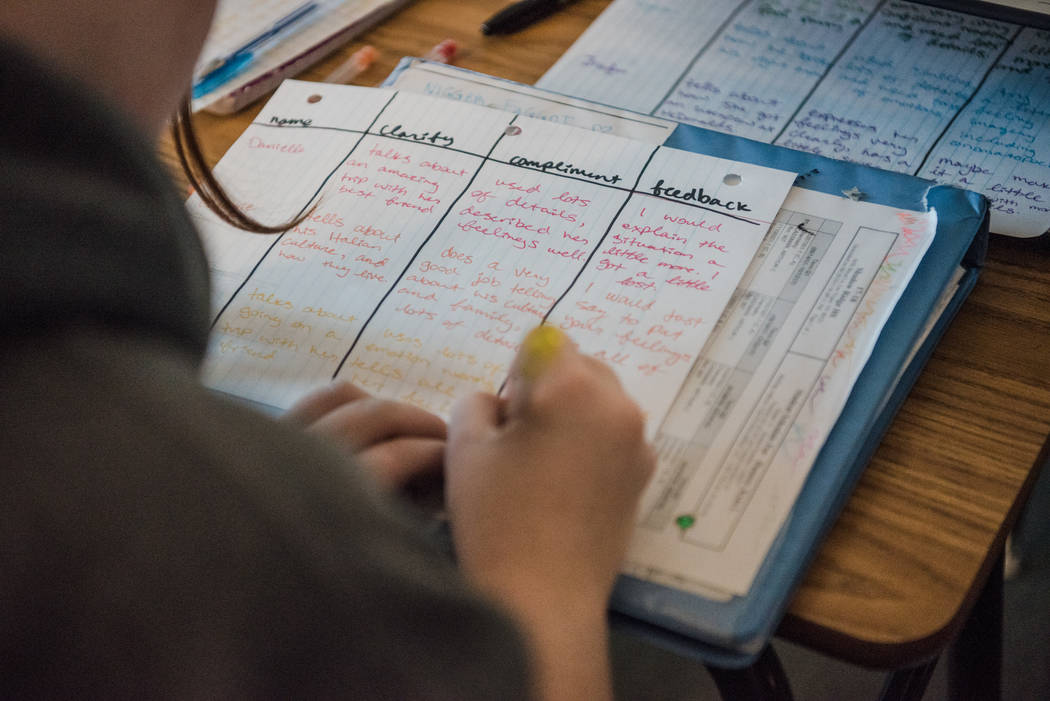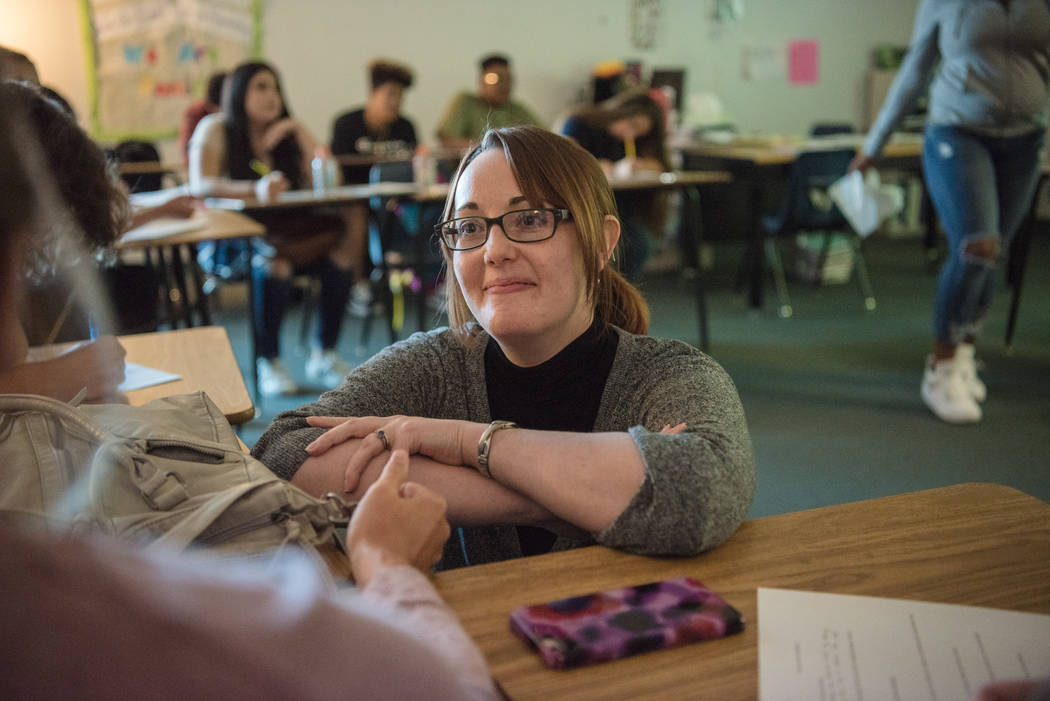 Walk into Arthur Cassman's science classroom at Shadow Ridge High School, and you might think it's just like hundreds of others across the valley.
But if you take a closer look, distinctions start to peek through.
On a recent Wednesday, Cassman had his back turned to the majority of the students during the class period, working one-on-one on a physics problem with a student.
Most of the kids were working on chemistry assignments on laptops, many openly using cellphones as calculators or listening to music through headphones. At least one was doing Algebra 1 work, and another was writing an English essay.
The students are part of the "Shadow Ridge Xperience," a competency-based program in its second year at the school. With a boost from the state, Shadow Ridge's program might be able to expand, and other schools might be able to join in.
"It gives you so much more time to work one-on-one," said Jonathan Fogler, a social studies teacher in the program.
Right now, the program is still small, with only 500 of the school's 3,000 students taking part. The goal is to put students in the driver's seat of their educations, school officials say.
"We're trying to be learning-based versus teacher-based," Cassman said. "The focus should be on the people trying to learn."
How it works
In most high schools, students sit in several classes for an hour or so while the teacher goes through the lesson plan. In education, that's often referred to as the Carnegie unit and is defined by the time spent.
Competency-based education is defined by skills, not time. If a student grasps the topic of the daily lesson, why should they spend an hour in the classroom on it? That student, in theory, should be able to either move deeper into the topic or move ahead.
That's what Shadow Ridge is doing with the Xperience. Students complete baseline testing on tablets. The results are then reviewed by the teacher, who can break the students into smaller groups based on who needs help understanding what.
That was appealing to 17-year-old David Brisco, a junior in his second year of the program. Science isn't his favorite subject, so he likes being able to get more face time with the teachers. But he's able to work ahead in English, one of his favorite subjects.
Although Brisco has it down now, he said he struggled at the beginning of last year, learning how to manage his time and his assignments.
It's a struggle 15-year-old Malachi Banks and 14-year-old Anthony Mastaler, both sophomores and new to the program, are dealing with now.
"The biggest thing for me was having more responsibility," said Banks, adding he used to procrastinate a lot. "It was a little rough, but they're helping me through."
Both said they enjoy math classes much more now because they can move ahead.
The first two weeks or so of the program focus on helping students understand how to manage their time and map out their responsibilities and deadlines, Principal Travis Warnick said.
Fogler's classroom is decorated with posterboards describing ways people work: the prioritizer, the procrastinator, the "yes-man." Students identified where they fell and looked into what strategies they could use to succeed.
It's a skill most kids may not learn until college, Warnick said.
"We give them a dose of that life," he said.
Statewide push
The state has taken notice.
The Department of Education is working to create regulations for a statewide competency-based program to begin next year. The program was created during the legislative session, pushed forward by Gov. Brian Sandoval's Office of Science, Innovation and Technology.
In November, schools will have the opportunity to apply for the state pilot, at which point they will have to commit to trying the model for five years so the state can track data to see whether the new environment improves student learning.
Nevada isn't the only state looking at this model of education. New Hampshire and Ohio are other leaders. That's partially where the pilot idea came from, said Brian Mitchell, director of the Office of Science, Innovation and Technology.
"It's kind of a new concept in education. Our goal is to pilot it and see if this might work for Nevada," he said. "I think there are a lot of states that are doing exactly what we're doing."
The Shadow Ridge program is phasing in grades of students. The program now serves about 500 students in the 10th and 11th grades. Warnick wants to eventually convert the whole school to the model. With the state pilot, he would be able to do that and tap into the network of resources created by the state.
Early on, indications are good, Warnick said. None of the students in the program received D's or F's in the five core subjects last year, compared with about 20 percent of the rest of the student body.
"They're way more engaged," he said.
Contact Meghin Delaney at 702-383-0281 or mdelaney@reviewjournal.com. Follow @MeghinDelaney on Twitter.