Lawyers argue whether CCSD teacher emails are public or private
February 12, 2015 - 7:29 am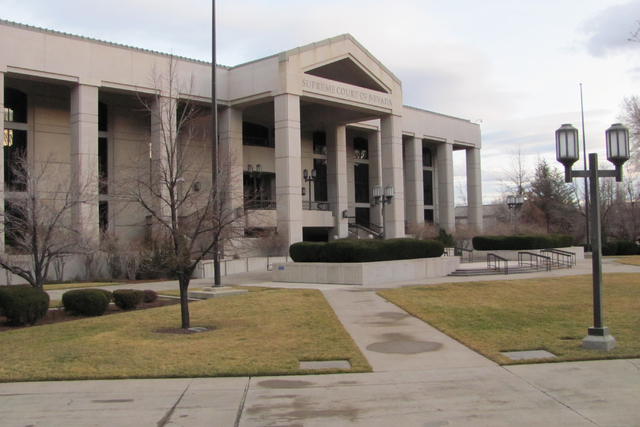 A trio of Nevada Supreme Court justices seemed perplexed Wednesday as they listened to a Clark County School District lawyer argue that work email addresses for its 17,000 teachers are not public record.
Principals from individual schools have already made about 8,000 of those email addresses public on school websites, the justices said.
"What's the big deal?" asked Justice Michael Cherry.
Cherry, along with justices Ron Parraguirre and Michael Douglas, heard an appeal of Clark County District Judge Doug Smith's decision to dismiss a lawsuit filed by the Nevada Policy Research Institute after the school district denied its public records request for the email addresses.
The conservative think tank requested the email addresses in June 2012 to send messages reminding teachers of the short window of time for dropping their union memberships with the Clark County Education Association.
The school district's lawyer, Dan Polsenberg, contends the database is protected under Nevada law and is confidential.
He said the list is supposed to be used to create better communication between teachers and parents and that making the addresses public would invite unwanted solicitors.
Polsenberg said if the think tank had asked for a single email address, he would have to give it to them under state law.
Justices then asked what would happen if NPRI filed records requests for each individual email address? Wouldn't the district have to provide them?
Polsenberg said no, because that would be tantamount to asking for the whole database.
NPRI's lawyer Joseph Becker said afterward he was "sort of baffled" by the school district's resistance to handing over the email addresses.
"We have the law on our side," Becker told the justices earlier.
Becker noted that 11 other school districts in the state complied with NPRI's request for similar email address lists.
Under state law, the think tank has annually received the names of all employees, their titles and individual salary information from Nevada government agencies, including school districts.
In previous rulings, the Nevada high court has held all government records are public documents unless "explicitly made confidential by statute," for "privacy" or to avoid interfering with criminal investigations.
The justices can uphold Smith's ruling to dismiss NPRI's case or overturn his ruling and remand the case back to Smith's court for trial.
Contact Francis McCabe at fmccabe@reviewjournal.com or 702-224-5512. Find him on Twitter: @fjmccabe
RELATED
EDITORIAL: Nevada Supreme Court should overturn CCSD email ruling