Leader wants to see more gains for Nevada college students
February 17, 2018 - 8:24 pm
Updated February 17, 2018 - 9:20 pm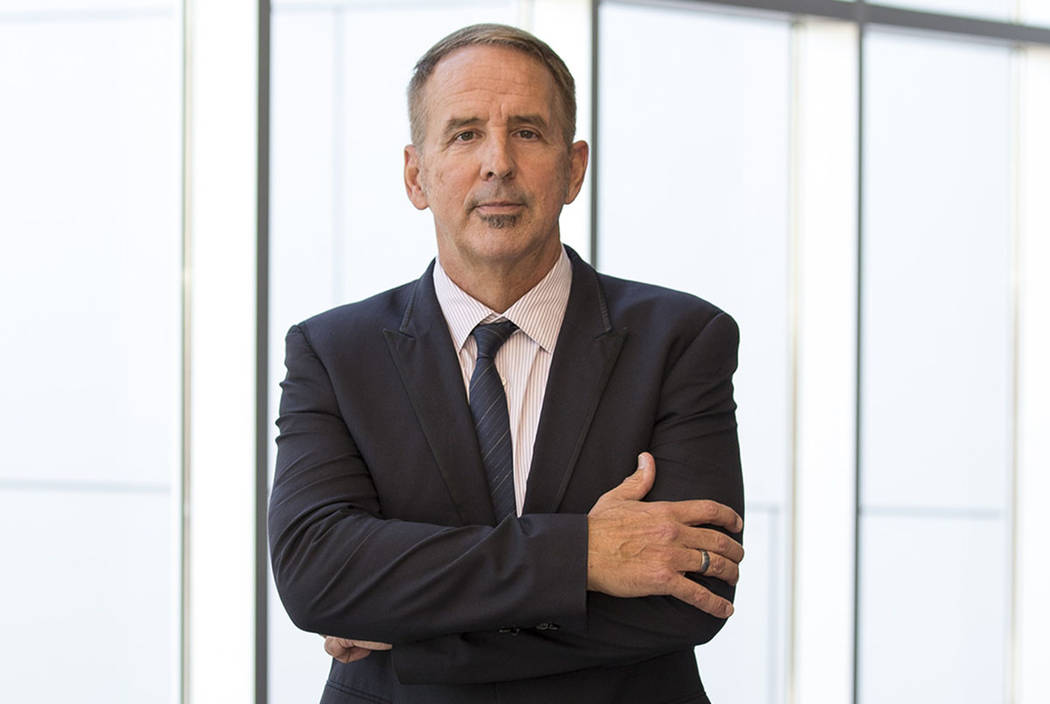 At a time when the state's colleges are inwardly focused on their own strategic growth, they're also being asked to look beyond Nevada's borders for ways to make gains in student success.
Under the direction of Chancellor Thom Reilly, all seven Nevada System of Higher Education schools selected two to three institutions outside the state with which to compare and contrast progress on metrics including graduation rates, retention rates and enrollment diversity.
"If we're just looking at ourselves in a vacuum, then we don't really have an opportunity to explore," said Margo Martin, acting president of the College of Southern Nevada.
Martin said CSN began benchmarking against its three schools prior to her arrival at the college, and now that she's temporarily at the helm, she may re-evaluate the list.
"Now that I'm in the seat, and since we've got these new goals from NSHE, it's an opportunity for us to do a deeper dive," she said.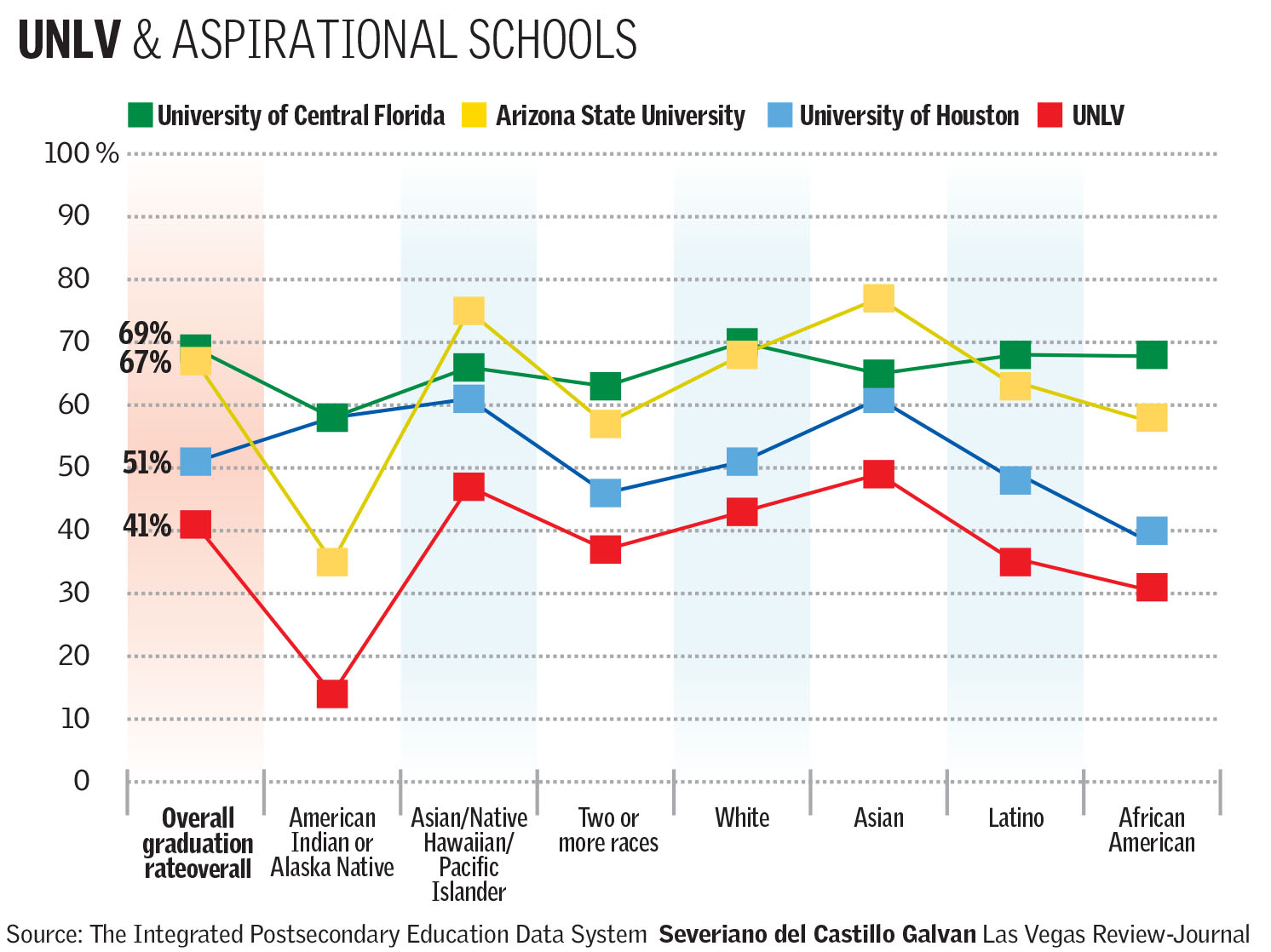 RIGHT-CLICK TO ENLARGE
Nevada State College President Bart Patterson said the school will be working on its own master strategic plan over the next few months. It's one that includes growing the school's enrollment by two-and-a-half times in the span of six to eight years.
"We want to set the mark high in terms of how we're going to grow and develop as an institution to be recognized for quality and our success for students," he said, adding the school has taken a nod from California State University, San Marcos, which has an enrollment of about 13,000.
At NSC, current enrollment figures stand at about 4,000, but Patterson said quickly growing the enrollment to 10,000 is possible.
"Genuinely I was happy with how serious they took the task of identifying those aspirational peers," Reilly said. "For some of the institutions, it wasn't new. They'd already identified peer and aspirational schools. But now we're going to track it more aggressively."
Tracking peers
UNLV has tracked Arizona State University, the University of Houston and the University of Central Florida since 2014.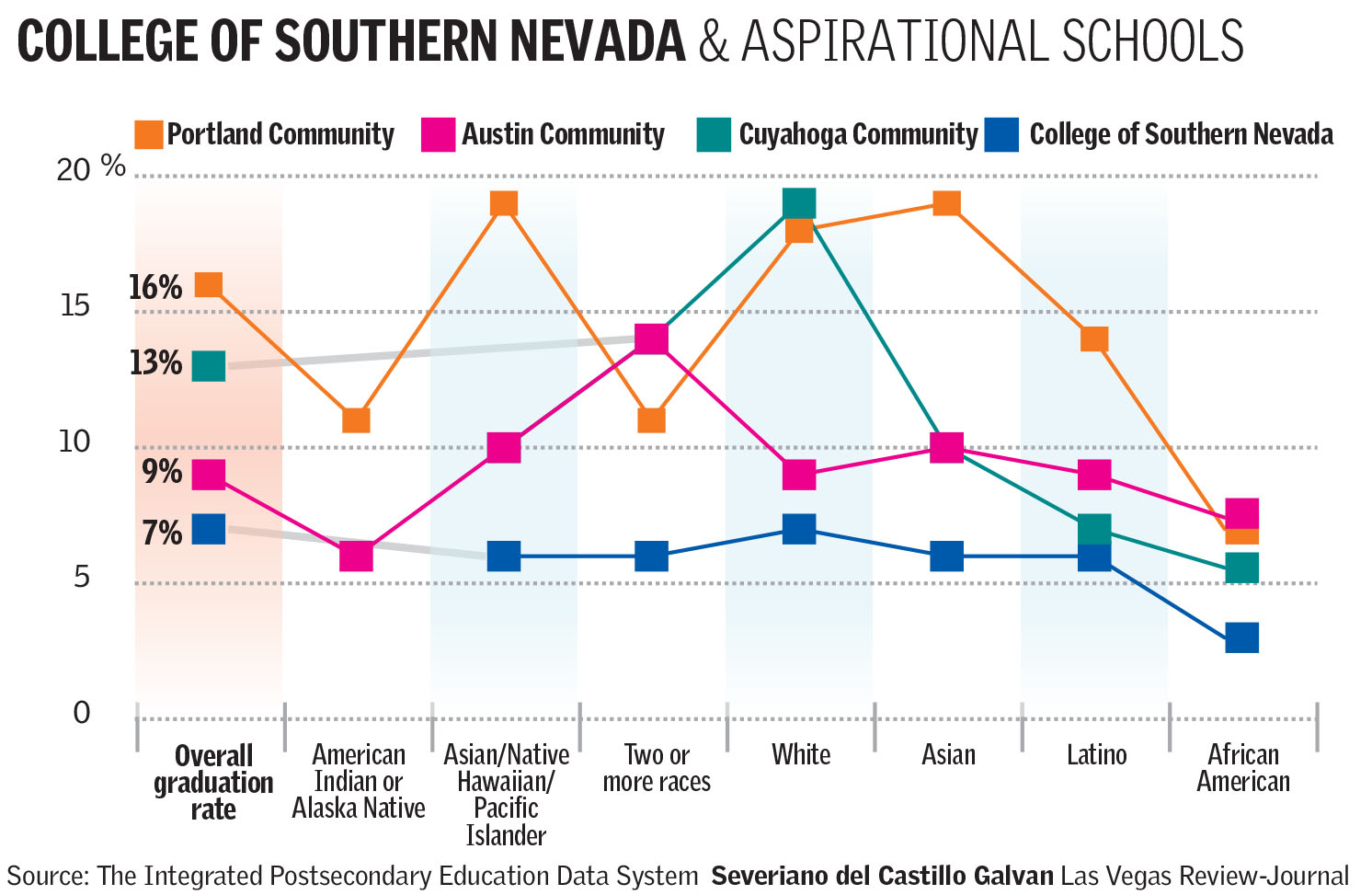 RIGHT-CLICK TO ENLARGE
Nancy Rapoport, special counsel to the president, said the schools were chosen for different reasons. UCF is based in Orlando, Florida — a city with a tourist-driven economy that resembles Las Vegas. Arizona State has done a "superb job," Rapoport said, of thinking broadly in terms of higher education. And Houston achieved the "R1" Carnegie classification for research just a few years ago, she said.
UNLV's goal is to get to $120 million in research expenditures by 2025, up from a current total of $63 million.
"We know the direction we have to go," Rapoport said. "We know we need to increase research expenditures."
Rapoport said UNLV, however, has witnessed a "sea change" recently in the ability of professors to apply and get grants more easily since Mary Croughan became vice president for research. Another goal in the research realm is for UNLV to become more competitive in awarding graduate student stipends.
While UNLV's research mission differs from NSC's teaching mission, all schools will be tracking student success through a variety of metrics.
Martin said using metrics like student persistence, completion rates and time to degree are the most important. She added that it's also critical to monitor student-to-faculty and student-to-adviser ratios, and class sizes, as well as use of student support services.
"We have a lot of opportunity for growth and improvement in terms of student persistence, time to degree and completion," Martin said. "From an internal standpoint, this leadership team is acutely aware that we have an obligation to this community and the students we serve to take a very serious stance in improving our graduation rate."
CSN's 2016 graduation rate was 7 percent compared with 9 percent at the Austin Community College District; 13 percent at the Cuyahoga Community College District; and 16 percent at Portland Community College.
There are also major differences between NSC's graduation rate, and its chosen schools.
NSC's 2016 graduation rate, for example, is 15 percent, compared to 51 percent and 52 percent at City University of New York, Brooklyn College, and CSU San Marcos, respectively.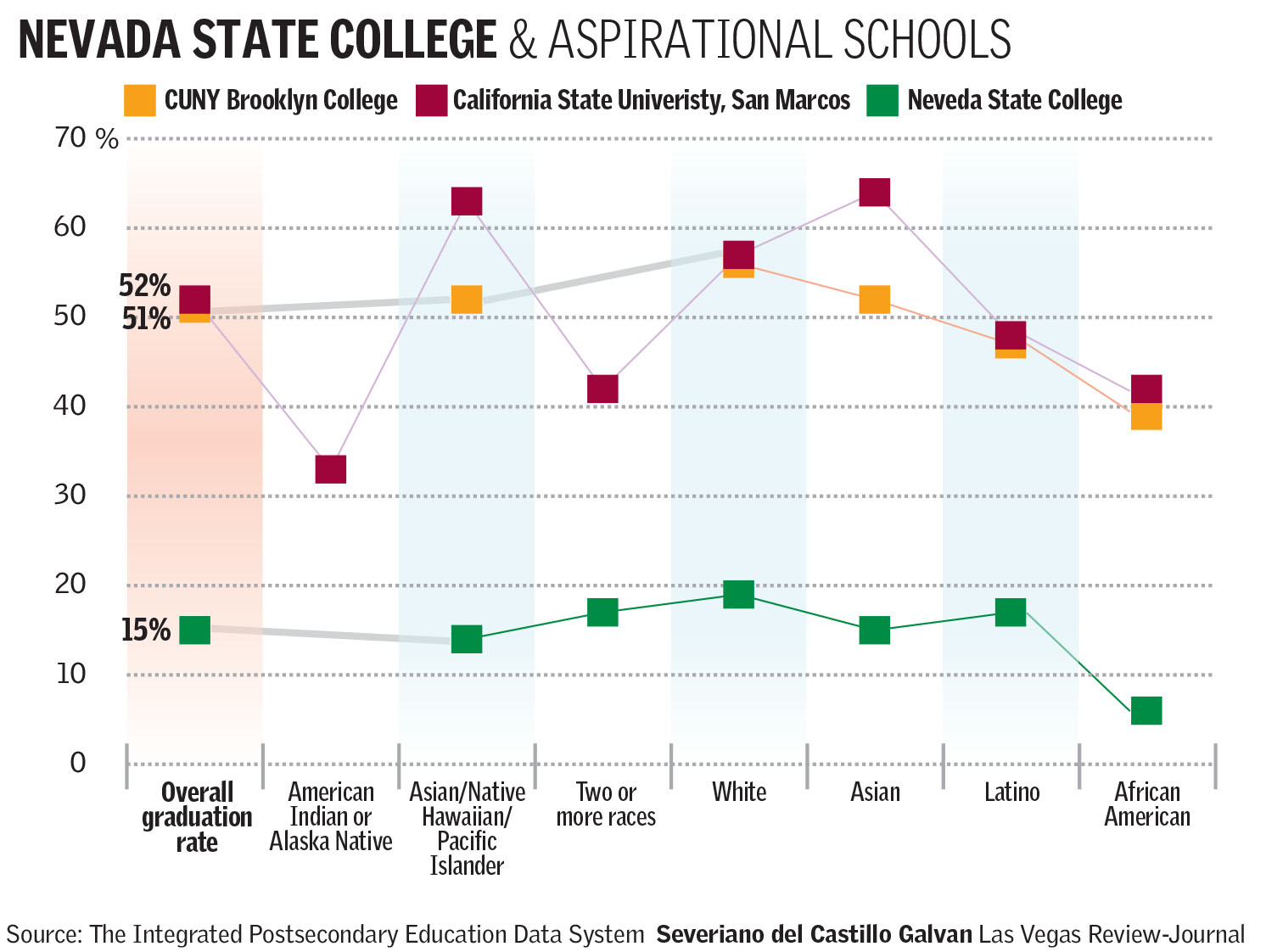 RIGHT-CLICK TO ENLARGE
"It's something we're certainly focused on," Patterson said. "We don't want to minimize it. But it's complicated because it also depends on the student population."
Numerous factors should be taken into account regarding those numbers, Patterson said, including NSC's majority part-time student population, and the institution's age — only 16 years. The school also accepts a significant number of students with grade-point averages of below 3.0.
Patterson said the two schools will be a solid study because of key similarities. They have diverse student populations, including a relatively high percentage of low-income students, and they're located in urban environments like NSC.
UNLV's overall graduation rate has hovered between 38 and 42 percent since 2005. ASU and UCF's 2016 rate was 67 and 69 percent, respectively.
Reilly said the strategic plan will force leadership at each school, along with the state Board of Regents, to talk more openly about why the graduation rates haven't moved.
"What is occurring, what needs to be done to move that? We're not going to see something happen overnight," Reilly said. "But it better be ticking up in the right direction, not falling back."
Contact Natalie Bruzda at nbruzda@reviewjournal.com or 702-477-3897. Follow @NatalieBruzda on Twitter.