Meadows students learn about philanthropy, finance through MicroBank club
March 18, 2015 - 12:00 pm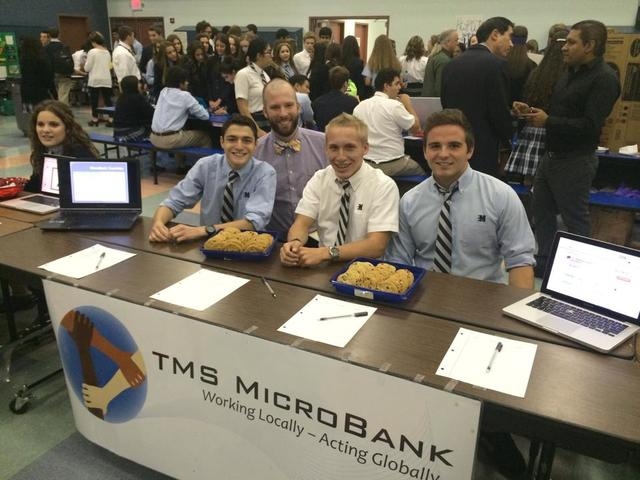 Money Smart Week, April 18-25, is a public awareness campaign created by the Federal Reserve Bank of Chicago to help consumers better manage their finances. Some students at The Meadows School are learning to manage money firsthand.
Welcome to The Meadows School MicroBank, one of the first such high school entities in the United States. Its intent is to help entrepreneurs in developing countries get ahead.
Since its inception in 2008, the TMS MicroBank has given out 536 loans worth more than $104,000 to small-business owners in countries such as Paraguay, the Philippines and Rwanda. The students choose selectively — 98.5 percent of their loans have been paid back. They said most of the losses are due to exchange rates.
"Of that $104,000, we've lost only about $350," said Adam Betzelberger, faculty adviser for the TMS MicroBank. "As an economics teacher, I'm proud of that because we beat the U.S. commercial banking industry in terms of all of our statistics and delinquency rates and such. So, that's kind of exciting from a nerd standpoint."
Justin Blau, who graduated in 2009 and is a disc jockey/producer who goes by the stage name 3LAU, was instrumental in getting the TMS MicroBank started. He was prompted by a special project he'd done on Sub-Saharan African countries. Now, his brother, Michael, 16, is in the club.
"It's kind of fulfilling," said Michael Blau of helping others get ahead. "The best way to help people is, if you give them the resources to help themselves, when you do that, and not just give them dollars, it helps them on a greater scale. It makes a greater impact on society, affecting the family but also the people around them."
The students manage the portfolio and decide who gets the money. About 20 students are involved in the club at any time. Not all of them are studying economics. Some just want the experience.
The effort began with about $25,000 to loan, and the money came from a $10,000 donation from the Blau family, a $5,000 gift from faculty member Kirk Knutsen and money raised by the students through various efforts. The first year, about 50 loans were made. They are intentionally small so that more people can be helped. The loans are repaid at 0 percent interest.
"We're not out to make money on this," Betzelberger said.
The TMS MicroBank partners with Kiva, a nonprofit crowdfunding organization, to find those deserving of loans. Browse kiva.org, and you'll find a man from Uganda who needs $350 to sell coffee, a woman in Honduras requesting $575 to purchase merchandise and a man in El Salvador who wants $1,200 to restock his shoe store.
The students at The Meadows School, 8601 Scholar Lane, follow a set of criteria, such as default and delinquency rates, to discern who gets a loan and diversifies by sector. Most of the money goes to individuals or a collective group of individuals, not a corporation.
For example, Betzelberger said they'll fund an individual who wants to buy a cow to start a dairy farm or a farmer whose crops help send his kids to school.
"They get to see that they're helping real people, not just an abstract company," he said.
If a person or group repays the loan and needs another, the TMS MicroBank looks favorably on that and would consider refunding them.
"As the staff member, it makes me feel excitement," Betzelberger said. "And really, I'm proud of the kids at our school because I haven't done a whole lot of work for this. … I'm just the adult in the building to make sure they have what they need to be successful. They've done the bulk of the work, if not all of it."
Some loans are made so people can get training in a trade. When they begin working, they start repaying the loan. Betzelberger said the idea is to continue loaning money "for years to come."
What does Betzelberger hope the students learn?
"I hope they learn how life works, that it's a good thing to do good in the world," he said. "And secondly, that you have to plan for contingencies. You have to plan for when things don't go the way you expect."
For more information, visit themeadowsschool.us.
Contact Summerlin Area View reporter Jan Hogan at jhogan@viewnews.com or 702-387-2949.