MGM-NSHE partnership seeks to increase access to higher education
August 22, 2018 - 3:42 pm
Updated August 22, 2018 - 4:32 pm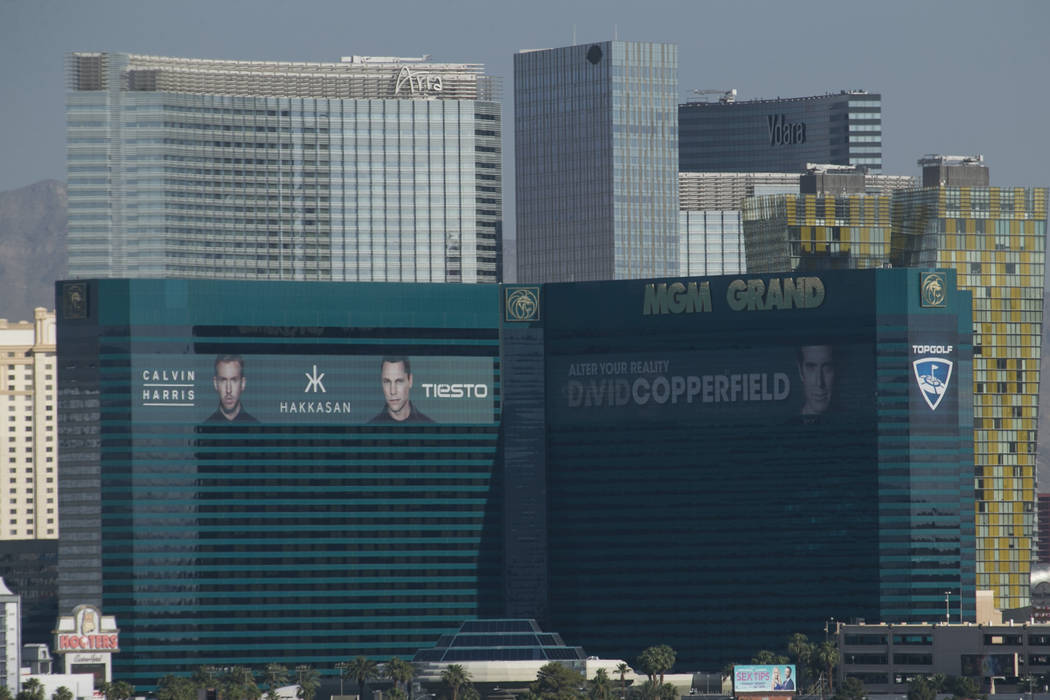 The state's largest employer and the Nevada System of Higher Education are coming together to open up the doors of college opportunity for more people.
NSHE unveiled the MGM College Opportunity Program in May, and the two parties hope to formalize the arrangement at the September state Board of Regents meeting. The program would cover the cost for MGM employees to enroll in distance education programs at any of the state's seven public schools.
"To our knowledge, this is the first time a major corporation has partnered with a major system of higher education," said NSHE Chancellor Thom Reilly, adding that the program will be open to MGM employees nationwide. The partnership takes a nod from the Starbucks College Achievement Program, under which Starbucks employees can take courses at Arizona State University and be reimbursed.
"The state benefits from having a better-educated community," said Michelle DiTondo, chief human resources officer for MGM. "Long term, I think it's a good thing for Nevada and all of the states we operate in as well."
Eligibility requirements for the program include a minimum amount of service to MGM both before and after the completion of a degree program, and it will only be available to MGM employees who do not have a degree at the level they are seeking. NSHE is also offering a 10, 15 or 20 percent discount to MGM employees, depending on whether a student enrolls at a community college, a state college or a university. The program is also geared toward degree completion.
"They will need to be enrolled or accepted into a certificate or degree program," Reilly said. "We're focusing on completion, not on taking random classes."
Eligible MGM employees can enroll in courses beginning in fall 2019.
While the partnership is aimed at increasing the number of Nevadans who hold a post-secondary degree or certificate, it's also an opportunity for NSHE schools to bolster the number of online degree programs available to students.
UNLV plans to create five new bachelor degree programs — fully online — by fall 2019, and two more by 2021.
The university currently offers two online bachelor degree programs — a degree in urban studies came online this summer — and more at the graduate and doctoral levels. Great Basin College in Elko offers 33 online degree programs, the most of any NSHE school.
"We need to really step it up on on our online education offerings at NSHE," Reilly said. "This program, in the short time we've been discussing it, has generated additional online programs."
Foster youth tuition waiver
Reilly will also go to the board next month to seek approval for a tuition waiver for foster youth in Nevada.
"Magically, at 18, they're on their own," Reilly said. "They have to navigate all of life, which includes living on their own, establishing a banking account, paying rent, and navigating relationships, on their own. Most 18-year-olds have families to rely on. These challenges really interfere with their ability to seek any type of higher education."
The program would allow foster youth to use their Pell grant reimbursements for living and other expenses, and if approved, Nevada would be the 29th state to offer some form of tuition waiver for foster care students. This year, nearly 100 foster children graduated high school, almost double the number in 2017, according to Clark County Commissioner Steve Sisolak.
"Through no fault of their own, these children are raised by the state," Reilly said. "There should be some commitment to help get them access to a higher education."
The tuition waiver, coupled with the MGM College Opportunity Program, is part of a larger NSHE push to increase access for Nevadans to attain college degrees and certificates.
"We're trying to address the barriers that are keeping students from attending college in Nevada," Reilly said. "We need to do a better job of creating a culture of young people going into higher education."
Contact Natalie Bruzda at nbruzda@reviewjournal.com or 702-477-3897. Follow @NatalieBruzda on Twitter. Review-Journal staff writer Michael Scott Davidson contributed to this report.
Other MGM initiatives
In addition to the new college opportunity program, MGM will begin to offer a loan repayment option for its employees in 2019. The corporation will match monthly student loan debt payments to accelerate full loan repayment.
"We begin recruiting at colleges in the fall, and we think the college repayment plan would attract new college graduates," said Michelle DiTondo, chief human resources officer for MGM. "There are a few companies that are doing this to attract millennials and to attract diverse talent."
MGM will also increase its tuition assistance benefit from $2,100 annually, to a maximum of $4,000 per year for its employees.