Naming Las Vegas: Piggott Elementary School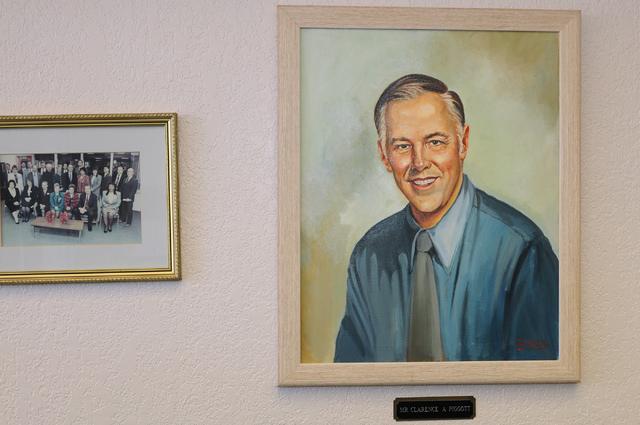 Piggott Elementary School's namesake was a counselor at Valley High School who was shot by a student in 1982.
"He was such a wonderful man, a beloved counselor, teacher, football coach, wrestling coach," said David Hudzick, the principal at Piggott, 9601 Red Hills Road. "We talk about what a good teacher he was, what a good community person he was and how he changed a lot of lives and how since he's passed, his family has a foundation that gives scholarships every year to students at Valley (High School). They do a dinner every year … so, the (good) work continues."
Clarence Piggott, who was nicknamed "Pic," was born on Sept. 16, 1927, in Middletown, N.Y. He lied about how old he was so he could join the Army and served during World War II. He was wounded and decorated, and he participated in the occupation of Japan after the war. He was hailed as a hero when he returned home.
He resumed his education and attended the State University of New York, where he earned his bachelor's and master's degrees in education. He and his wife, Beverly, were married on Oct. 22, 1950. They had one son, David.
"He was a very good father. He always told me to do my best," David Piggott said.
The elder Piggott began his teaching career in New York, where he was a special education teacher for nine years. In 1963, the family moved to Henderson, and he taught special education at Basic High School. When Valley High School opened a year later, the family moved to Las Vegas, and Piggott taught social studies and psychology. He was also the football coach and would institute the first wrestling team in the Clark County School District.
During the summers, he often worked as a ranger at Lake Mead National Recreation Area.
Although he became the social studies teacher, Piggott never lost touch with special education and was a mentor figure.
On March 19, 1982, the 55-year-old Piggott was preparing for class when he was shot by a student in his classroom at Valley High School, 2839 S. Burnham Ave. He died at Sunrise Hospital and Medical Center.
As gunman Patrick Lizotte fled, he wounded two students. When police tried to stop Lizotte, the 17-year-old pulled a .22-caliber pistol. Officers opened fire, hitting him twice in the chest. He underwent emergency surgery and survived.
He was described as a troubled loner whom Piggott had taken under his wing. Although Lizotte was diagnosed as a paranoid schizophrenic, the jury sentenced him to two consecutive life sentences without the possibility of parole. He also was given an additional 60 years for the attempted murder of the two students he injured.
The manner of Piggott's death did not overshadow the respect students said they felt for him, Hudzick said.
"I was at a training session with Metro police, and one of the officers was one of his students," Hudzick said. "I often run into people who were students of his and really admired him, looked up to him. So, we focus on how he contributed to students and the community. … We talk about what his family and friends have done since."
At Piggott Elementary School, staff members downplay the way the school's namesake died.
"He did a lot of good, and we always focus on that," Hudzick said. "Once in a while, a child will say, 'Oh, but he was shot.' Yes, but the important thing is all the good stuff he did for others."
David Piggott and his wife, Christy, were also teachers in the school district. Both are retired, although they still substitute teach. Clarence Piggott's grandson, Cameron, is a teacher at Sawyer Middle School, 5450 Redwood St.
The family comes to the school once or twice a year to attend luncheons with staff members.
The Piggotts hold an annual Clarence Piggott Memorial Scholarship fundraiser dinner and auction, an event that generates about $4,000 a year for scholarships for Valley and Rancho high school students.
Contact Summerlin/Summerlin South View reporter Jan Hogan at jhogan@viewnews.com or 702-387-2949.
Naming Las Vegas
The history behind the naming of various streets, parks, schools, public facilities and other landmarks in the Las Vegas Valley will continue to be explored in a series of feature stories appearing in View editions published on the first Tuesday of every month. If you're curious about how or why something got its name, post a comment on our Facebook page, facebook.com/viewnewspapers, or email sblust@viewnews.com.