Nevada schools have another shakeup with Jessup departure
Updated April 4, 2018 - 1:19 pm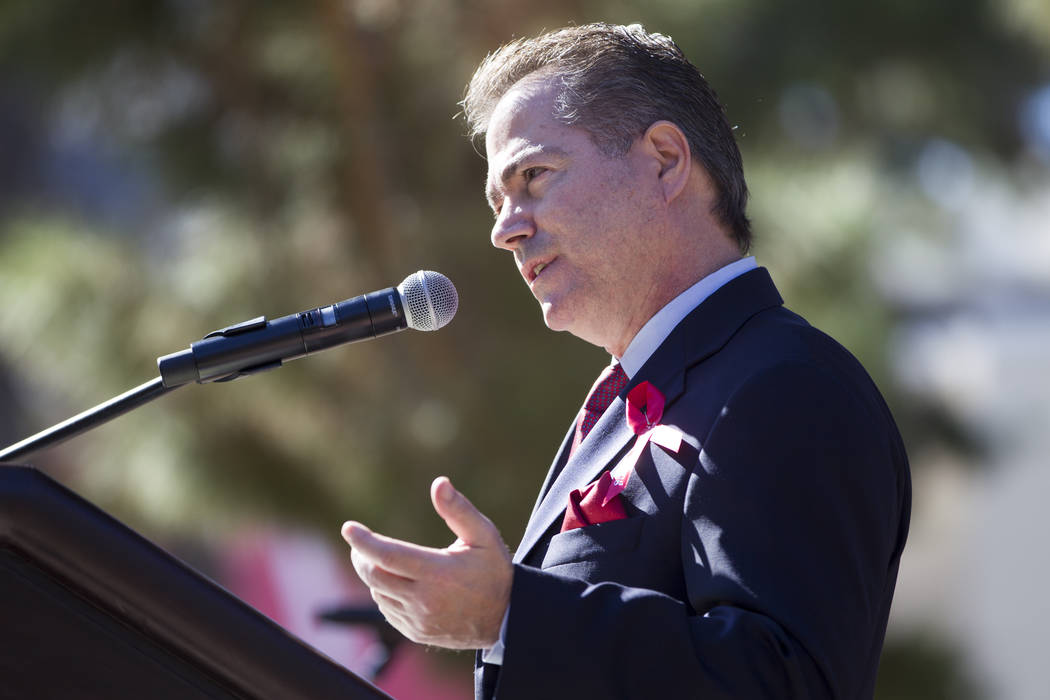 After the May commencement ceremonies end, and summer break comes and goes, UNLV students will likely return to campus in the fall without a president — temporary, or permanent.
There will at least be an officer-in-charge, said Thom Reilly, chancellor of the Nevada System of Higher Education, and possibly a chief operating officer in place by August, but he doesn't want to rush the search for Len Jessup's replacement.
"I wouldn't want to make a decision in the summer," Reilly said. "I don't want to have meetings without students there."
But no matter who steps into the role, or other vacant educational posts across the state, student success, big ideas and a broader vision are needed to move forward, education officials and community members say.
Vacant leadership posts
With Jessup's announcement, UNLV will join two other institutions in NSHE — the College of Southern Nevada and Western Nevada College — that are without permanent leaders.
The news also comes at a time when CCSD is working to replace retiring Superintendent Pat Skorkowsky, who has battled with members of the district's governing body. Trustees expect to name a new superintendent this month after a nationwide search.
The number of new faces at all levels of education in Nevada is one potential problem to add to a host of other woes in a state that lags behind a majority of the country in educational rankings.
"I have valued the leadership provided by both Pat Skorkowsky and Len Jessup in leading the Clark County School District and UNLV, respectively," Gov. Brian Sandoval said in a statement. "Pat and Len have been strong partners in moving public education in Southern Nevada forward and I am confident that their successors will continue to build on the framework that is in place."
Bridging the gap between K-12 and higher education can prove challenging, and fixing the issues can take a strong partnership at the leadership level, according to Emily Richmond, the public editor at Education Writers Association.
"Given that the vast majority of freshman attending state schools come from Clark County, it's doubly important that those expectations match," she said. "One of the best ways to do that is to have administrative leadership on the same page."
For example, Richmond pointed out Nevada high school graduates often face remedial courses at higher education institutes, calling into question how rigorous the K-12 program is and whether it prepares students for college.
Statewide, 53 percent of 2015 high school graduates who enrolled in any of the seven degree-granting state institutions ended up in such courses, according to most recent NSHE data. For Clark, it's 55.7 percent.
That can mean students take longer to graduate, which reflects poorly on the higher education institution and can increase the cost of getting a degree.
Partnerships often come in fits and starts, said Richmond, who covered education in Nevada from 2002 to 2010. She said leaders need not only big ideas but the wherewithal to bring the ideas to fruition. That could be possible even with a few new leaders, she said.
"I don't know it would be a problem if everybody is on a fresh page, but it is certainly difficult when they can't turn to each other for institutional knowledge," she said.
'Plenty of interest'
Reilly is optimistic about finding a replacement for Jessup, 56, who clashed with Reilly and the state Board of Regents.
But that was not the case with the former presidents of CSN and WNC. Chet Burton left Western Nevada College after becoming chief financial officer at NSHE, and Michael Richards left after about 10 years as president of CSN.
"If you look at all of the institutions, there's been a great deal of stability," Reilly said, adding that NSHE has received more than 100 applicants to replace Burton. "I think given what a great institution UNLV is, we'll have plenty of interest from individuals who want to lead it."
Some members of the business community, however, aren't as confident that presidential recruitment will go smoothly for UNLV.
"The world of higher education is a pretty small world," said Michael Brown, president of Barrick USA. "I've always been taught that when you apply for a job, you try to find out what happened to the person before you. It's going to be challenging for the recruitment for sure."
Tom Kaplan, senior managing partner for Wolfgang Puck Fine Dining Group, shared similar sentiments.
"Who are they going to find? Why would a good educator want to come to this university?" he said. "Until this system is changed, there's no reason for a credible, intelligent, educational leader to come."
Brown said in order for the state to diversify its economy, it needs a vibrant university.
"We're going to need a president with a vision and the mandate to implement that vision," he said.
Next steps
Gaining input from faculty and staff on the search process is one of Reilly's first steps in the wake of Tuesday's announcement that Jessup is leaving UNLV with about two years remaining on his five-year contract.
From here, the Board of Regents can either appoint an interim or an acting president. Though the terms sound similar, their meanings differ substantially. A candidate for an "interim" job would be granted a trial run, and could end up staying in the post permanently. An "acting" president, however, would be appointed to the position temporarily, and NSHE would then undertake a national search for president — a process that is currently playing out at CSN.
Margo Martin was appointed as acting president of CSN last year after Reilly received input from students and staff. Reilly said faculty and students "overwhelmingly supported" a national search, which is being led by an outside search firm, Wheless Partners.
"I envision the same process," Reilly said Wednesday, adding that he makes the recommendation based on feedback and brings it to the Board of Regents for a vote.
Reilly could begin those same conversations with the UNLV campus community in the next few weeks, but said that is unlikely.
Before Reilly even gets to that point, however, Regent John Moran wants a law firm with no connection to NSHE, to conduct an independent review of the facts and circumstances associated with Jessup's departure. He said he made a formal request to Reilly, board Chairman Kevin Page, and the system's legal counsel.
"I am committed to fighting for both transparency and good governance as we move forward," Moran said. "I trust my colleagues will follow."
In the meantime, an officer-in-charge will be selected to lead the university until an interim or acting president is chosen. Reilly said it will be one of the following members of Jessup's cabinet: Diane Chase, executive vice president and provost; Juanita Fain, vice president for student affairs; Nancy Rapoport, special counsel to the president; or Jean Vock, vice president for finance and business.
He said Chase has been officer-in-charge when Jessup has gone on vacation.
"There always has to be someone in charge," Reilly said. "There's a clear succession plan."
Reilly also wants to move forward on hiring a chief operating officer for the university — a position he announced two weeks ago citing "operational deficiencies" at UNLV.
"We will need a COO position," Reilly said. "How it will be structured, remains."
Reilly said he's working in consultation with Jessup's cabinet.
"It could be anywhere from temporary, to more long-term, to contract, to internally, externally," he said. "All that stuff is on the table for us to discuss."
Contact Natalie Bruzda at nbruzda@reviewjournal.com or 702-477-3897. Follow @NatalieBruzda on Twitter. Contact Meghin Delaney at 702-383-0281 or mdelaney@reviewjournal.com. Follow @MeghinDelaney on Twitter.