Nevada students denied diplomas over failed exams get shot at redemption
October 20, 2017 - 5:07 pm
Updated October 20, 2017 - 6:59 pm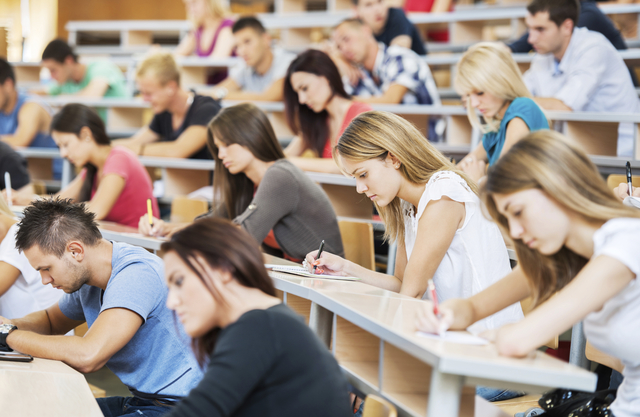 Former Nevada students who failed to earn a high school diploma because they couldn't pass the state's proficiency exam now have a shot at redemption.
In 2013, the state Legislature approved phasing out the proficiency exam graduation requirement in favor of four end-of-course tests. But before the end-of-course exam requirement went into effect, legislation removed that requirement in 2017.
That created a situation where students who didn't pass the proficiency exam were being held to a different standard than more recent students.
That will change as the result of a guidance memo sent to district superintendents by the state on Oct. 13, as long as the student meets all other graduation requirements.
The change levels the playing field for adult education learners who are still trying to earn a diploma, according to the state.
"If it wasn't retroactive we'd have a situation where we'd say if you're 22, here's your diploma, if you're 23, take the test," said Henry King, an educational program professional in the state Department of Education. "It would have created an artificial age line in adult ed by which there would have been different graduation requirements based on how old they were."
Individual school districts will set up processes for former students to submit written requests for a diploma. They will also need to verify that students met all the other graduation requirements before issuing one.
Those discussions are still happening in Clark County right now, school district spokeswoman Kirsten Searer said.
Searer wasn't sure how many students would be impacted by the change.
Once the district figures out a process for former students to apply, the district will put out information publicly, she said.
Contact Meghin Delaney at mdelaney@reviewjournal.com or 702-383-0281. Follow @MeghinDelaney on Twitter.
End-of-course exams
The end-of-course exams for high school students are no longer a graduation requirement, but they haven't gone away. The exam results are going to be built into a student's overall grade in a course, although the Department of Education has not yet figured out how much the exam will count.