Nevada's pre-paid college tuition program weathers hard times
September 29, 2013 - 5:50 pm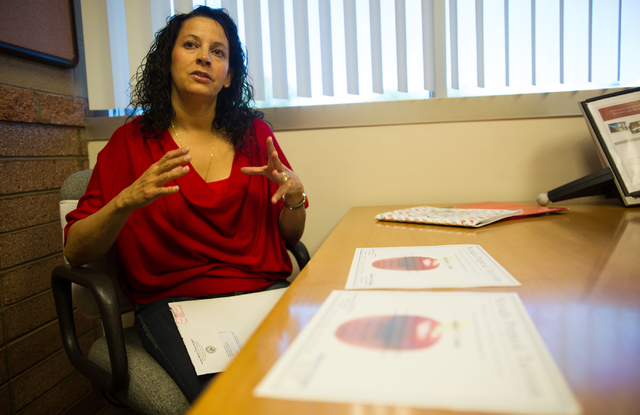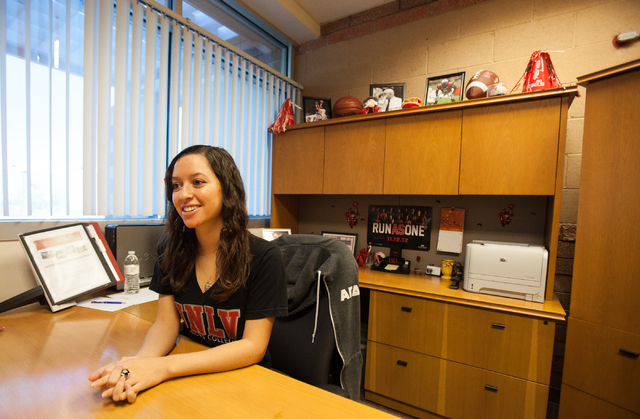 Ashley Seda was only 10 years old when her parents started paying her college tuition.
In 2003, her parents enrolled her in the Nevada Prepaid Tuition Program. By 2008, her parents had already finished paying her way to attend the University of Nevada, Las Vegas.
Seda enrolled at UNLV as a freshman in 2011, knowing she was set for the next four years.
"It's probably the best investment my husband and I have made," Seda's mother, Liz Seda said Thursday.
Ashley Seda, who now is a junior majoring in marketing and management, is one of 2,264 students using their prepaid tuition benefits in Nevada. As of spring 2013, there were 321 such students attending UNLV and 592 attending the University of Nevada, Reno, according to the Nevada treasurer's office.
Some states' prepaid tuition programs lost value during the recession in 2009, causing some to close enrollment to new participants and other to shut down entirely.
Experts say the cost of tuition skyrocketed as states slashed budgets and programs couldn't keep up with the costs.
Nevada was able to maintain its program, despite a small dip.
"During the financial crisis, 11 states closed their programs because they couldn't financially manage them," Nevada State Treasurer Kate Marshall said. "We are 104 percent funded. We have done really well. The board has managed it very prudently to make sure that it stays a success."
The program has $162 million in assets, said Sheila Salehian, senior deputy treasurer. It dipped to 87 percent funded at the lowest point of the recession.
But the Board of Trustees of the College Savings of Nevada invested $5 million into the state's program to ensure that it stayed "solvent," Marshall said.
The state treasurer's office borrowed the $5 million from a program management fund supported by participants of the five college savings plans overseen by the office.
In 2010, the program was 96.6 percent funded and has been more than 100 percent funded since 2011, Salehian said.
It is estimated to be 110 percent funded in fiscal year 2013.
Mark Kantrowitz, senior vice president and publisher of Edvisors.com and an expert on prepaid tuition programs, said not every state offers such opportunities.
During the economic downturn, several states saw increases in tuition rates as colleges and universities dealt with budget cuts, Kantrowitz said.
Several programs are struggling with shortfalls, and some have increased their premiums to new investors.
"The ability to have the revenues meet the cost becomes more and more difficult," he said.
The Mississippi Prepaid College Tuition Program has $94 million in unfunded liability, according to Sherri Hilton, assistant Mississippi state treasurer and the office's director of communications and external affairs.
The Mississippi program had $294 million in assets and 21,272 open accounts as of June.
The current funding level stands at 76.8 percent, according to Hilton. Last fall, the College Savings Mississippi Board of Directors deferred enrollment in the program so that an actuarial audit could be performed after 12 areas of concern were identified in a report.
One of the areas of concern includes incorrect pricing, which board members say has contributed heavily to the shortfall, Hilton said.
Prepaid tuition programs may no longer be a good investment, Kantrowitz said.
In the past, participants would get a good return on investment, but now, with programs experiencing shortfalls, "they don't have sufficient funds to meet obligations."
"In the past, it was a good thing," Kantrowitz said. "In the future, it's not all that good. It's not as good as it may seem."
But people like Liz Seda may disagree, especially in Nevada where tuition is still relatively affordable compared to other states.
"Thirteen years later, I would do it all over again," said Liz Seda said, who also enrolled her oldest daughter, Christian Seda, in Nevada's program in 2000.
Liz Seda paid $9,000 for a five-year plan for her oldest daughter and $15,000 for Ashley Seda's five-year plan. She estimates that she saved about $5,000 in Christian Seda's college costs and another $7,000 with Ashley Seda's costs.
Liz Seda said she wanted her daughters to "live and learn and not have the financial burden."
Ashley Seda appreciates that.
"It definitely gives me a piece of mind," she said.
Nevada's program has several option plans, and the money can be used in-state or at out-of-state colleges and universities.
Children can only be enrolled in the prepaid tuition program before their freshman year in high school, Marshall said.
"What you are able to do is to lock in today's rates for when your child goes (to college) tomorrow, and obviously the earlier you do that, the more benefit you have," she said.
The per credit-hour fee is now a little more than $190, she said. Open enrollment begins Dec. 1 and runs through Feb. 28.
The number of program enrollees has increased in recent years to include 15,000 children.
More than 1,000 families signed up last year alone, Marshall said. In 2008, 211 families enrolled and in 2013, 1,146 families enrolled.
"It's a great deal," said Marshall, whose daughter is part of the program as well.
If anything, it helps reduce the debt that students graduate with, Marshall said.
"The cost of college is increasing faster than anything else in this country," she said. "One of the ways you can start dealing with that is to start saving for college."
Reporter Yesenia Amaro can be reached at 702-383-0440, or yamaro@reviewjournal.com.