New program offers home-schooled students a jump start on college education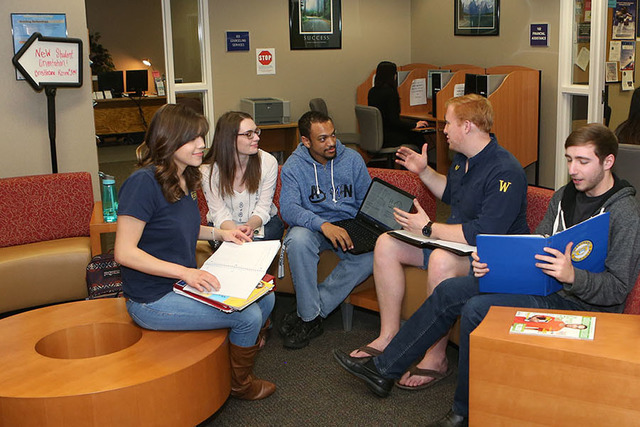 Home-school families in Southern Nevada soon will have access to a program that has helped public and charter school students get a head start on their college education.
Over the past two decades, the Clark County School District and charter campuses have launched and expanded programs that allow students to enroll in college classes as they finish high school. Some teenagers even earn an associate's degree before they graduate with a high school diploma.
That early college model, which saves students thousands of dollars in tuition, now will extend to home-schoolers in the Las Vegas Valley through a partnership between Rise Education Resource Center and Western Nevada College in Carson City.
"Northern Nevada families have had this opportunity already, but no one's been able to offer it down here," said Elissa Wahl, who in 2009 co-founded Rise, a local nonprofit group that works to teach parents about alternatives to traditional school districts.
Her organization, which offers classes for home-school families, soon will host the latest expansion of WNC's early college program that offers juniors and seniors the chance to earn up to 60 college credits within two years.
WNC debuted the program, called Jump Start, three years ago and already has partnered with 17 high schools across the state, including two charter schools in Las Vegas.
"They outperform every group at the college," John Kinkella, WNC's dean of students, said of the Jump Start students.
At WNC, 96.7 percent of Jump Start students completed their courses in the spring 2015 semester, compared to an average 73 percent for the entire college.
As part of the Rise partnership, home-school families must pay a $20 monthly membership fee to the organization on top of about $1,350 in tuition for a 15-credit semester at WNC. Textbooks must be purchased separately.
Unlike most public and charter school students, home-schoolers do not receive a subsidy for their participation in early college programs. Thus, home-school families would have to pay $5,400 for a student to earn an associate's degree through WNC.
However, the Nevada Supreme Court soon will hear arguments in two challenges against a school choice program that would allow families who pull their children out of public school to spend about $5,100 a year in state per-pupil funding on home-school expenses and other educational services.
For now, Rise plans to keep class sizes between 12 and 20 students, with orientation starting July 18. Students also need to complete an interview process to gauge their academic and social readiness for the Jump Start program.
"Basically, does the student want to be there? Because these are college grades. These are going to go on their college transcripts — permanently," said Amy Carder, facility manager for Rise.
The organization will hold another meeting for families to learn about the Jump Start program 10 a.m. on Saturday at 1722 Primrose Path.
Contact Neal Morton at nmorton@reviewjournal.com or 702-383-0279. Find him on Twitter: @nealtmorton.