New program to change how Clark County schools handle discipline
August 24, 2018 - 10:41 am
Updated August 24, 2018 - 4:59 pm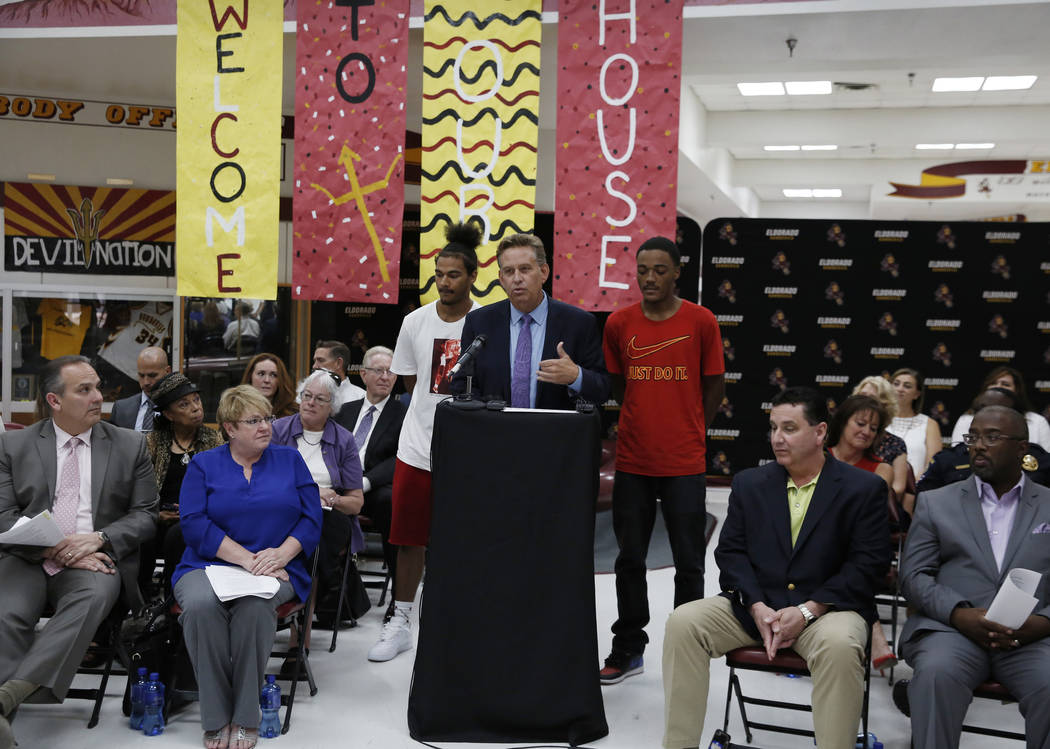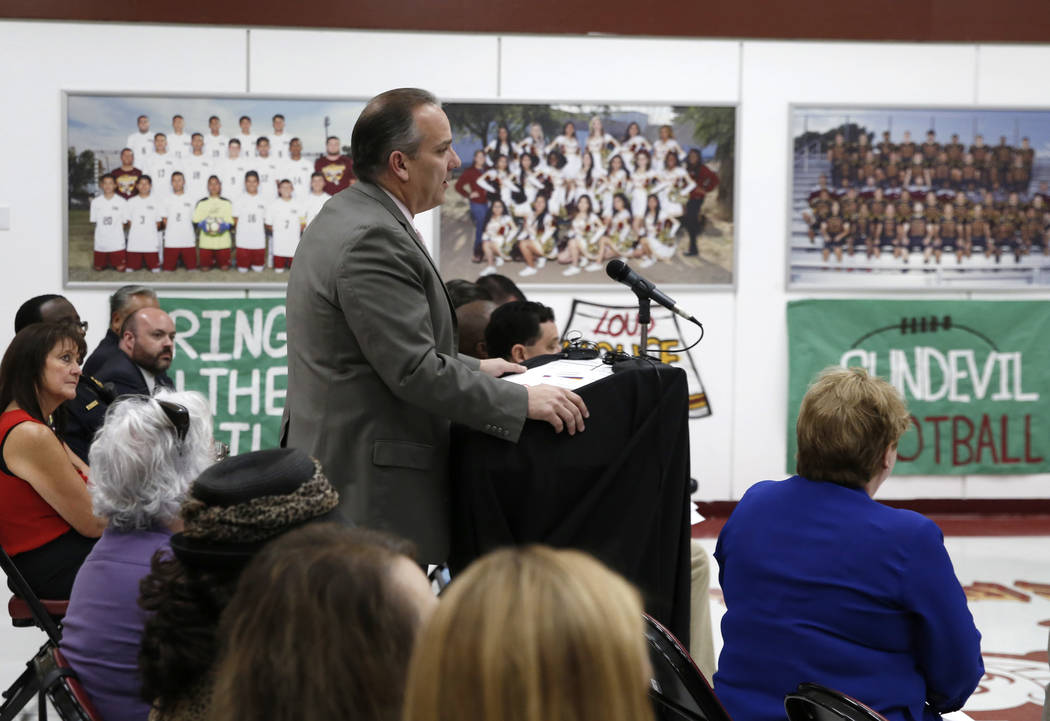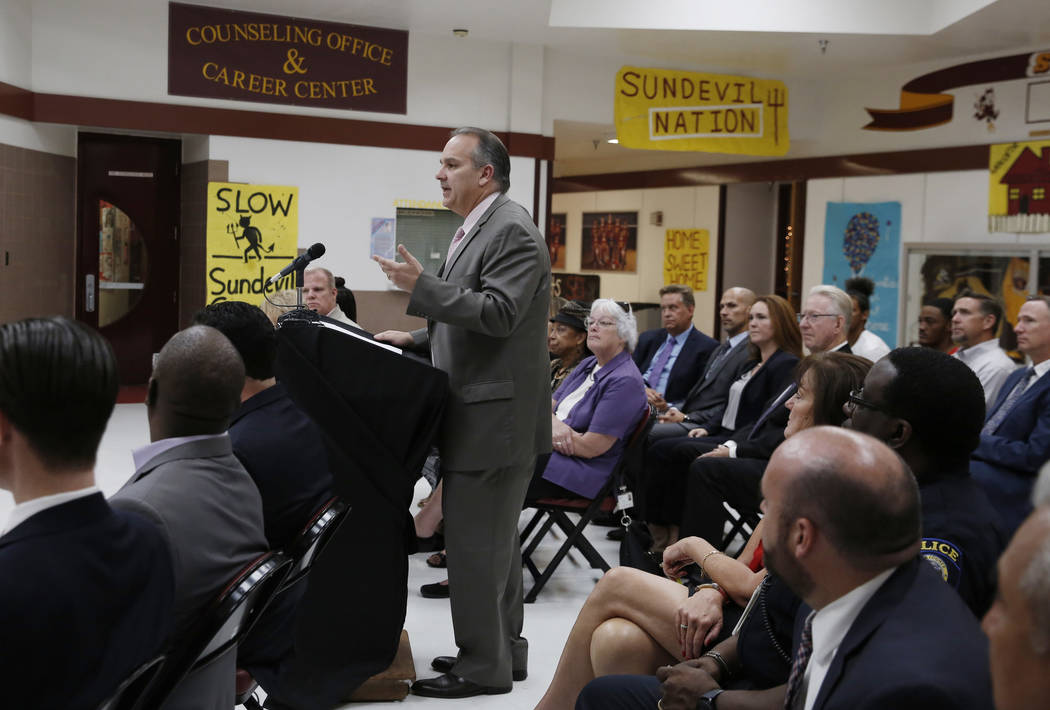 Royale Davis had been suspended a few times in high school before he faced expulsion.
But his principal at Eldorado High School saw the good in him and kept him in school, he says.
"If he had expelled me I probably would've dropped out or been in a worse (school)," said Davis, who graduated this spring.
Davis is the kind of student that the Clark County School District aims to help through an initiative unveiled Friday that it hopes will cut the school-to-prison pipeline to a trickle.
The Clark County School Justice Partnership — a coalition of the school district, the Clark County Department of Juvenile Justice Services and the district attorney's office — will change the way the district handles many disciplinary matters.
It encourages schools to keep certain minor criminal acts — termed "focus acts" — out of the court system by using in-school strategies of intervention and support. The list includes trespassing, possession of drug paraphernalia, possession of less than one ounce of THC, obstruction, disturbing the peace, resisting a public officer, petty larceny, damage to school property and truancy.
The goal of the program approved Thursday by the School Board is preventing students who get into trouble from spiraling into the criminal justice system.
"Once they get to that juvenile justice system, if they get an official document in juvenile justice, they'll stay there," Mike Barton, the district's chief college, career and equity officer who helped develop the partnership, told the Review-Journal. "Or it can be compounded and they can get more serious infractions."
Improving the numbers
The announcement comes as the district deals with a rising tide in school violence and consistent disparities in discipline among ethnic groups. Black students made up only 13 percent of the student population in 2017-18, for example, but represented up to 50 percent of referrals for suspension, expulsion or behavioral school.
The district's goal is to reduce school police referrals — an arrest or citation by police — to the courts by 20 percent, from 8,795 in 2017 to 7,036 in 2019. It also aims for a 20 percent reduction in court referrals by each ethnic group, including a reduction from 1,741 referrals for black students in 2017 to 1,393 in 2019.
"This is a paradigm shift," Barton said. "But it's a paradigm shift in the right direction to help students."
Family Court Judge William Voy said the partnership is about early intervention.
About 75 to 80 percent of the referrals that come from the district into the system are already placed through diversionary programs, he said at Friday's briefing.
Officials argue that's better for students and their futures than getting wrapped up in the court system.
"It may take eight weeks before this child is seen by someone in our system when they're given a citation," Voy said. "In the meantime, they're back in school, and Johnny's issue hasn't been addressed."
'Transparency is critical'
Superintendent Jesus Jara acknowledged the district has not made strides in reducing the disparity in discipline and stressed the need for transparency in the initiative.
"Transparency is critical," he said Friday, "because I think the public and the community really need to understand some of the challenges."
The partnership encourages staff to follow guidelines to determine the best consequences for misbehavior. It also encourages police to go down a multi-step checklist before arresting a student, including talking to parents and discussing alternatives with the principal.
That could mean the difference between graduation and prison time for youths like Davis, who credits staff at Eldorado for turning him around.
"If it wasn't for them, I would've had a different path," he said.
When Davis got stabbed just before graduation in April, Assistant Principal Jennifer Ludtke brought his school work to the hospital.
Davis even tried to sneak out of his room — to come back to school.
"I wanted to come back to school and see all my friends and see Ms. Ludtke," he said.
Ryan Johnson, who graduated with Davis, also credits staff for helping him graduate. He was expelled sophomore year and had trouble with the law.
"(It was) basically just me having that second chance that gave me the opportunity to graduate," he said.
Contact Amelia Pak-Harvey at apak-harvey@reviewjournal.com or 702-383-4630. Follow @AmeliaPakHarvey on Twitter.