Returns on 'Read by 3' programs raise concerns in Clark County
October 15, 2017 - 12:04 am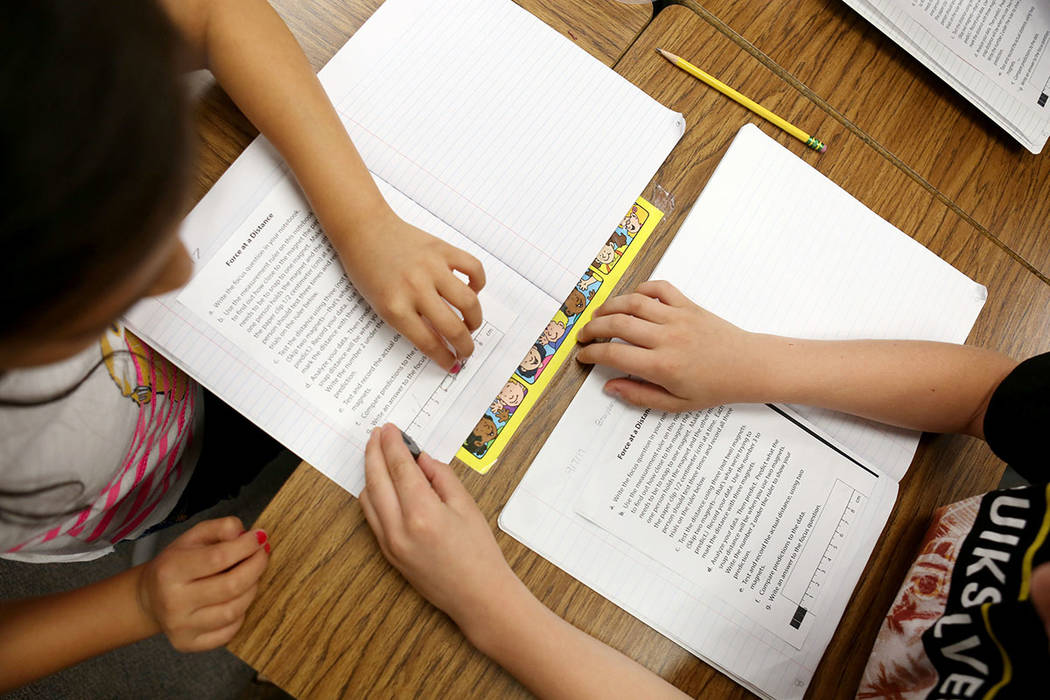 Students at David Cox Elementary School in Clark County increased their performance on the third-grade reading exam by 2.87 percent this year — a bump administrators say is at least partly attributable to the "Read by 3" law passed by the state Legislature in 2015.
But the Cox students are something of an outlier.
Initial trend data compiled by the state Department of Education indicate that only 43 percent of the schools that received grants to help struggling students improve their reading actually bettered their test scores in third grade. The majority showed a decline.
The early returns already are stirring concerns over the law, which will require third-graders who do not pass the Smarter Balanced exam in spring 2020 to repeat the grade.
If the law were in place now, about 55 percent of third-grade students — or more than 20,000 statewide — would be in danger of being held back.
But Brett Barley, a deputy superintendent in the Nevada Department of Education, cautioned at a Board of Education meeting Thursday that it's too early to draw conclusions about the grants meant to help schools bring struggling students up to par before the law goes into effect.
"It's a very early data point for a program that's intended to serve kids over multiple years," he said.
The grant money provides for a literacy specialist to work at the school, which can include pulling kids out of their regular classrooms into small group settings to help bring them up to speed. The grants can also be used to help train teachers.
Board Vice President Mark Newburn also counseled patience.
"We know that factors outside of the school have an enormous impact," he said. "I want us to be a little careful when we're looking at the trend data because we don't know what else is happening."
Dissecting data
Though the data were preliminary, some board members wanted more explanation even at this early stage.
Board member Felicia Ortiz said she found it shocking that some schools that received grants showed almost a 100 percent increase in reading scores while others showed a 100 percent decrease.
"I need caveats at the bottom," she said.
Karl Wilson, the assistant director of the state's department of student and school supports, said some cases involved schools with small numbers of third-graders, where one or two students can cause huge swings in results.
While the initial results took some aback, Read by 3 has some strong advocates, including Linda Beatty, the literacy specialist at Cox Elementary in Henderson.
"It has changed our mindset for when and how we address the needs of our struggling learners," she told board members.
One of those struggling learners was 7-year-old Austin Cromwell, now a second-grade student at the school. His mom, Whitney, noticed he was lagging behind his classmates in kindergarten. The grant that Cox received during his first-grade year helped him make tremendous strides, his mother reported.
"Now, he is an efficient reader reading at grade level," she said. "I'm just so grateful that my son has had this opportunity."
Preparing for retention
The first students who are in danger of having to repeat third grade are in first grade now. If they fail the spring exam in 2020, they could be held back in the 2020-21 academic year.
But the law has a number of good-cause exemptions written into it, said Kevin Marie Laxalt, the state's Read by Grade 3 program manager.
Student can advance to fourth grade if they demonstrate proficiency on an alternative exam, if a portfolio of their work shows they are reading on grade level or if they were previously held back in first or second grade for two years.
The law also has provisions for students who must repeat third grade, Laxalt said. "They cannot go back to the same teacher for that same year. They can be moved to fourth grade within the year. The writers … were brilliant in the design of this piece of the law."
Timeline barriers
More than $25 million in competitive grants intended to help struggling students have been distributed statewide in the last two years.
Grant requests for the 2017-18 school year came in at $30 million, but the state only had $20.5 million to give out.
"There was incredible demands with services in this program," Barley said.
Preliminary figures announced Friday would give Clark County schools $11.9 million in grants.
The funding was prioritized for lower-performing schools in need of additional literacy support, according to the state. The state also looked at whether grant proposals were putting forth evidence-based strategies.
School districts can begin spending the money immediately and will be reimbursed later by the department.
Getting the money this late in the school year has proved to be an issue for schools, district officials said.
"The timeline on the grants coming out has been a barrier for us," said Jesse Welsh, Clark County's assistant superintendent of curriculum and professional development. "It's been an obstacle for our schools that hopefully we could alleviate in the future."
Contact Meghin Delaney at 702-383-0281 or mdelaney@reviewjournal.com. Follow @MeghinDelaney on Twitter.
Good-cause exemptions
The law includes several ways a third-grade student who fails the state reading assessment on the Smarter Balanced exam can move to fourth grade. Under these "good-cause exemptions" in the Read by 3 law, a student can be promoted if he or she:
— Demonstrates proficiency on an alternative assessment approved by the state board.
— Demonstrates proficiency in reading at grade level through a portfolio of their classroom work.
— Is limited English proficient and has received less than two years of instruction in a program of English as a second language.
— Has received intensive remediation in reading for two or more years but still demonstrates a deficiency in reading.
— Was previously retained in kindergarten, grade one or grade two for a total of two years.
— Is a student with a disability and his/her individualized education program indicates that his/her participation in this exam is not appropriate.
— Is a student with a disability who: participates in the exam, has received intensive remediation in reading for two or more years but is still demonstrating deficiency in reading, or was previously retained in kindergarten or grades one, two or three.
— Has been previously retained in grade three.
Source: Nevada Department of Education