Southwest Rotary Club hands out new shoes to at-need Ferron Elementary students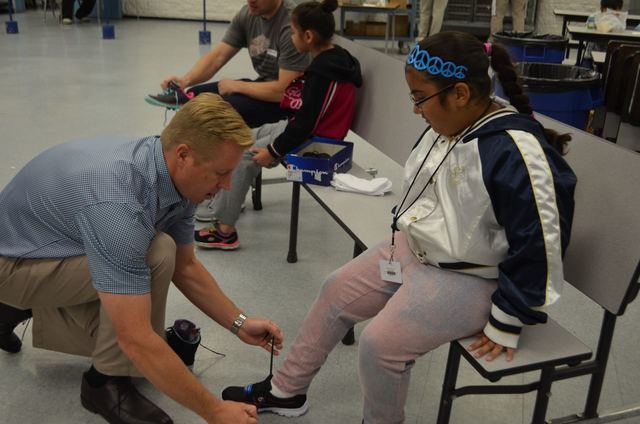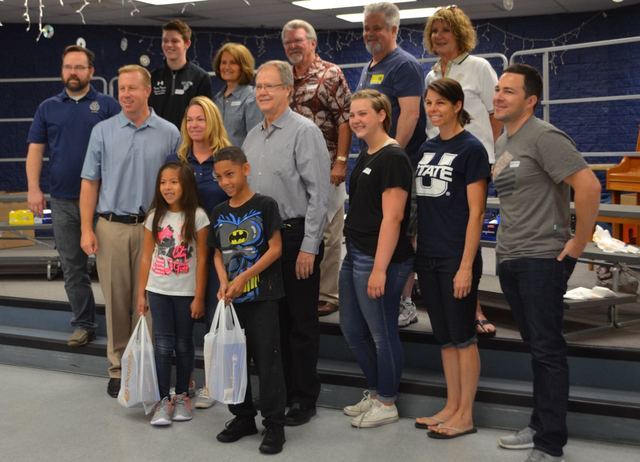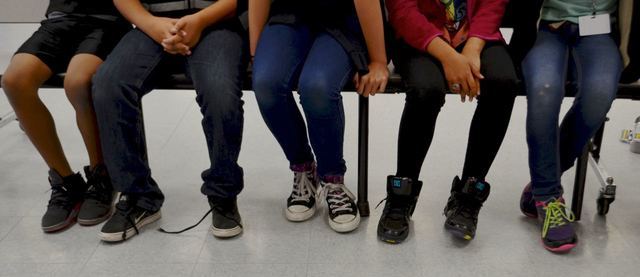 "Sit down, sit down; we're getting new shoes," a young girl said excitedly as she entered the cafeteria at Ferron Elementary School, 4200 Mountain Vista St., in May.
She and 49 of her peers were the beneficiaries of a Southwest Rotary Club Happy Feet program visit.
School counselor Julie Bellavia teamed with teachers to identify 50 students who could use new shoes and socks. She said sometimes the need is obvious at the school, where roughly 75 percent of the students qualify for free or reduced lunch.
"Kids will come in here with shoe soles just flapping," Bellavia said.
Rotary Club members took the list of names and sizes and went shopping. Then club members and other volunteers came to the school to distribute the shoes one-on-one.
Volunteers lined up to match each child with his or her potential shoes.
Tom Martin, one of the Happy Feet organizers, said he's been working with the Southwest Rotary Club's program for around 15 years. He admits Happy Feet wasn't his club's idea.
"We kind of copied the North Las Vegas club," he said. "They started Happy Feet."
Martin pored over his list to make sure every child was matched with the right shoes.
"There's no set-in-stone way we do this," he explained as he oversaw the distribution.
They used to give students a letter to inform them the shoes were a gift from the Rotary Club. Sometimes, they tell the kids they were picked to get new shoes and socks based on merit.
"That way, it doesn't sound like it's so much about need," he said.
But for many, the need is apparent.
"Those of you who haven't done it, hopefully you'll get the same feeling most of us do here," Martin said.
Southwest Rotarian Adrienne Cox helped a child remove old shoes and try on the new pair.
"These are just a bit bigger," she said. "Is that good? I think so. Clearly, you have grown."
Cox said she has helped out at schools around 25 times over the last 15 years. She said much of the funding for the program comes from the club's annual gold raffle.
"And then all Rotarians, by definition, are philanthropic, charity-minded people, so we certainly contribute ourselves," she said.
Not all the volunteers were Rotary Club members. High school sophomore Tommy Truman took a few hours away from his studies to help out alongside his grandmother, Southwest Rotarian Lucinda Truman.
"I'll just do my online school later," he said.
Lucinda said the experience was great for both of them.
"This is our first time, and it's really fun," she said. "I was a long-term sub here years and years ago. When I looked and saw the school name, I thought, 'How fun.' "
"Yeah, it's awesome," Tommy agreed.
Michael Cahill, a Las Vegas attorney, saw the need for distribution volunteers listed at justserve.org and decided to help.
Although Cahill is not a Rotarian, he said after helping out in the distribution event, that could change.
"It's been a lot of fun, as you can tell," he said. "I don't know anything about the Rotary, but if they're doing cool stuff like this then, yes, I could see joining."
Not all the shoes were a perfect fit. Some kids grew while others reported the shoe size they were wearing, which often was stretched out.
Southwest Rotarian Jordana Lane was given the task of returning shoes that didn't fit.
"I get to go shopping," she said. "We'll get it taken care of. I'm going to go right after we're done. We'll roll with it. It'll be OK, as long as they get their shoes today. The first little girl, I wanted to take her right now to let her pick out a pair."
For more information on the Southwest Rotary Club, which is celebrating its 50th anniversary, visit lvswr.org.
Contact View contributing reporter Ginger Meurer at gmeurer@viewnews.com. Find her on Twitter: @gingermmm.
Southwest Rotary Club
For more information on the Southwest Rotary Club, which is celebrating its 50th anniversary, visit lvswr.org.