State Board of Examiners OKs contract for research firm to evaluate success of school reforms
April 12, 2016 - 10:10 pm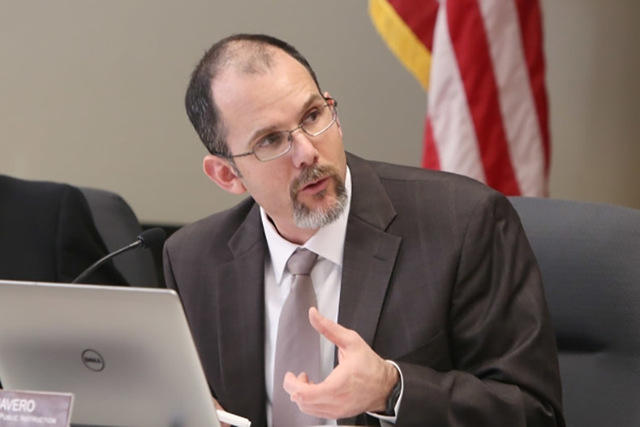 The state Board of Examiners on Tuesday approved a $354,000 contract for a Las Vegas-based research firm to evaluate the success of several public education reforms that the Nevada Legislature passed last year.
ACS Ventures LLC, founded in late December by psychometrician Chad Buckendahl, will provide results-based evaluations of the Victory and Zoom school programs to help students living in poverty and English language learners.
Additional studies will examine a third-grade literacy bill, a grant for underperforming schools, a grant for social workers in schools, investments in classroom technology and a teacher and principal training program.
A separate contract provides $58,000 for an ACS Ventures study of state teacher licensing requirements.
"Nevada has long faced a teacher shortage and this modernization will not only make us more efficient, it will allow us to recruit more qualified teachers to the state," Steve Canavero, state superintendent of public instruction, said in a statement.
At the Board of Examiners meeting Tuesday, Canavero announced the appointment of Jana Wilcox-Lavin as the superintendent-in-residence of a new Achievement School District.
Based on similar models in Louisiana and Tennessee, the state-run district will hand over control of persistently failing schools to charter management organizations.
Wilcox-Lavin is now interim executive director for a charter operator in the Achievement School District in Memphis, Tennessee. Private funding will support her position in Nevada, where Wilcox-Lavin will be on contract with the United Way of Southern Nevada.
She will serve on Canavero's executive team.
The Board of Examiners on Tuesday also approved a $10 million contract for educational nonprofit Opportunity 180 to recruit high-quality charter schools to Nevada. Some of those operators may attempt a campus turnaround as part of the Achievement School District.
The Nevada Department of Education already has awarded nearly $1.1 million to 27 schools as part of a turnaround grant program for underperforming schools.
The Clark County School District received about $646,000 through that program for 11 traditional and charter campuses.
Contact Neal Morton at nmorton@reviewjournal.com or 702-383-0279. Find him on Twitter: @nealtmorton