UNLV microbiologists study little-known bacteria in Nevada springs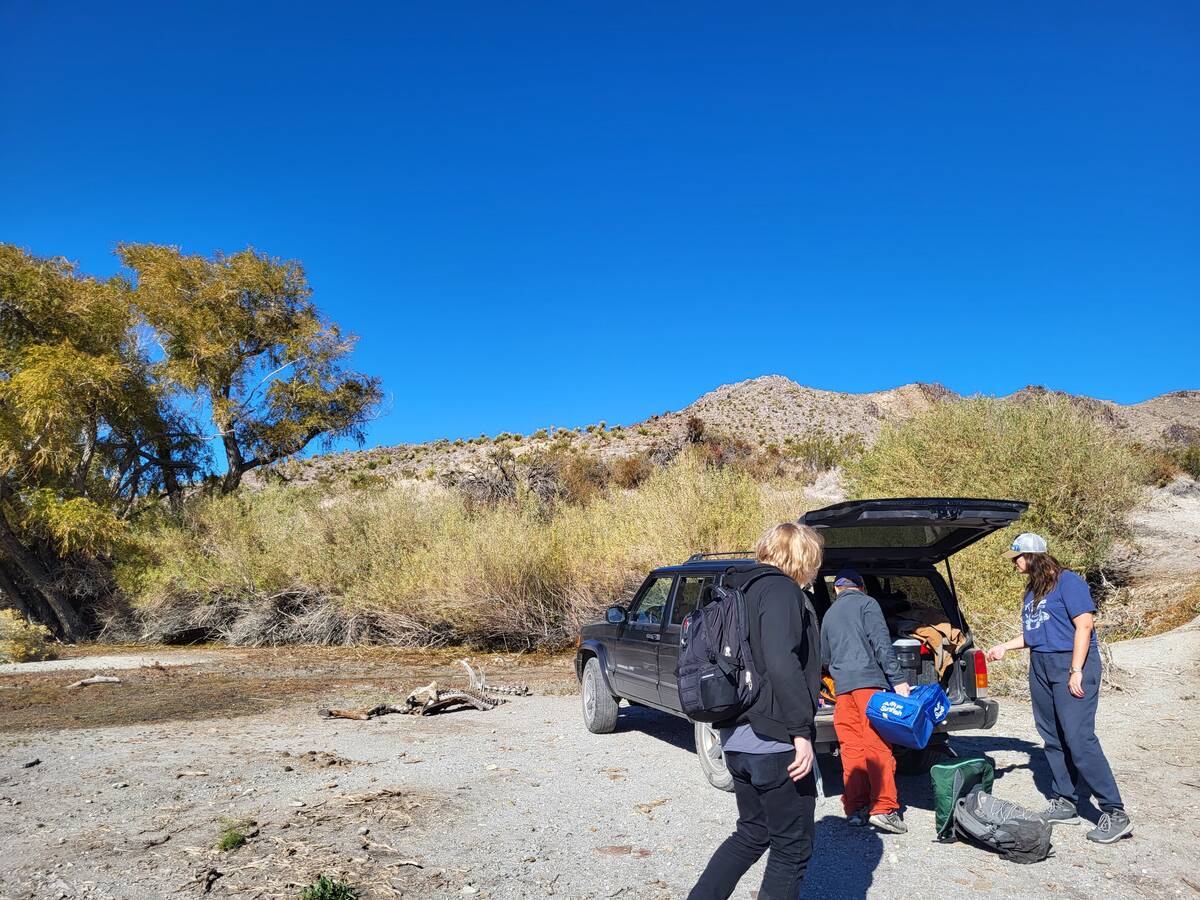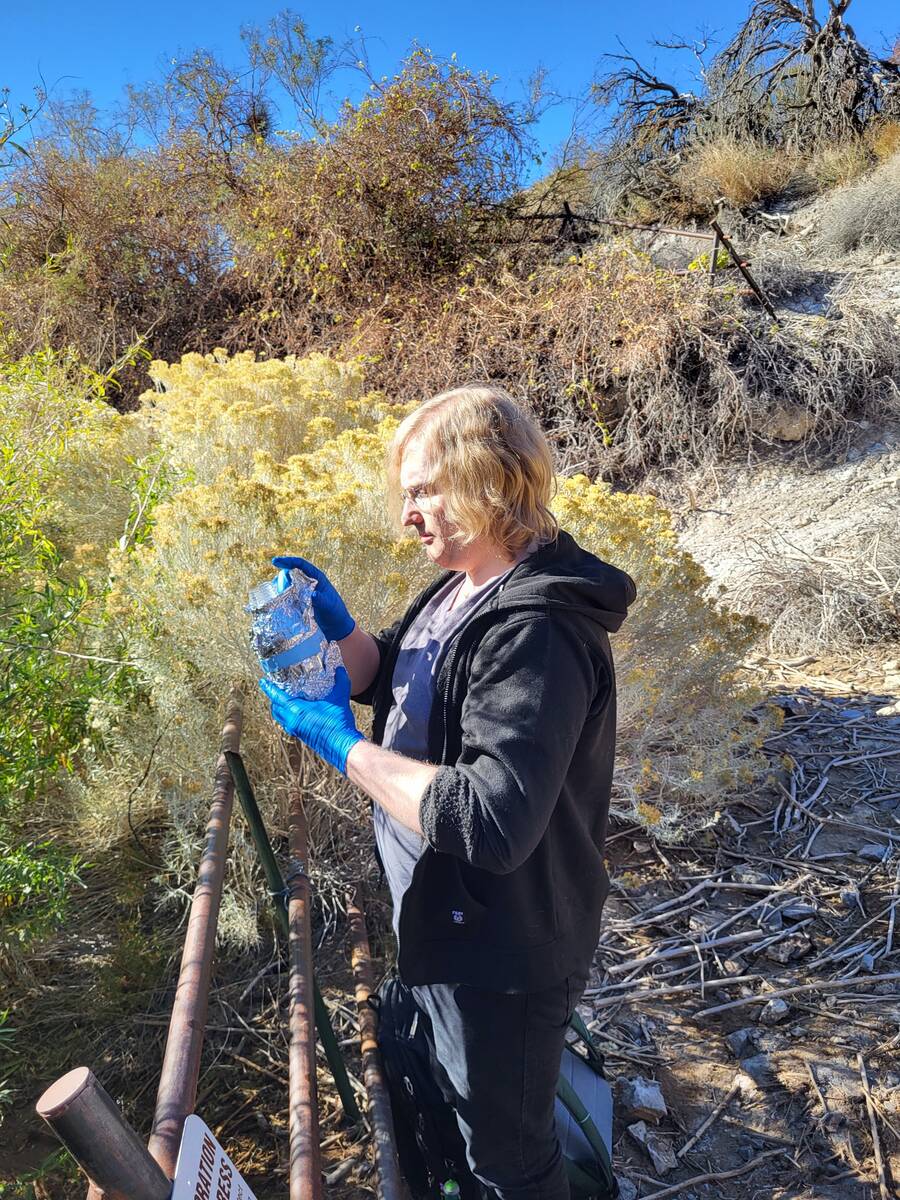 GRAPEVINE SPRINGS — The team of UNLV microbiologists set up their equipment in the end of a pipe connected to a natural spring, hoping to filter some of the smallest known living things out of the nearly 4,000-year-old water.
They're looking to catch omnitrophota, a phylum of bacteria that are incredibly small and relatively unknown to scientists. So little is known about the tiny creatures that microbiologist Brian Hedlund and other scientists have referred to them as "microbial dark matter."
"They're major lineages of microbes that nobody's ever studied before," Hedlund said.
Hedlund and his team, including researchers Marike Palmer and Cale Seymour, have filtered the waters in many natural springs across Southern Nevada much like this one in Grapevine Springs. Those waters range from 20 years old to over 25,000.
'Like forensics'
Hedlund explained that studying microscopic organisms is especially difficult since you cannot see them with the naked eye and they're even difficult to observe under a microscope.
To get around this problem, the scientific community created a "pure culture" of the desired microbes. A "pure culture" is a sample of just the microscopic organism with no other microbes present.
While this method allows scientists to effectively study microbes, Hedlund said it also misses a large amount of microscopic organisms. According to Hedlund, about 75 percent of microbial lineages have never been grown in a pure culture in a lab.
"The two hurdles would be, one, getting it to grow in the lab, and then, two, getting it to grow on its own in the lab," Palmer said. "The vast majority of what we've observed, based on DNA from the environments, were unable to do either of those things."
Hedlund and his team still try to grow the bacteria they're studying in the lab, with a pure culture if possible. If they can't create and maintain a pure culture, then they try to maintain communities of mixed microbes in the lab and sequence the DNA of their desired microorganism.
Hedlund described identifying microbes by DNA sequencing as "like forensics." He said the scientists take DNA from a specific sample and figure out how closely related the bacteria that they're looking at are to others that they've observed. The team then uses this information to make evolutionary trees for the bacteria that they've studied.
Hedlund and Palmer were also able to assign names to microbes whose base genomes were complete enough for them to recognize.
Hyperactive predators
According to Hedlund, the trip to Grapevine Springs was intended to collect bacteria for a test run in another experiment — testing the microbes for hyperactivity.
"Hyperactivity" in this context means basically what it sounds like: The bacteria become incredibly active for periods of time.
Hedlund explained that other studies of hyperactivity in microbes found that "obligate predators" — microscopic organisms that exclusively eat other microbes — were found to consistently show higher levels of hyperactivity than microbes that eat other sources of food.
Hedlund said that many of the omnitrophota that the team has observed were more hyperactive than most obligate predators.
This level of hyperactivity supports the theory behind how omnitrophota eat. The scientists believe omnitrophota are either parasites or predators. The team will also monitor the activity of the bacteria throughout their stay at the lab to see if it increases when attached to larger microbes, which would support the theory that they're feeding on those microbes.
As they collected the spring water last month, Hedlund and Seymour made sure that the bottles were properly rinsed out and kept their protective covers on after collection to keep the sun out of the samples. They took such care because the samples can be easily contaminated and the microbes can also be very fragile.
Palmer also measured the oxygen levels of the spring water to ensure that the samples keep around the same amount of oxygen, so the researchers don't accidentally kill the bacteria.
'Stable, but not resilient'
In their research, Hedlund and his team encountered multiple springs that were dry when they got there.
He said that while more arid conditions threaten younger springs that rely more heavily on seasonal snowmelt, the older springs are actually very stable. That stability comes at the cost of the springs' ability to bounce back from potential damage.
"These springs are very stable, but they're not resilient," Hedlund said. "So when these springs are dead, they're dead."
In the case of these springs, those deaths could also mean the potential deaths of thousands of species of microbes before they're even discovered.
'Master chemists'
Aside from growing the scientific knowledge of microscopic life, the work done by Hedlund, Palmer and Seymour can also end up having other applications that have a more direct effect on everyday life.
Palmer and Hedlund talked about the practical applications that have come as a result of microorganisms, which include a range of food and drink products such as vinegar, beer, cheese and a wide variety of preservatives.
"There's just such a large diversity of stuff that they can do, which we can't," Palmer said.
Enzymes derived from microscopic life also helped develop scientific tools. One example is reverse transcription polymerase chain reactions that are used in some COVID-19 tests.
"We're basically at the same time trying to discover the diversity of the organisms as a whole," Palmer said, "but then also trying to improve our understanding of what makes up those organisms and what skills they would have that could potentially help us."
Contact Mark Credico at mcredico@reviewjournal.com. Follow him on Twitter @MarkCredicoII.