UNLV symposium discusses importance of free speech on campus
February 13, 2018 - 5:06 pm
Updated February 14, 2018 - 4:35 pm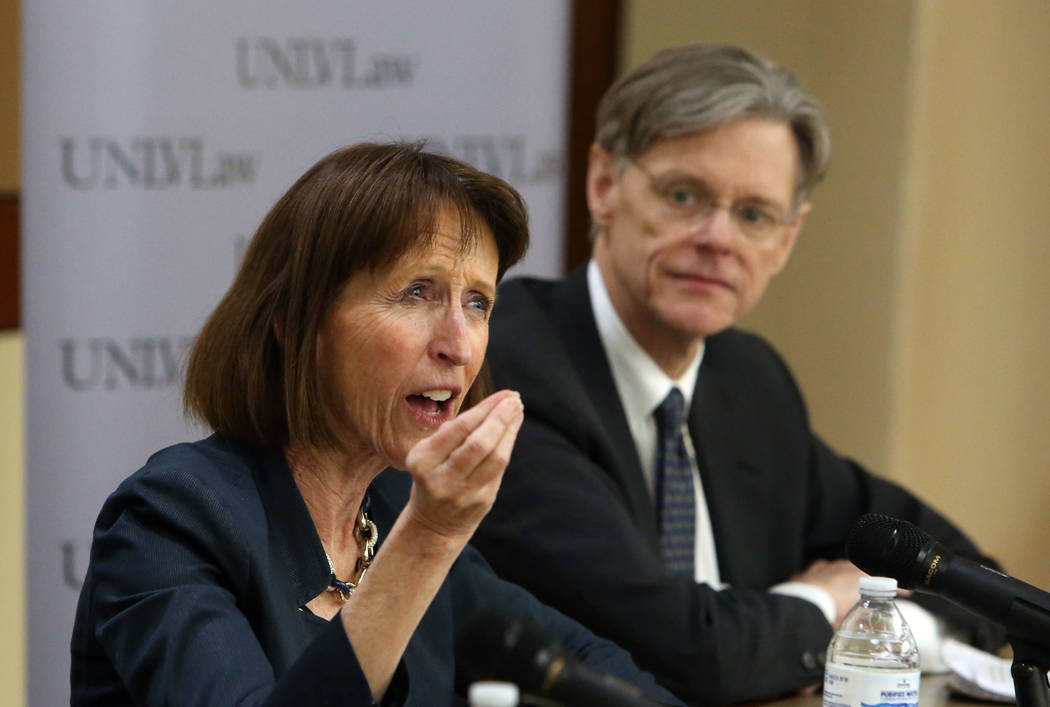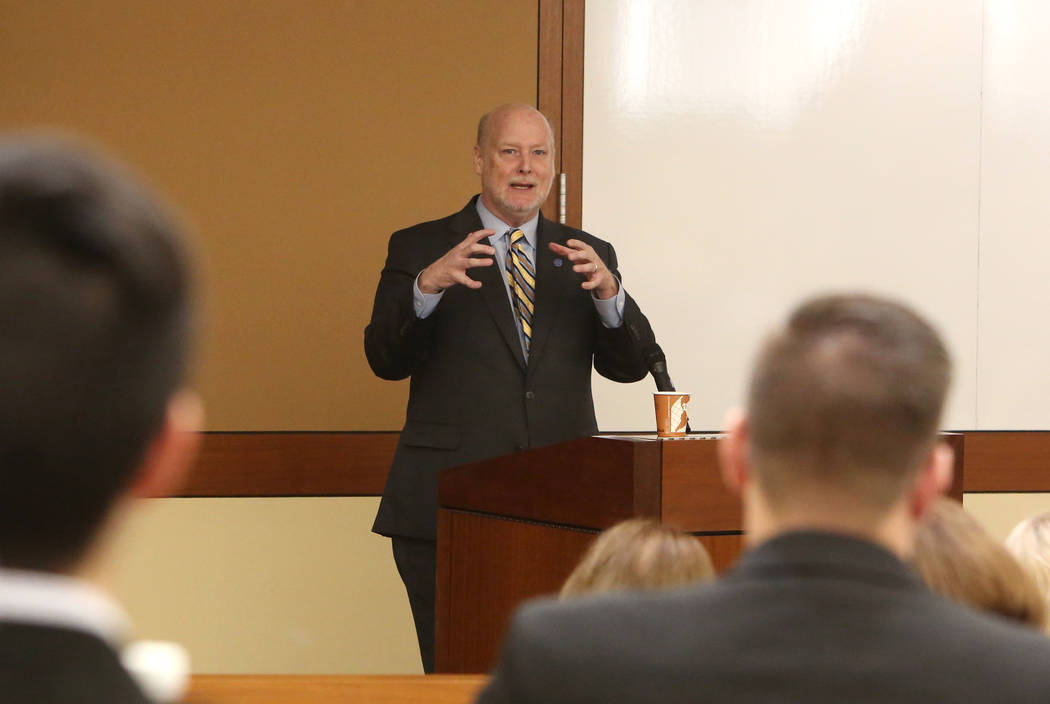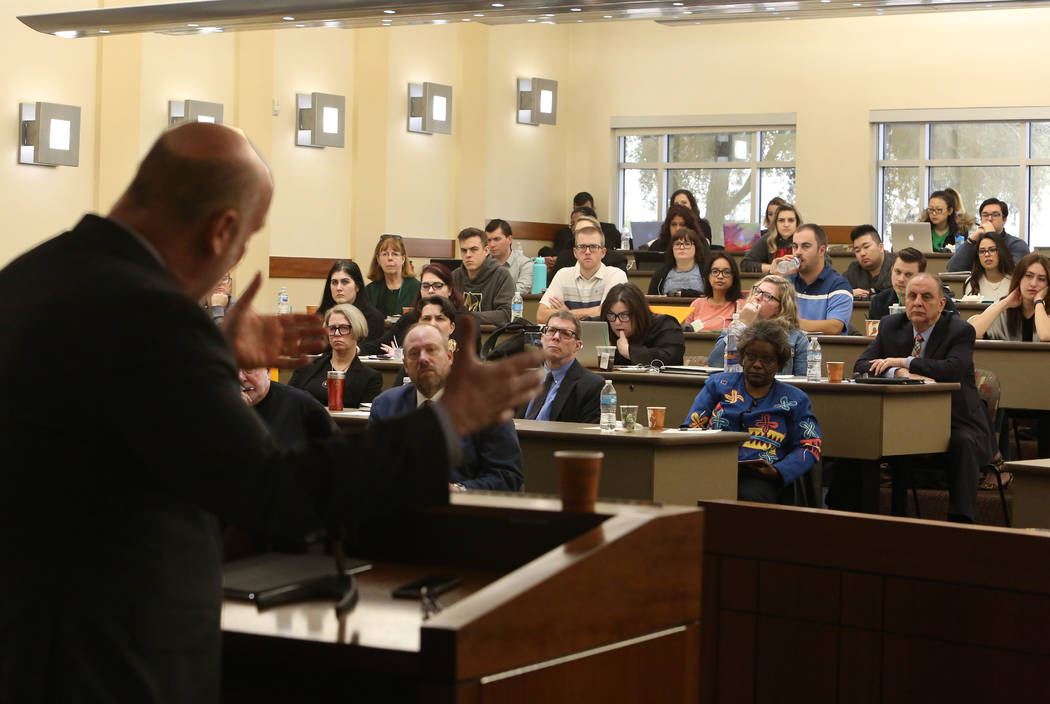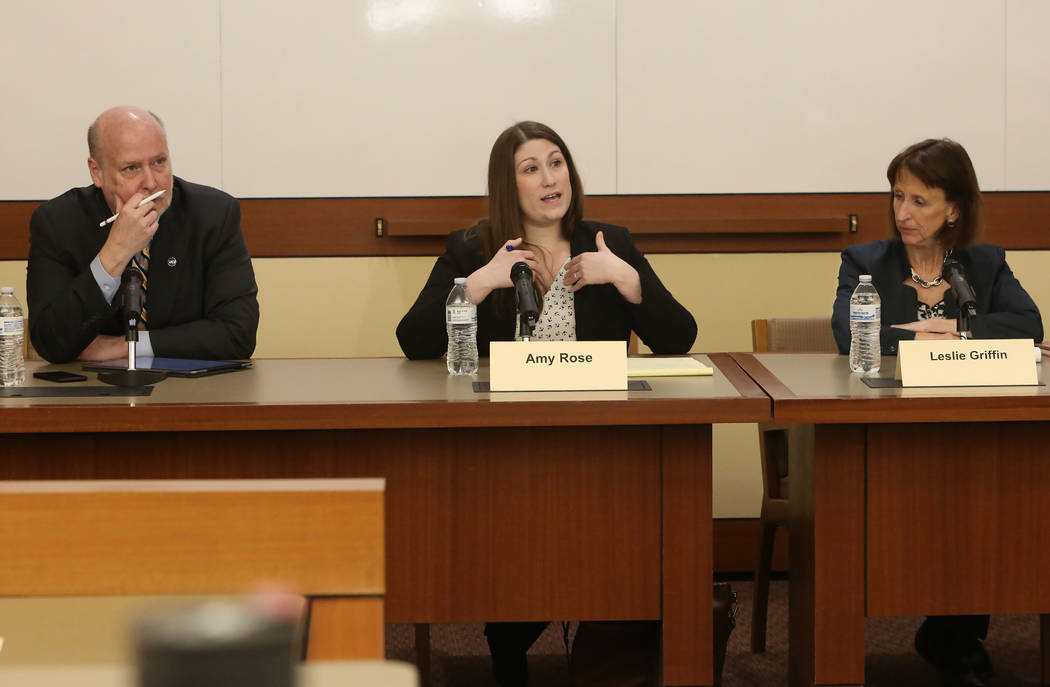 Institutions of higher education are in the business of generating ideas.
But are all ideas welcome on college campuses today?
Howard Gillman, author and chancellor of the University of California, Irvine, said they should be.
"Physicists did not figure out whether light is a particle or a wave or something else, by shouting each other down," Gillman said Tuesday during a "free speech on campus" symposium at UNLV's Boyd School of Law. "You bring the ideas to the table, and you assume that anyone who is willing to be in partnership with you, is deserving of your respect as engaged in a common enterprise."
UNLV hosted the symposium about six months after the white nationalist rally in Charlottesville, Virginia, and about five months after conservative writer Ben Shapiro spoke at the University of California, Berkeley, where violent clashes broke out.
Gillman said any idea is expressible on campus, and that students, and even faculty, can't be punished for voicing ideas, even if an idea is hate speech. But he argues that college campuses need to do a better job at communicating and deepening the conversation about the significance of free speech on a day-to-day basis, and not just when college presidents are forced to defend hate speech under the First Amendment.
"Most of the time, when there are controversies, university leaders find themselves a bit tongue-tied," Gillman said. "They're only talking about it in a circumstance where you're defending truly deplorable people, and if the only time you're talking about why the expression of free ideas is important, is when (white nationalist) Richard Spencer is knocking on your door, you're never going to win that argument."
Today's generation of college students is the first to grow up in a time when anti-bullying messages saturated their elementary, middle and high-school years, making them more sensitive to the emotional well-being of their peers, he said.
That doesn't make them "snowflakes," Gillman said, adding he deeply admires the value that students bring to the UC Irvine campus. However, he said students also lack basic civic knowledge about free speech issues and have "no direct historical connection to the social value of protecting speakers who are viewed by others as dangerous or controversial."
"They had no sense of the countervailing value that if you give the power of the censor to established officials, they might not use that power in the way you think they will," Gillman said.
Mark Yudof, president emeritus of the University of California, said college leaders must review their rules surrounding free speech on their campuses now, and not in the moments after a controversial speaker is invited, or requests, to speak on campus. The university spent $4 million last year on security surrounding free speech events, he said during the symposium's second discussion.
Barbee Oakes, chief diversity officer for UNLV, said she wishes she had a $4 million budget to create programming for students to learn how to communicate and engage in difficult dialogue with people who hold opposing viewpoints.
"We're not teaching them," she said. "They come to college at the age of 18 having had no real experience in talking to people who have views that are different than theirs. And until we're willing to take that on seriously, I think that the arguments will continue to grow and campus environments will become more volatile."
Contact Natalie Bruzda at nbruzda@reviewjournal.com or 702-477-3897. Follow @NatalieBruzda on Twitter.