Workshops help prepare students with learning disabilities for college
January 17, 2012 - 12:24 am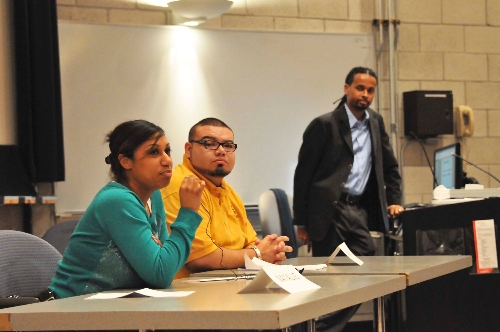 Something changes when students with disabilities make the transition from high school to college. The burden of education shifts from school to student.
That point was made clear for about 500 college-bound seniors with learning disabilities, as the Clark County School District's Student Support Services Division hosted three days of workshops at the University of Nevada, Las Vegas, for students from every high school.
The district selected students for the workshops based on teacher and counselor recommendations, which relied on grade point average, proficiency exams and the student's desire to pursue higher education.
Representatives from UNLV, the College of Southern Nevada and Nevada State College presented to students and answered questions about the admissions process and the disability resource centers available on each campus.
Keynote speaker LeDerick Horne, a spoken-word poet, playwright, motivational speaker and advocate, talked about his severe learning disabilities and the low self-esteem that plagued him growing up in New Jersey. He was held back in first grade, he told the audience. For years he tried to hide his problems in spelling, reading and math and suffered a nervous breakdown in high school. He graduated from high school unsure of whether to go to college. He said he is so glad he did.
"College was the first time I was comfortable as a student," Horne told the audience. "It was the first time I felt safe in school."
The special classrooms that he was put in all his life, the bus he rode to school, all of the things that were hurting his self-esteem were gone, he said.
He graduated from New Jersey City University with an honors degree in math and a minor in fine arts. He owns a real estate investment company, runs a mentoring program for students with disabilities and has released two poetry CDs about his experiences.
Two current students, Natalie Nelson from UNLV and Chris Camacho from Nevada State College, spoke about their college experiences with learning disabilities.
Nelson grew up in California and said she was scared to make the leap from high school to college because no one prepared her for it.
"I wish I had something like this (workshop) when I was in high school," Nelson said.
Because of her disabilities, Nelson is able to get special accommodations from her professors as recommended by the disability resource center. She can take tests in a separate room, get all of her textbooks available in audio format and use a dictionary during essay portions of tests.
Camacho said he also gets accommodations to help him in class, including someone who takes notes for him so he can focus more on the lectures.
Seeing some of their own on the path to success was helpful, said Cheyenne High School senior James Palermo.
"Having college students there to explain everything was great," Palermo said. "Having people there with the same disabilities as us was good to see.
"I like learning. I like knowledge. I like knowing there's a world out there outside of high school. There's a path in front of us. All we have to do is take it."
A member from the Bureau of Vocational Rehabilitation from the Nevada Department of Employment, Training & Rehabilitation presented an alternative for students who wanted to enter the workforce instead of college. The program helps train young people with learning disabilities in their chosen field. It may provide an assessment of job-
related skills, job coaching, support to attend additional training, travel and bus training, specialized clothing and equipment, and American Sign Language services for interviews.
For more information, talk to your school's special education facilitator or call 486-5230.
School officials also made clear the importance of completing the Free Application for Federal Student Aid by the priority deadline of Feb. 1 to have the best chance for grants.
Contact View education reporter Jeff Mosier at jmosier@viewnews.com or 224-5524.