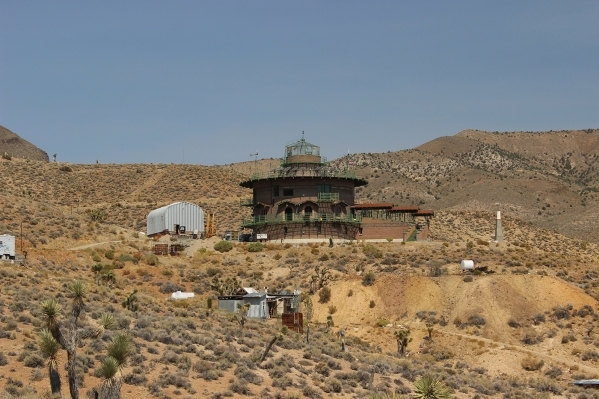 A great fall road trip for savvy explorers of remote country is to the Hard Luck Mine Castle in Esmeralda County. It will take a bit of effort, as the drive is approximately 167 miles from Las Vegas, and on the final stretch, you'll drive a gravel road for about 9 miles. The road is claimed to be usually passable in compact sedans and such, but I would be more confident in an SUV or pickup truck with off-road tires.
What you will find for your effort, however, is unique. Hard Luck Mine Castle is one man's dream house: an 8,000-square-foot structure built from 24,000 bricks, 1,000 cubic yards of concrete and 7 tons of rebar. It perches on a steep hillside with far-reaching views to the southeast, overlooking thousands of acres of unspoiled, wide-open public land.
Traveling through this area in 1986 with his son in their Volkswagen dune buggy, Randy Johnston stumbled upon this 40-acre property and ended up buying it in 1998.
Originally from the Lake Tahoe area, he grew up in a family that built custom homes. Once he decided he wanted to leave the cold and snowy winters behind him, he settled on the Hard Luck Mine property. At that time, the only dwelling present was the original miners' cabin, but in 2000, he started building his dream house.
He has done almost all the work himself, except for the aid of two friends from Las Vegas, who helped him with the block work and some of the heavy construction.
The house is completely off the grid, relying on wind and solar power, along with backup generators. Water is trucked from a nearby spring and stored in a 4,000-gallon, underground storage tank that feeds, by gravity, into the household plumbing.
The castle is four stories tall, with 22 rooms including two kitchens, three full baths, a wood shop, a wine cellar, a theater, a solarium/planetarium and two pipe organs built in the 1920s. The walls are 16 inches thick.
Incidentally, the castle website says the property is for sale. "Be the next Death Valley Scotty," urges one advertisement, and this splendid residence looks like just the place for such a hermit to dwell. One difference, however, would be that this "next Death Valley Scotty" would have an actual gold mine, instead of the fictional one Scotty claimed to own. Hard Luck Mine Castle takes its name from a gold mine operated on the property from 1897 until about the time of World War II. Johnston claims the mine still contains gold and could be mined if some new owner had the money and energy to resume operations.
Randy is now 69 and wants to buy a 50-foot sailboat and take it easy. He is willing to sell the property for $1.5 million, complete with just about everything necessary, to the well-equipped hermit, including hundreds of thousands of dollars' worth of equipment, tools and even vehicles.
The castle's elevation is about 6,000 feet, so expect temperatures to be perhaps 20 degrees cooler than in Las Vegas. Be sure to dress accordingly.
Tours usually run about 90 minutes, but there is no time limit for those who want a more in-depth tour. A $10 cash donation per person is greatly appreciated. Tours are usually available from 10 a.m. to 3 p.m., but always call ahead to be sure Randy will be home. For information or to arrange tours, visit hardluckcastle.com or call 775-772-2413.
Incidentally, the castle grounds still feature the original miners' cabin — much improved with amenities such as a shower and flushing toilets — and it is available for overnight stays. There is a full-size bed and bunk beds; you just have to bring your own sleeping bags or other bedding. He charges $100 for two people and an additional $25 per person. The cabin is popular with off-road vehicle clubs, which find it fun to throw overnight barbecues there. An even cheaper option is camping; Johnston allows it anywhere on the property. There is no specific charge to camp, but some modest donation is expected.
— Deborah Wall is the author of "Great Hikes, A Cerca Country Guide" and "Base Camp Las Vegas: Hiking the Southwestern States," published by Stephens Press. She can be reached at deborabus@aol.com.
How to get there
From Las Vegas, take U.S. Highway 95 north for about 152 miles to Scotty's Junction. Go left onto Nevada state Route 267 and drive about 6 miles. Go right at the signed entrance, and drive about 9 miles on the gravel road to the Hard Luck Mine and Castle.