Knights fever extends all the way to New Jersey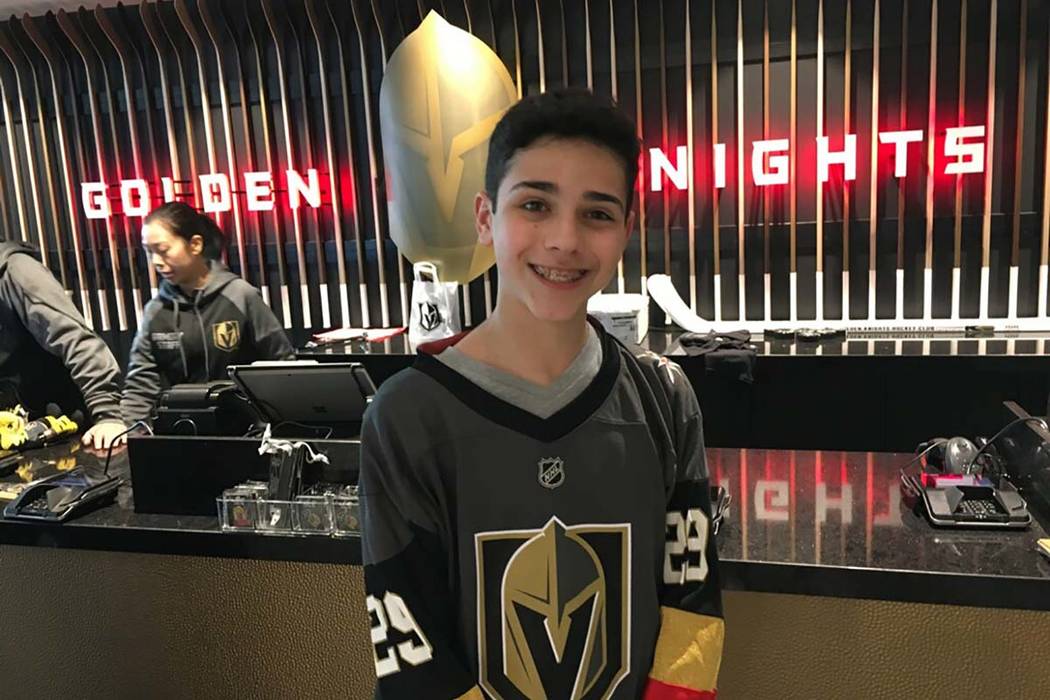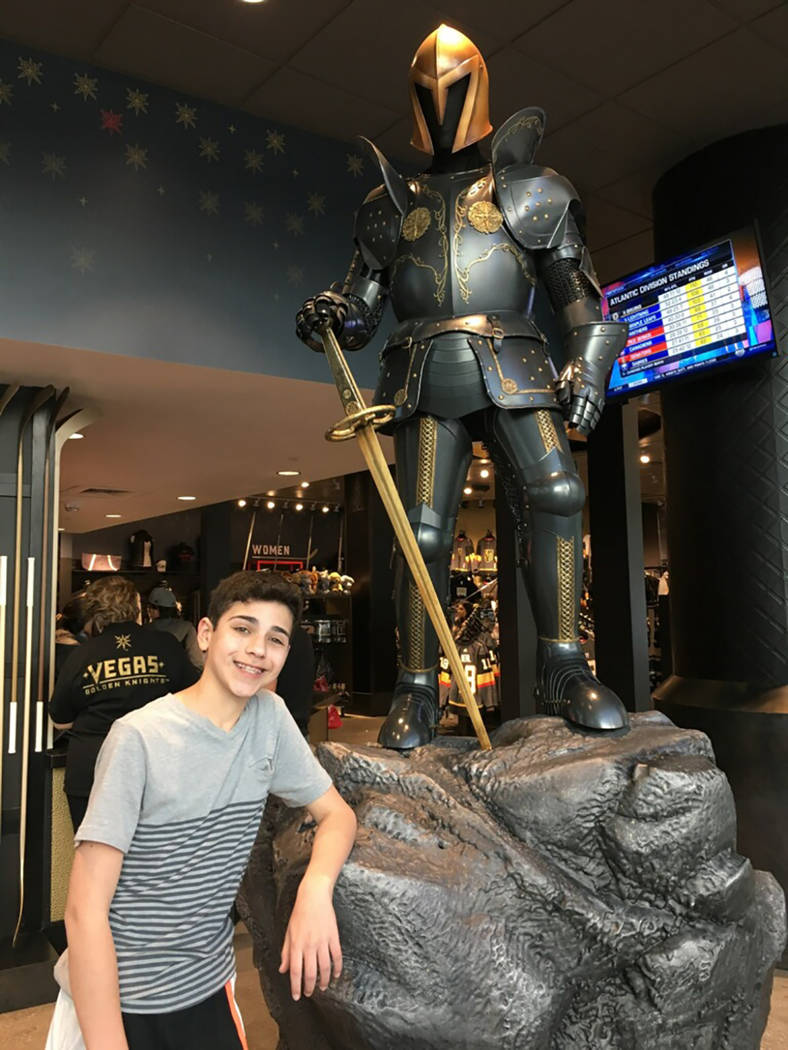 There's this kid I know who lives in New Jersey and roots for underdogs. That's his shtick. So, naturally, he became a Vegas Golden Knights fan last summer, well before it was fashionable to support some lowly expansion team that has since become the darling of the hockey world and, indeed, the entire sports world.
His name is Ethan Jaffe, and if the last name sounds familiar, I'll admit he's my grand-nephew. And what makes this a Summerlin story is that Ethan and his folks were visiting in Summerlin recently for a family event.
Naturally, the first stop was the hallowed ground of hockey in Las Vegas, T-Mobile Arena. Ethan came away with a number 29 jersey (Marc-Andre Fleury). Then it was on to Summerlin in hopes of finding the Golden Knights at City National Arena, their practice site. No such luck.
So instead, Ethan and I sat down to discuss how a seventh-grader at Terrill Middle School in Scotch Plains, New Jersey — some 3,000 miles east of Las Vegas — has been a Knights fan since their first puck was dropped. Adding to the mystery is that the New Jersey Devils also made the playoffs. And the Devils have participated in the Stanley Cup finals five times since 1995, winning the big trophy three of those years.
"My friends at the school lunch table think I'm a little crazy. Can't figure out why I don't root for the Devils, or even the New York Rangers," he said over a glass of lemonade.
"But I decided last summer that I was going to be a fan of this hockey team nobody in my school ever heard of," Ethan explained. Every morning after a Golden Knights, game he couldn't wait to see the result. Given the three-hour time difference, Ethan was fast asleep by the time each game ended.
"Maybe next year they'll be terrible. But I'll be there for them. And I'll be there for them in 10 years, or 50 years. For me it's about being a true fan, and they're my team," Ethan added as he guzzled down his second lemonade.
This kid is a big sports fan, but to his way of thinking, "I always liked the underdog, and becoming a Golden Knights fan in 2017 was like becoming a Mets fan in 1962." But with one major difference: The Golden Knights were the big winner their first time around.
And so when Ethan went to school back in September with the black-and-gold emblem of the Golden Knights emblazoned on his new sweatshirt, a gift for his 12th birthday from his grandparents, "other kids looked at me like I was strange."
But that was just the beginning. "My collection of Golden Knights stuff is growing all the time," he said proudly. It includes a variety of pennants on the wall beside his bed. It also includes shirts, hats and other paraphernalia that he wears to school — all Golden Knights-related, of course. Ethan even has a Golden Knights bedpillow that his grandmother Susan knitted for him.
Crazy or not, those other kids at Terrill Middle are now eager to know how he discovered the magic of this wonder team so early on.
"It's my secret, and I'm not telling," he said with a grin, while sipping his third lemonade.
Herb Jaffe was an op-ed columnist and investigative reporter for most of his 39 years at the Star-Ledger of Newark, New Jersey. Contact him at hjaffe@cox.net.