Las Vegas NBA vet's new challenge is helping at-risk children
September 26, 2018 - 7:22 am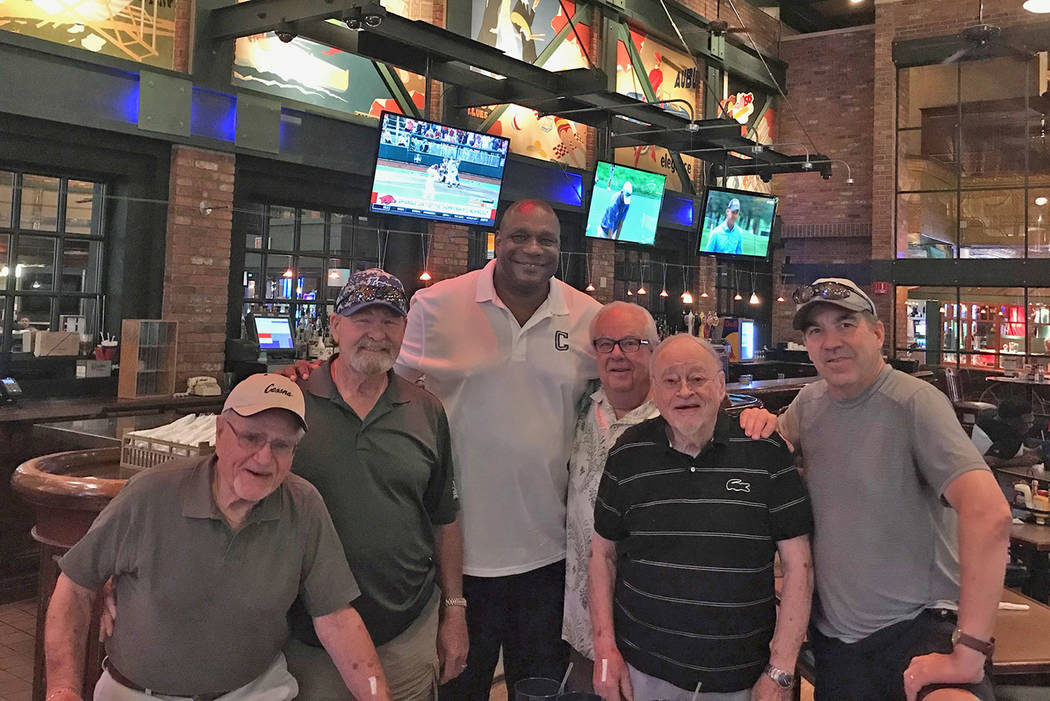 You take a good look at the hulking 6-foot, 10-inch frame of Michael Brown, who spent 11 years as a forward-center in the National Basketball Association and five years playing in Europe, and you figure this guy could be a perfect tool for helping the criminal justice system in its relentless battle against street youth-gang violence.
Then you learn that's just what the man has been doing since he coached NBA minor-leaguers for seven years and finished his basketball career in 2008 as an assistant coach for the Chicago Bulls.
Brown began his career in Chicago, playing two years with the Bulls, then five years with the Utah Jazz, two years with the Minnesota Timberwolves and two with the Phoenix Suns.
It wasn't until Brown, a native of Newark, New Jersey, who became a resident of Las Vegas in 1997, ended his basketball days that he and wife Esther Rodriguez Brown became serious players in helping youths who have gone in the wrong direction.
So after Brown's recent visit with the Lunch Bunch — a group of writers and sports enthusiasts who meet once a week at a downtown Las Vegas pub — I learned what a dynamic force he and Esther have become in assisting those who wend their way through the juvenile courts.
"We take what we call 'throw-away kids,' who really are kids nobody else wants, and we work with them to try to restore them to useful roles in society," Brown told me. "Generally, they're multiple offenders who have already served time in the juvenile system.
"We have a staff and a curriculum that my wife has developed for these kids. That's because in most cases no schools want them. Many have gone from Clark County schools to behavioral schools, and in some cases to no schools," said Brown, who lives in northwest Las Vegas.
Brown is a graduate of George Washington University with a bachelor's degree in criminal justice.
He said he is particularly proud of Esther's accomplishments in dealing with troubled juveniles.
"She grew up in Barcelona, Spain, and we first met in 2000 while I was playing basketball in Spain," he said. "We were married two years later. Esther also has a BA in criminal justice and a master's degree in child and adolescent psychology."
The Browns set out on a full-time journey to help kids overcome their vulnerability to street youth-gang influences in 2007, he said, which led to their creation of The Embracing Project. Brown explained that TEP is intended "to promote peace and healing for children and for youth victims and survivors of sexual exploitation, sex trafficking and violence."
From 2011-13 Esther served as a contracted consultant for the Eighth Judicial District Court of Clark County, as administrator for speciality court for sexually exploited youths.
He said "high-risk kids are referred to us by the juvenile courts. We started the program with seven kids from the juvenile parole office. We service boys and girls between the ages of 11 and 17."
Brown estimated that his organization has helped more than 1,500 children. But because of the volume, "we have been forced to narrow it down to just youth victims and survivors of sexual exploitation."
Brown said TEP relies on donations. Information is available at www.TheEmbracingProject.org.
Herb Jaffe was an op-ed columnist and investigative reporter for most of his 39 years at the Star-Ledger of Newark, New Jersey. Contact him at hjaffe@cox.net.