In Henderson, band competition season a sensory treat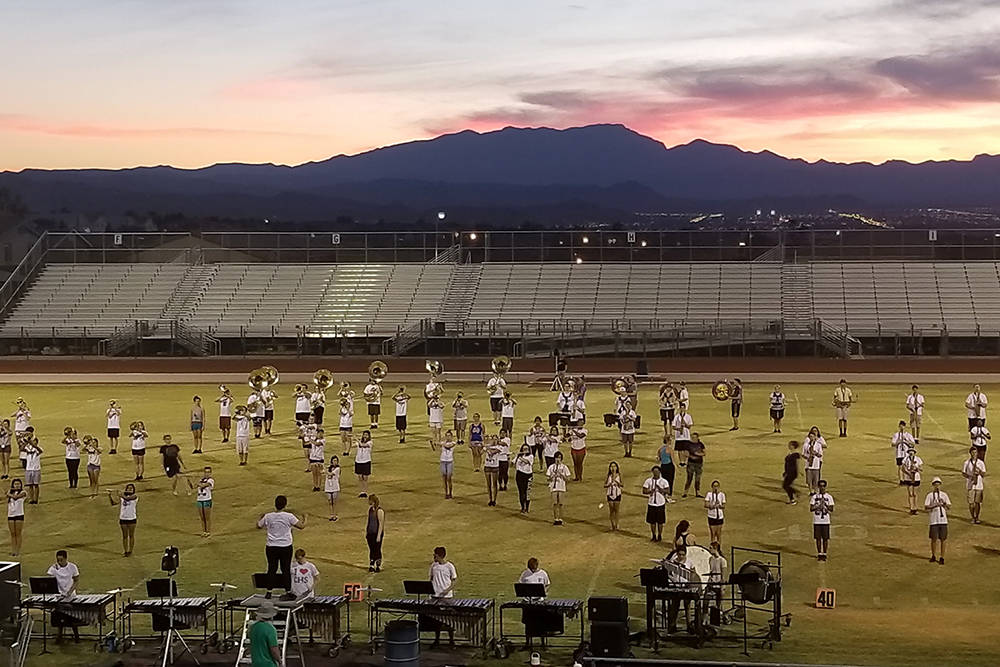 Trombones and trumpets add to Henderson's soundscape each fall. October sends high school bands marching into competition mode on football fields. Setting aside time for this good music and grand pageantry will rank among my top autumn priorities. Armed with a stadium seat cushion, I plan to be outside enjoying brilliant sounds and amazing sights.
Throughout the scorching-hot weeks of August and September, marching bands and color guard teams across the Las Vegas Valley have been practicing the music, marching, teamwork and pageantry that go into each school's production. Henderson marching bands already have been performing during the first high school football games of the season, but October is true show time. And, for roughly the price of a movie ticket, the public will have opportunities at two Henderson-area competitions to spend a little or a lot of the day watching highly disciplined artistic routines that pull together hundreds of teenagers for creative shared purposes. The music and visuals will deliver variety, but a theme will be perseverance.
"All the band programs have committed students dedicated to perfecting an eight-minute show through hours and hours of rehearsal outside in the heat. These kids have to memorize music, memorize step sizes, pathways, various musical responsibilities, and choreography — all while attempting to make an emotional connection with complete strangers through music and movement," said Travis Whaley, band director at Liberty High School. "Why? Because they have a passion, and that passion drives them to push themselves every day to become a better version of themselves."
At times, the entertaining results look like a fast-paced game of chess or above-ground synchronized swimming or human dominoes. The best shows are combinations of complicated marching drills, theatrical stagecraft and storytelling, with well-performed music always at the core.
Southern Nevada's marching band competition season opens Oct. 6 with the Henderson Bandfest at Basic High and continues with the Silverado Showdown on Oct. 13 at Silverado High; Tournament on the Turf at Clark High on Oct. 20; Las Vegas Invitational on Nov. 3 at Las Vegas High; and MBOS Championships on Nov. 10 at Sierra Vista High. As those dates near, individual performance times will be available on the Marching Band Open Series website at wgasc.org/mbos-event-profiles. In my view, the best strategy would be to attend the Oct. 6 competition and return for the finals on Nov. 10. It will be impossible not to be impressed by the improvements in all categories by all marching bands.
"Having a large and appreciative crowd certainly helps in their performance," said Cara Froelich, Green Valley High's band director. "This is something our community can get behind and support — especially once they realize the talent level that these students have to offer and the pride and dedication that are on display every time they take the field."
This year, Liberty High's program, "RapCity," fuses George Gershwin's "Rhapsody in Blue," Queen's "Bohemian Rhapsody" and Franz Liszt's "Hungarian Rhapsody No. 2" with the influences of Dr. Dre, Childish Gambino, Kanye West and others. Coronado High's colorful "Stained Glass" builds on the brightness-in-the-darkness visual imagery and effect inspired by Mozart's "Requiem," Verdi's "Requiem" and Tchesnokov's "Salvation is Created." In Foothill High's "Adrift," a storm strikes a regatta, and survivors must work together to stay alive and find their way back to civilization. Basic's show is titled "A Moment Captured," and the focus is on reminiscing, reflecting and revisiting special moments in life (audience connection is a goal). Green Valley High's "The Red Brick Road" is loosely centered on "The Wizard of Oz" with pop songs like Elton John's "Goodbye Yellow Brick Road" and Radiohead's "Creep" mixing with more classical music like "Aquarium" by Camille Saint-Saens. Forwards and backwards, this marching band season is in lockstep to deliver a winning combination of spirit, sight and sound.
On the walk back to your car, chances are you'll feel inspired by what you've just witnessed — the artistic magic of human creativity and hard work. There's also that wonderful feeling of having spent hours outdoors, now that the more hospitable fall season is nearly upon us.
Natalie Burt, a former news reporter at the Review-Journal for 11 years, spends as much of her free time as possible enjoying Southern Nevada's outdoors. She's now a teacher and has lived in Henderson for 17 years. Email: nvburt@gmail.com.