Not at home on the range? Give hikes a try
Updated October 17, 2018 - 8:31 am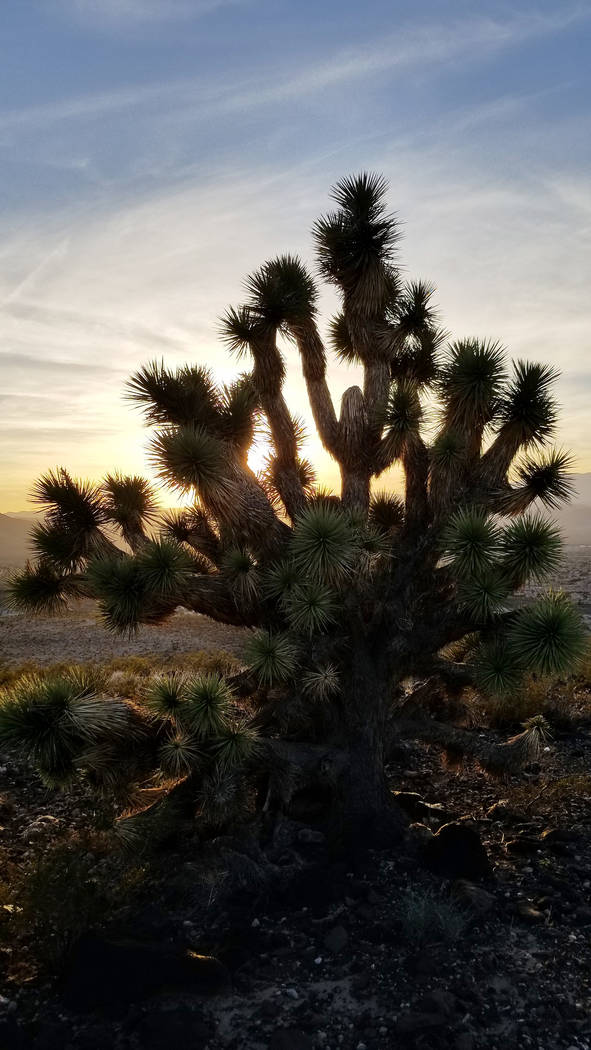 Henderson's southern edge is fortified by a dark, imposing mountain range that looks unwelcoming and unmanageable. At least that was my impression before I got my shoes dusty and started exploring the many trails of the McCullough Range and Sloan Canyon National Conservation Area. Now I'm a hiking regular in this sprawling space of rugged beauty and serenity.
One of the biggest draws of the landscape of extinct volcanoes is its variety of trekking options. If you're up for an 8-mile hike, two ideal trails are McCullough Hills and Anthem East (you'll need a ride at the end of your hike, unless you have the energy for a 16-mile round trip). Looking for something strenuous? There's the 5-mile Black Mountain Loop Trail, which boasts views across the Las Vegas Valley and into Arizona.
If your exercise routine calls for a daily 30-minute walk, go as far and as fast as you want from three city of Henderson trailheads. It's worth returning often, because there are always new critters, plant changes or fascinating details to spot in any natural setting. It's never quite the same walk.
If friends or family members intend to visit from out of town, you can climb a couple of miles before sunset to vistas along the McCullough Hills and Anthem East trails. Guests will be impressed with views of the Strip blinking to life (just pack working flashlights in case you return later than planned). This fall or winter, I plan to amble along the desert floor, step through extinct volcanic remnants and navigate rock "waterfalls" when hiking 2 miles into Petroglyph Canyon, where more than 300 rock art panels are filled with 1,700 images and design elements.
Creosote bushes are concentrated on these sparsely vegetated rocky hillsides, but the higher you climb, the more likely you are to see handsome examples of the Mojave Desert's indicator species: the Joshua tree. Few flowers are currently blooming, but the plants that show off their spring blooms include the beavertail cactus, globemallow, teddy bear cholla and Mojave yucca. Gambel's quail, black-throated sparrow, sage thrasher and American kestrel are among the birds I've spotted just off trail. In spring, lizards scurry, and hikers will want to be aware of the potential presence of rattlesnakes from March to October.
There are no Ponderosa pines or Fremont cottonwoods providing shade on any of these paths, so take plenty of water and wear long sleeves and sunscreen. Sloan Canyon's best season is anything but summer. Cell service is unreliable, so let someone know where you're going and when you'll be back. It's a good idea to become familiar with the available maps before setting off on your first hike, but your confidence about the area will only grow after you've invested some time on the trails.
The four trails mentioned and many more may be approached via paved roads from the eastern or the western sides of the range, but there are other access points to Sloan Canyon National Conservation Area that are wilder and unpaved. Three main access points allow hikers, joggers, walkers, bikers and even horseback riders to navigate areas of the 48,438 protected acres overseen by the Bureau of Land Management.
On the east side, Henderson's Mission Hills Trailhead is at 295 E. Mission Drive. On the west/north side, there are two access points in the general area of Anthem Hills. One is called Anthem East Trailhead (with parking and signs at Anthem Hills Park, 2256 Reunion Drive), and the other is Shadow Canyon Trailhead (a bit trickier to find in a residential neighborhood at 2270 Shadow Canyon Drive). A fourth easy-access point, at the end of Nawghaw Poa Road, near Democracy Drive and Via Firenze, leads to Petroglyph Canyon. A visitor station also stands at that location, and cooler weather means daily operating hours 8 a.m. to 4:30 p.m. through May 31. Information about trails, including whether bikes or horses are permitted, and details about the conservation area's rules (no dogs at Petroglyph Canyon), geology, wildlife and plant species are at blm.gov/programs/national-conservation-lands/nevada/sloan-canyon-nca.
While the BLM manages Sloan Canyon National Conservation Area, the city of Henderson has helped to promote the public use of Sloan Canyon by creating and funding trailheads, trails, signage, maps, restrooms, parking lots and covered picnic tables. The advocacy group Friends of Sloan Canyon has supported the area's cultural and natural resources in part by promoting conservation, providing educational programs and encouraging volunteer involvement. The group has a presence on Facebook, Twitter and Meetup.
Walking my first mile on Anthem East Trail and spending an hour among its volcanic rocks and under its big skies stripped away the intimidation I felt before finally tackling this landscape. Suddenly the space became welcoming and manageable, and I was ready to plan more hikes. Fortunately, much more of the trail web is left to explore. I took a Sloan Canyon break this summer, but I'm ready again to shed some stress in these pristine, millions-years-old desert hills.
Natalie Burt, a former news reporter at the Review-Journal for 11 years, spends as much of her free time as possible enjoying Southern Nevada's outdoors. She's now a teacher and has lived in Henderson for 17 years. Email: nvburt@gmail.com.