Petroglyph Canyon packed with hints at region's history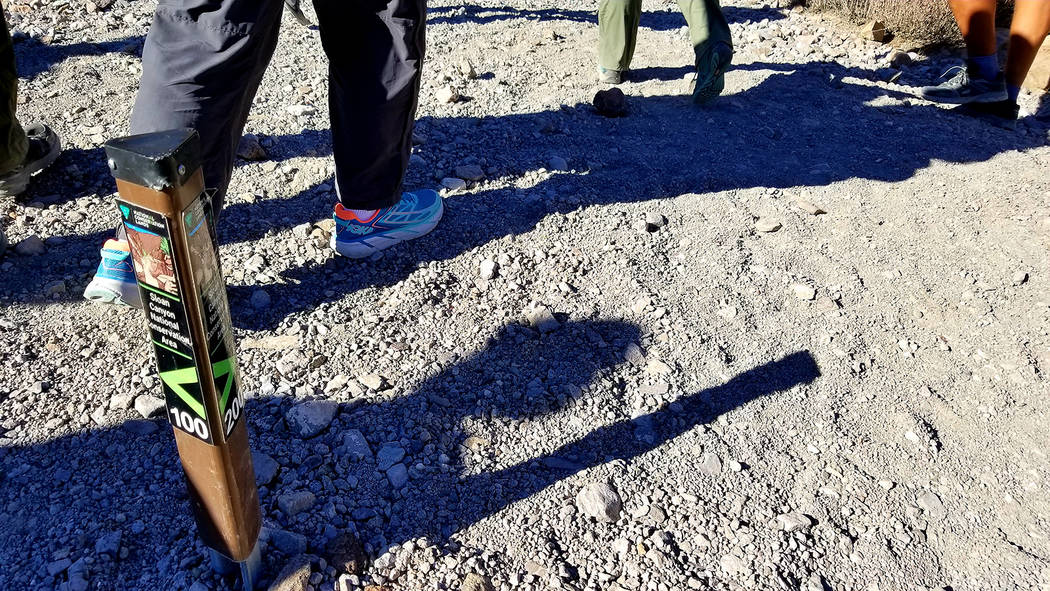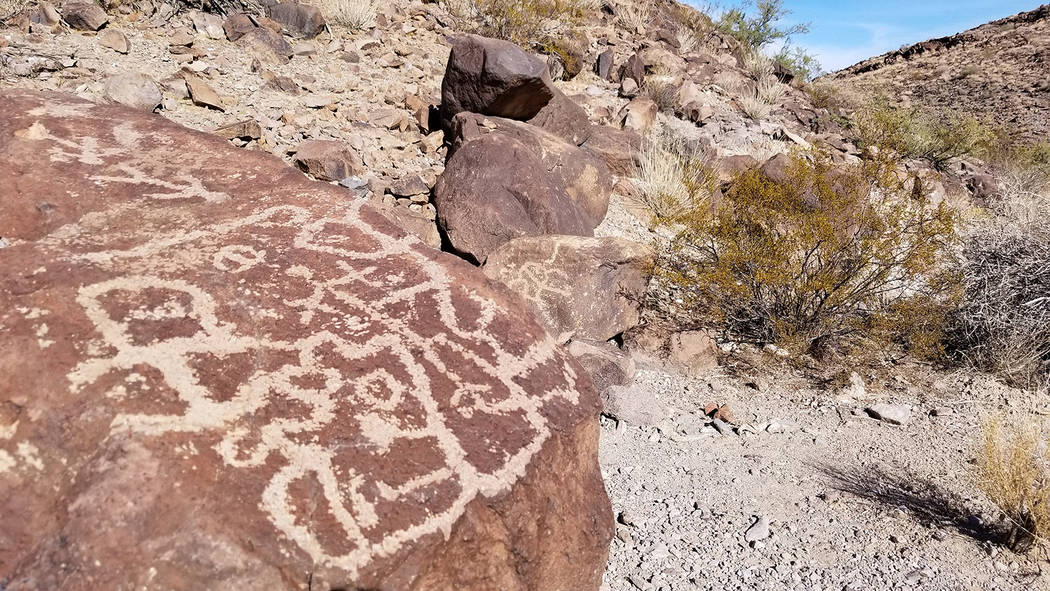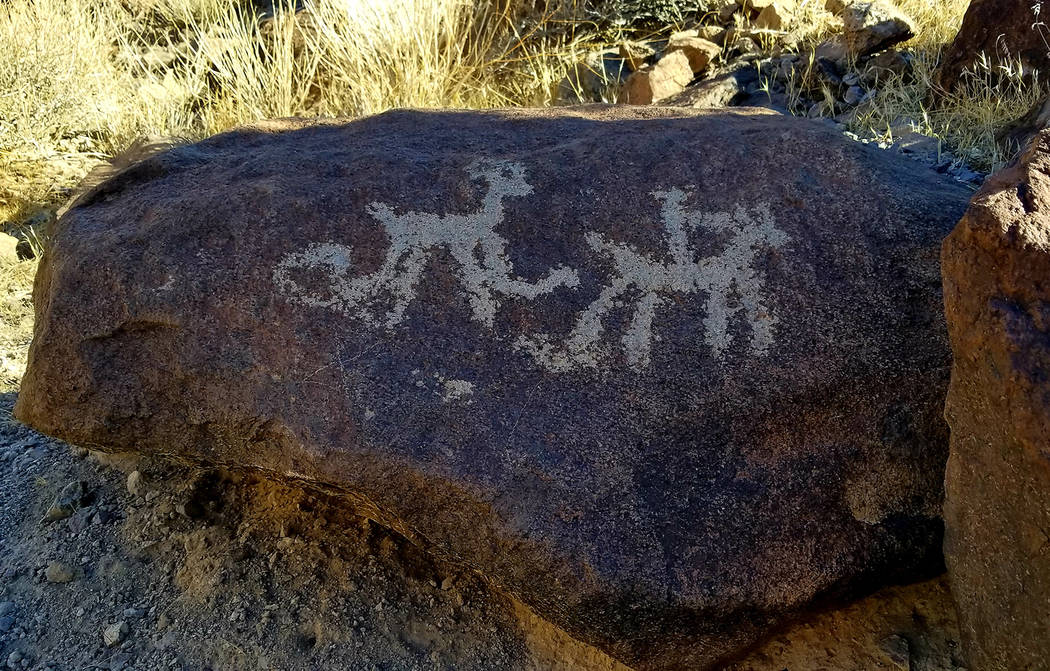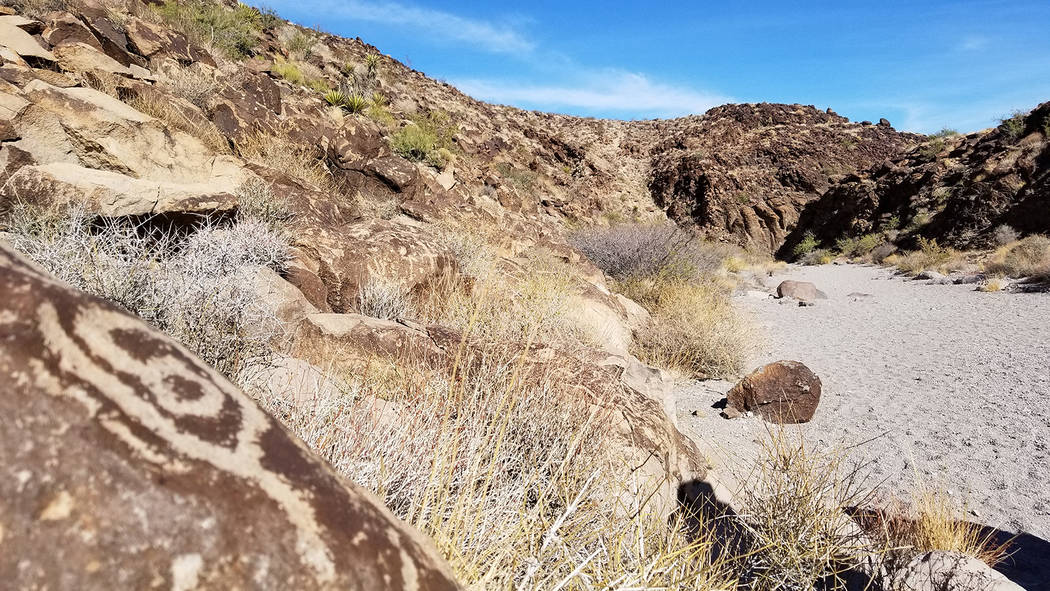 Some art is best viewed by plopping yourself down on desert gravel under a big blue sky and gazing upward. That was my approach at the Gallery in Petroglyph Canyon earlier this fall. After a moderately difficult hike, my reward was spotting hundreds of the gallery's approximately 1,000 American Indian designs and images displayed on two rocky canvases stretching about one-tenth of a mile.
The Sloan Canyon Petroglyph Site, overseen by the Bureau of Land Management, is just south of Henderson's Inspirada housing development. The site's highest concentration of petroglyphs is reached only by hiking about 2 miles. I chose to follow the 200 Trail, the longer, safer and more manageable of two routes.
Once inside Petroglyph Canyon, I set down my backpack and camera and sat on the shifting gray gravel of the canyon's wash. I let my eyes adjust to the browns and tans and lines and ledges of the canyon walls and volcanic hillsides. I let my gaze wander in search of rock art while summoning the discipline to not try to win first place in any petroglyph-finding contest. I gave myself about a half-hour to appreciate the art around me but could have spent hours more in the space. What's the rush when some of these petroglyphs have been around for 5,000 years?
Etched, chipped and pecked into the dark patina of the canyon's Sloan dacite volcanic rock are abstract swirls, squiggles, geometric patterns, whimsical figures and realistic representations. Some of the petroglyphs are far uphill from the canyon's floor or 25 feet up a sheer canyon wall, so my binoculars came in handy. Other petroglyphs are at ankle level, like the obvious representation of a Bighorn sheep near the canyon entrance coming down from the 200 Trail. Some appear in dense clusters, while others stand alone. Some 200-year-old petroglyphs showing men on horseback might share space with images created thousands of years earlier in the longtime Bighorn sheep hunting ground. They all tell stories that contribute to Southern Nevada's human history, but there's more mystery than known meaning.
"The big question is, what do they mean?" BLM Ranger Jim Flook said while leading a Saturday hike into Petroglyph Canyon. "The answer is, we don't know. There is no Rosetta Stone that lets us understand the petroglyphs in a way that's comparable to the hieroglyphics."
Flook said three working theories suggest the Sloan Canyon petroglyphs could share themes about resource-gathering and Bighorn Sheep hunting; ceremony and religion; and domestic archaeology ("Think, honey-do list"). Archaeologists believe the petroglyphs are affiliated with the Nuwuvi (Southern Pauite), Yuman and Patayan cultures. Pahranagat or Puebloan cultures also might have contributed.
Petroglyphs are puzzling. "The Bighorn sheep glyph is an example of the subjective challenge, because we could think of it either as a food source or faith symbol," Flook said. It's sometimes impossible to tell if the images are human-like (anthropomorphic) or animal-like (zoomorphic). An etched grid perched high above hikers might look like a calendar, but it could represent something entirely unrelated to tracking time. Same holds for snake-looking lines on stone left from Mount Sutor's eruption some 13 million years ago.
Whatever their meanings, a half-day with petroglyphs is time well spent in our backyard gift of Sloan Canyon National Conservation Area, where researchers have cataloged 1,700 images and designs created on 300 rock art panels by American Indian cultures from the Archaic to historic eras. Rock art may be appreciated in Petroglyph Canyon without understanding the specifics of its narratives. The petroglyphs and their space invite visitors to imagine past hardships of life in the Mojave Desert and to wonder about the spiritual traditions of the Southern Nevadans who came before us.
What visitors need to know
Sloan Canyon National Conservation Area's visitor contact station is at the end of Nawghaw Poa Road (meaning Mountain Sheep Trail in Paiute). That's just west of Democracy Drive and Via Firenze at the southern edge of Henderson. Once parked, visitors should see a large informational sign that includes a map and hiking directions. Hikers will find the start of the 101 Trail just below the parking lot and near that sign. The 101 Trail soon leads to the 100 Trail, which is a wide wash that heads into the hills. Follow the wash for about 1.3 miles to a junction marker for the 100 and 200 trails. At the marker, take a right and get on the 200 Trail, if you wish to avoid scrambling up the dry waterfalls on the 100 Trail. On the 200 Trail, you'll gain 400 vertical feet over a half-mile trail of packed dirt and broken-rock before reaching a pass and then starting downhill to Petroglyph Canyon. Once you reach the wash, look to your left, and you will see Petroglyph Canyon. Follow the wash and be on the lookout for rock art. If you cross the wash and continue straight on the dirt path, you will mistakenly be on the 300 Trail and miss the Gallery.
After finding and viewing (and never touching) the petroglyphs, you'll be ready to head back to the parking lot for a total trip distance of 4.25 or 5 miles. You can take the 200 Trail and retrace your steps, or there's the option of returning via the 100 Trail. So I could see the whole canyon, I chose the 100 Trail and carefully slid down the dry waterfalls. Doing so turned my four-hour hike into a loop. The route you choose should be based on your comfort level. No dogs are allowed on the 100 and 200 Trails. More information on group hikes and other helpful insights may be found at friendsofsloan.org, and maps as well as some information about Sloan Canyon's cultural resources are available at blm.gov/programs/national-conservation-lands/nevada/sloan-canyon-nca.
Natalie Burt, a former news reporter at the Review-Journal for 11 years, spends as much of her free time as possible enjoying Southern Nevada's outdoors. She's now a teacher and has lived in Henderson for 17 years. Email: nvburt@gmail.com.