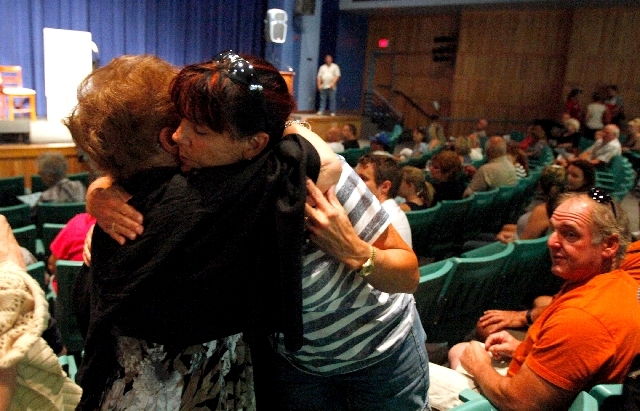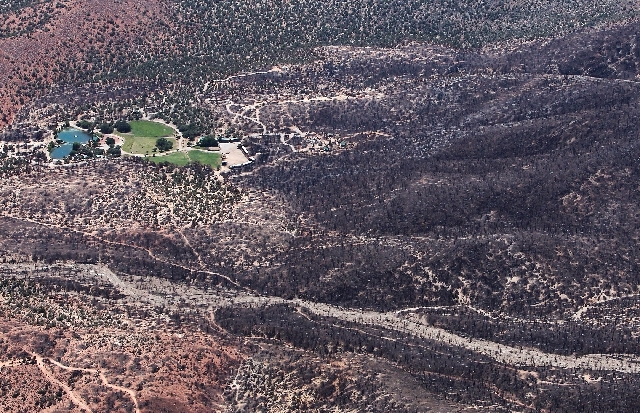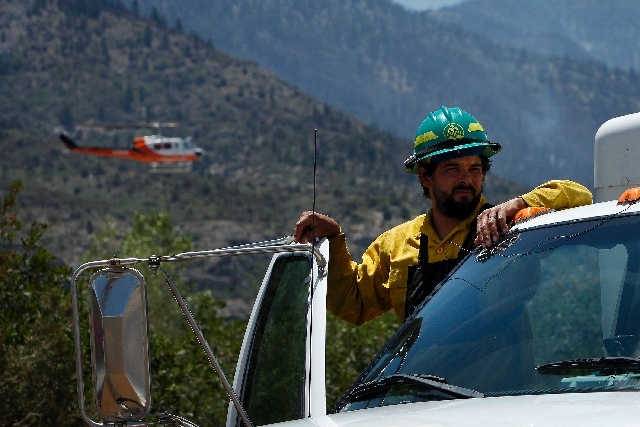 Residents' questions — and some complaints — about how long it took for firefighters to start knocking down flames on Mount Charleston are just part of a larger schism in the world of fighting wildfires.
At community meetings where evacuees awaited updates and in online conversations throughout the life of the 3-week-old fire, many asked why firefighters didn't push back the blaze sooner, or why they didn't see more helicopters dumping water or airplanes dropping retardant.
The answers, according to federal leaders and fire experts, are complicated by people living near fire-prone land, rough terrain and a pervasive misunderstanding about fire in the West.
Now expected to be fully controlled by Aug. 18, the Carpenter 1 Fire has scorched almost 28,000 acres, cost nearly $18 million to suppress and burned six buildings. It is 95 percent contained.
"It's really easy to Monday-morning quarterback," said Bill Dunkelberger, head of the Humboldt-Toiyabe National Forest, which includes Mount Charleston. "But from what I saw, I think the response that we made was appropriate to the risk at hand."
That's little comfort to mountain resident Sandy Heer. The fire came close to her home and kept her out of it for almost two weeks.
She questions the urgency of Randy Swick, manager of Spring Mountains National Recreation Area. When the fire started, he was in charge because it was on national forest property he manages.
Now, she said, she can't get the answers she wants from Swick.
"It should've been stopped before it got where it got," Heer maintained. "Our houses almost did catch on fire. That's everything we have."
Swick, who has been on the job since October, said Friday he understands residents' frustrations but that the No. 1 priority is firefighter safety. The June death of 19 firefighters in Arizona is a sad reminder of why that's important.
"There are times when we can't do much and have to wait for the weather to change," Swick said.
The first real break firefighters got here came two weeks after the fire started, when it rained on the mountain and humidity levels rose.
Swick said he attended nearly every community informational meeting and made himself available after them to take individual questions.
He planned to attend meetings this weekend with the Mount Charleston Advisory Board.
"We've have been trying to keep a very visible presence in the community," Swick said about the Forest Service, which keeps two fire engines on the populated side of the mountain.
That will continue as the focus shifts to mitigating the chance for flash floods with so much vegetation gone.
THE ORIGIN
When lightning sparked the Carpenter 1 Fire on July 1, Dunkelberger said, it was hard to spot, even during a flyover.
Crews who look for signs of fire following lightning storms could hardly see the evidence. The computer programs told them the area hit — closer to Pahrump on the West side of the mountains — was too steep for firefighters to reach.
By the next day it was easier to see, Dunkelberger said, and the U.S. Forest Service dropped water from a helicopter on the then 1,000-acre fire.
Hot, dry, windy weather — when the Las Vegas Valley was seeing highs reaching 117 degrees — stoked the flames. The fire spread toward places where more people live, including Kyle and Trout canyons, closer to the city.
On July 4, police and firefighters started knocking on doors. Evacuations were mandatory. In the following days, more than 1,300 people would descend on the Spring Mountains to help manage the blaze, and the fire had been upgraded to a Type 1 incident, the most serious.
Swick made the right calls, said Dunkelberger, his boss.
The Forest Service doesn't want houses to burn, but more importantly, it wants people, including firefighters, to be safe, he said.
"Acres can be restored and homes can be rebuilt, but lives can't be replaced."
MANAGING FIRE
Timothy Ingalsbee, executive director of Firefighters United for Safety, Ethics and Ecology, doesn't always agree with the way the U.S. Forest Service deals with wildfires. In his view, the agency puts out almost every fire, and that doesn't let the natural pace of Western ecology do what it's supposed to do, which is often to eliminate underbrush that can fuel bigger blazes.
But in this case, Ingalsbee said, the agency made the right call in keeping firefighters safe.
Contrary to public perception, Ingalsbee said, that doesn't mean fighting the fire from the sky is the next best approach.
"Aerial retardant and helicopter water buckets don't put out fires; it can only slow the spread," Ingalsbee said. "You can try to dampen it down; but if the tiniest ember is still burning, just give it a puff of wind and it's going to flare up."
What's needed are folks on the ground, Ingalsbee said, but that just restarts the vicious cycle.
Since fire is not going away, mindsets are what will have to change, according to a Montana-based consultant.
Stamping out — and later managing fire — has been a part of Rick Trembath's life for almost 50 years. As a hot shot firefighter in the 1960s, his philosophy mirrored that of many others. Fire should always be put out, he thought, just like Smokey Bear taught.
But that ad campaign is now hurting forests and endangering lives, Trembath said. Federal agencies have backed off from using prescribed burns to thin smaller trees. More people have built houses in or near forests for the beauty, and they don't always cut, trim or space bushes and trees as they should.
"The next generation of firefighters is going to see a lot more fire than I did," said Trembath, 65.
Many Mount Charleston residents and the agencies who manage land around them did reduce fuel. Leaders at the Carpenter 1 command center credited them for creating defensible space that slowed the flames' approach and saved houses.
Robert Connelly, 88, has spent at least part of the past five years on Mount Charleston.
Like many others, he appreciates that summertime temperatures at more than 6,000 feet are often 30 degrees cooler than in Las Vegas.
He was glad to get back up there Wednesday, even though a two-week stint away was inconvenient. His place is still in tact. The master gardener and trained chemist said he won't join the debate about how the Carpenter 1 Fire has been fought.
"When I don't know something, I like to admit it and not speculate," Connelly said. "I have neither the knowledge nor wisdom of the subject."
Contact Adam Kealoha Causey at
acausey@reviewjournal.com or 702-383-0361.