Collector has right stuff for space and science center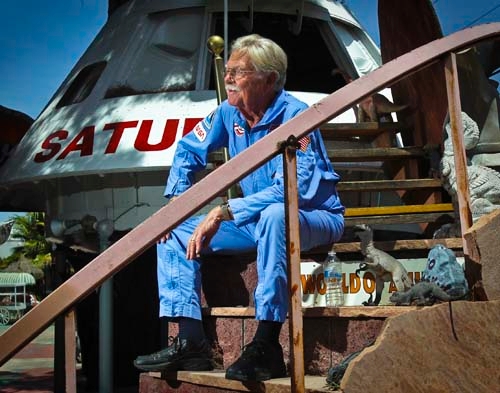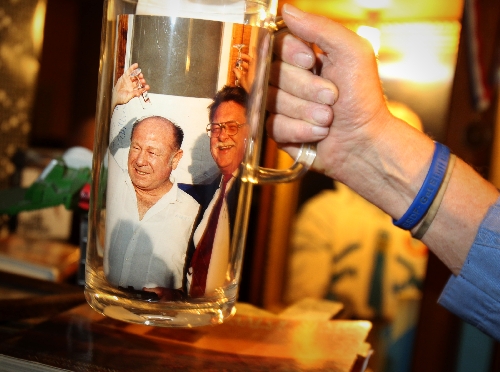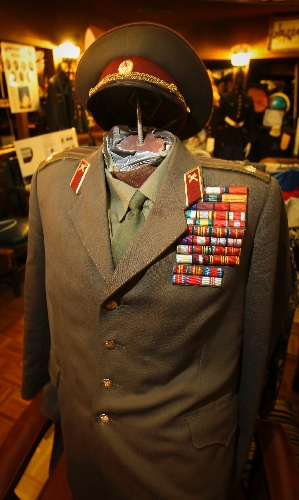 If they build it, Lonnie Hammargren will come.
And he'll bring some of his space stuff with him.
The former Nevada lieutenant governor and 1960s flight surgeon for NASA astronauts has space junk in his backyard, cosmos memorabilia upstairs and scale models of a space shuttle and the International Space Station on the roof of his southeast Las Vegas home.
"I've got the largest collection of Russian space art in the world," the neurosurgeon boasted Tuesday while fumbling to turn on some lights in a dark, second-story room.
Among thousands of historical items and artifacts from Nevada and around the world in his collection is an Apollo program test capsule and a Soviet general's uniform worn by Alexei A. Leonov, the first man to walk in space on March 18, 1965.
There's a glass mug that holds a photo of him and Leonov when Leonov traveled to Las Vegas in 1988 to attend an exhibition basketball game between the University of Nevada, Las Vegas Rebels and the Soviet national team.
In an unusual trade, Leonov mailed his military uniform to Hammargren bedecked with medals after the famous cosmonaut returned to Russia with a red, snakeskin Rebels jacket that Hammargren had loaned him to wear at the exhibition game.
Hammargren, 74, thinks he got the best part of the deal.
He also thinks Leonov's uniform and some of his other space memorabilia could be displayed in the Henderson Space and Science Center, but the nonprofit organization behind the center hasn't built it yet and probably won't until 2015.
"Right now I couldn't afford to give it to them outright, but they can afford a building. There's so many empty buildings around," Hammargren said.
Recently, the Henderson City Council withdrew the $17 million that was left from $21 million earmarked from public land sales to build the center and museum in the Union Village master-planned project.
Jack Clark, interim executive director of the nonprofit Henderson Space and Science Center Inc., said he understands the city has some immediate needs for the money and his group is a few years away from building the center. But it has been an idea for 18 years based on a partnership arrangement that began when the nonprofit group was created 2½ years ago.
The plan was to seek private donations and federal grants to pay for about two-thirds of the $63 million project with the city chipping in $21 million.
"If the city wrote us a check for $17 million, we're still no closer than we are today," Clark said Thursday. "We understand we have to raise the majority of the money to build the center."
Despite the Henderson council's March 20 action to remove funds that had been allocated for the center, Clark said the project is not dead.
"The reports of our death are greatly exaggerated," he said, paraphrasing Mark Twain.
At their April meeting, the group's directors decided to hire an expert to promote fundraising and bank enough to match funding the city could provide, if the council still wants to be involved.
Clark said he thinks that will be the case as time passes and wounds from the recession begin to heal.
"The community is more enthusiastic about the science center than they ever have been," he said.
The board recently completed a fundraising plan and will advertise for an expert in three weeks.
Meanwhile, Hammargren believes the center's backers should invest in buying exhibits at today's recession prices and house them in one of the many empty buildings that exist.
"We should invest in stuff, not a new building to name after someone," the 74-year-old space buff said.
For example, Hammargren said one of only two full-scale models of the 65-foot-long, 16-foot-tall Soviet Mir space station – like the one that set endurance records before it broke up in Earth's atmosphere and crashed into the South Pacific in 2001 – could be purchased for roughly $300,000. That's about twice what Clark's organization has in its coffers.
"It's sitting in crates in Huntsville, Ala., and it's available now," Hammargren said. "There's only two in existence, and one is in Russia."
Clark said he agrees with Hammargren "to start acquiring artifacts before it costs three or four times more."
Clark also agrees that some items that Hammargren has in his unique collection "are appropriate for our use."
Hammargren said, "There's a lot of stuff I have for a museum in Nevada. The most significant thing is that Apollo spacecraft."
How did he get it?
Hammargren believes the space capsule – emblazoned with large red letters spelling "Saturn," for the rocket booster used in Apollo missions – was used for splashdown tank tests at a facility near Downey, Calif.
A disposal firm, Buck's Salvage, hauled it to a storage yard in North Las Vegas about 30 years ago, where it sat until Hammargren found it and realized that it had to be one of the first Apollo capsules made.
"There are only two missing. A certain man must have paid a large amount of money for it," he said.
According to Hammargren, the man was a guy named "MacNeal," whose name is on the inside of the capsule along with the name of a convenience store where he had intended to display it.
And the rest is history that he keeps in his backyard.
Contact reporter Keith Rogers at krogers @reviewjournal.com or 702-383-0308.