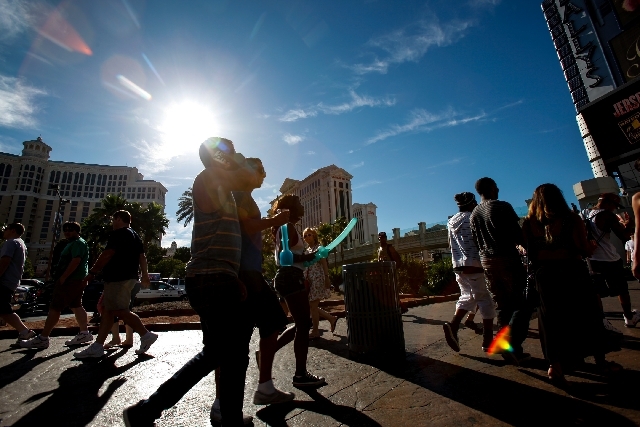 Jaime Martinez sits along the Strip on Thursday, holding a cardboard sign asking tourists for spare change. A cane is propped next to him.
When the 69-year-old gets up to walk, he navigates his way around and through tourists. He keeps an eye out for groups of tourists, as they tend to all stop to bunch up and take photos, jamming pedestrian traffic.
Martinez says when he saves up enough money, he will return to Dallas where he has family.
But if the generosity of tourists hasn't gotten him back to Texas next year, he might find it easier to travel the Strip's sidewalks.
Clark County officials are moving ahead with plans to remove or relocate obstacles from the Strip's sidewalks, including fire hydrants, signs and traffic signals. Aligning crosswalks with sidewalks is also in the project.
It's all part of a plan to make the Strip, the economic lifeblood of Southern Nevada, more inviting to visitors and tourists. The study examined the Strip from Sahara Avenue to Russell Road.
Commissioners this week approved an agreement to pay a consultant $528,800 for design work in the high-obstacle areas of the Strip.
The agreement continues the county's work on improvements with Kimley-Horn and Associates Inc., the firm that completed a pedestrian study of the Strip in 2012. The additional fee will bring the firm's total county bill to about $1.1 million, which includes that study.
County officials have identified more than 200 obstacles along the Strip that need attention. Examples include a traffic signal controller box near MGM Drive and Hard Rock Cafe. Another spot is the Harley-Davidson Cafe, at the southeast corner of Las Vegas Boulevard and Harmon Avenue. The pedestrian study found that a concrete wall and landscaping restrict the walkway.
Under the timeline, the Strip could be looking different in less than a year. The goal is to get the design work completed in the fall, allowing the project's completion by March, county Public Works Director Denis Cederburg told commissioners.
The design work will focus on the areas of the Strip with the highest pedestrian flow, primarily between Spring Mountain Road and Flamingo Road, and near The Cosmopolitan.
With design work pending, unknowns remain. With hydrants, for example, it's possible that they could be stowed underneath sidewalks and flip up when needed.
But that is something that still needs to be studied, with advice from the Fire Department, Cederburg said.
Tourists such as Ramy Ebrahim of Queens, N.Y., take the crowded sidewalks in stride. He did note, however, that the sidewalks along the Strip are crowded at all hours, unlike Queens.
"It's expected for a large city like Las Vegas, Chicago or New York," he said Thursday.
Commissioner Mary Beth Scow, whose district includes the Strip, said the work is needed to aid pedestrian flow.
"We're moving in the right direction," she said.
She noted that before other changes made along the Strip, her office fielded more frequent complaints about unlicensed vendors.
It's part of a wider effort to clean up the Strip. Last year, the County Commission passed an ordinance that puts tougher fines in place for unlicensed vendors who peddle water and other wares along the Strip's right-of-way areas.
Other plans are the works. County officials have expressed an interest in an ordinance that would ban news racks on the Strip. Many of those advertise escort services and strip clubs, bearing images of scantily clad women.
That proposal, which would apply to all news racks regardless of content, hasn't been presented for a commission vote yet.
Contact reporter Ben Botkin at bbotkin@review journal.com or 702-405-9781. Follow him on Twitter @BenBotkin1.