1 dead after being shot on Fremont Street in downtown Las Vegas
November 29, 2017 - 3:34 am
Updated November 29, 2017 - 8:38 pm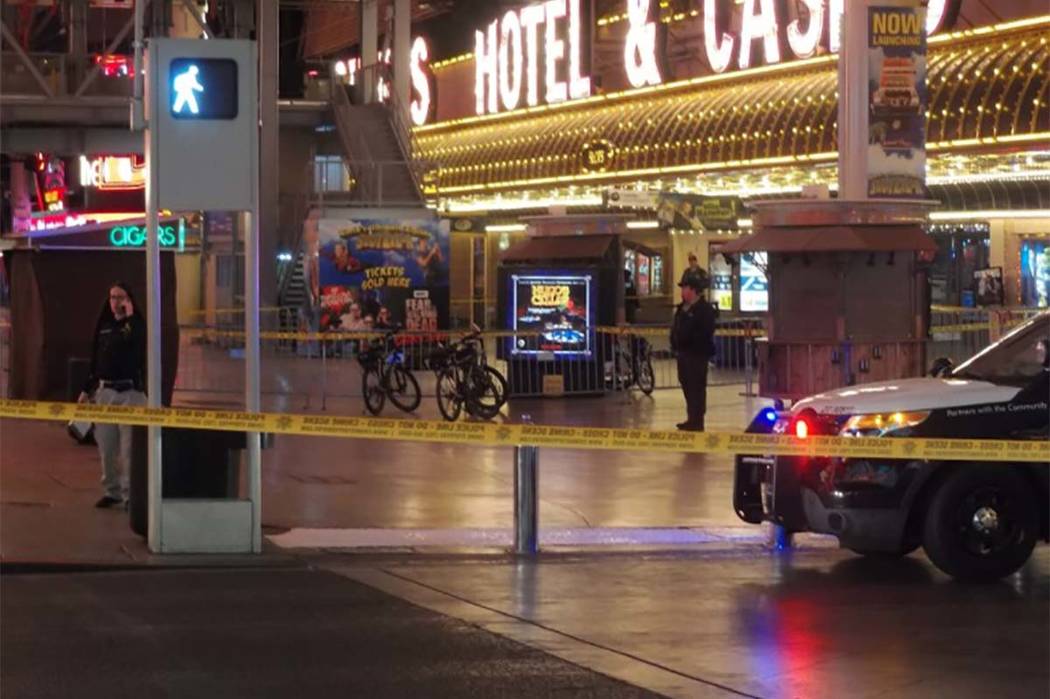 Las Vegas police are searching for the man they suspect of shooting and killing another man at the Fremont Street Experience early Wednesday.
Metropolitan Police Department homicide Lt. Dan McGrath said the suspected shooter, who is in his 20s, ran through several downtown casinos as he fled the scene of the shooting that occurred just after 2:20 a.m. outside the Four Queens.
The shot man, who police said was also in his 20s, was taken to University Medical Center where he died just before 2:45 a.m.
McGrath said it appeared the man was shot when an argument escalated among a group of people. The group scattered and the shooter fled the scene.
McGrath said the shooter and the man who was killed knew each other. One person in the group that was arguing told detectives the shooter's name, McGrath said, and police are searching for him. By Wednesday evening, police had filed a warrant for the man's arrest.
Fremont Street Experience President Patrick Hughes said safety at the attraction "is our absolute priority and responsibility."
"It's something we work on every single day," he said, "not just because of Oct. 1 but constantly. Every day."
About 3 a.m. Wednesday, police and security guards had blocked off a portion of Fremont Street in front of the Four Queens.
Joel Deagan was playing the drums nearby when he heard a single gunshot.
"It was loud," he said, "loud enough that everyone took notice."
Deagan said people ran into the Four Queens and the surrounding casinos after the shot rang out.
"I stopped playing and looked over and people were running, so I ducked behind this pillar," he said, motioning toward a column supporting the Fremont Street Experience.
At the scene, several bags including a black plastic garbage bag and a red medical bag with its contents spilled across the ground sat in the area blocked off by police.
Contact Max Michor at mmichor@reviewjournal.com. Follow @MaxMichor on Twitter. Review-Journal staff writer Blake Apgar contributed to this story.