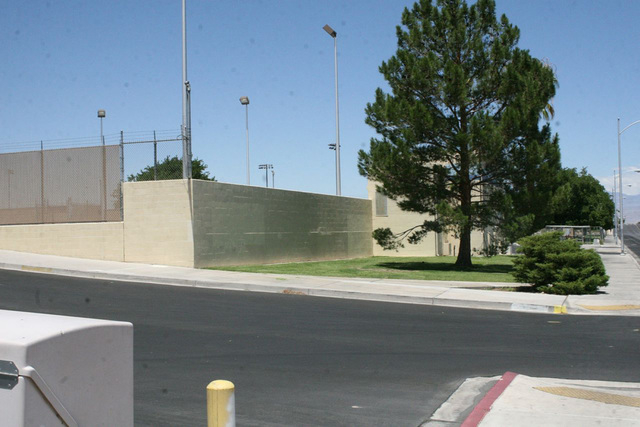 As a child, Craig Galati loved splashing around in the city of Las Vegas' Garside Pool, 300 S. Torrey Pines Drive. Now he's just as happy to have a hand in that pool's destruction to make way for a better one.
"It was leaking," said Galati, principal at LGA, a local architecture firm. "They had to keep putting water in it and adding chemicals to keep it safe to swim in."
Ward 1 City Councilwoman Lois Tarkanian confirmed that the pool was becoming more expensive to run and was becoming less usable.
"They had to shut down the kids' pool a while back because it was leaking so badly," she said. "Residents let me know about it right after I was elected. It took more than four years to get it funded, but now it's almost done."
Galati designed the pool that is replacing the original Garside Pool, built in 1971. His firm has designed several community centers and pools, including the Skyview Multigenerational Center in North Las Vegas, the Centennial Hills Community Center YMCA and the Desert Breeze Community Center.
"When they built Garside, they were so concerned about caliche that they built it up, so from the street, it was just a big wall," Galati said. "It was never really attractive. When we were kids, we didn't care. We hung out there all summer."
Galati grew up in the neighborhood and said none of his friends' families could afford pools then.
"It's going to be a better pool for the neighborhood," he said. "It's also going to be cheaper to operate it."
The new pool is set to include amenities Galati could only have dreamed of as a kid. It will have a shallow area for younger children with splash features. Plans for the pool also include a water slide and a diving board.
"We're going to have five official-size lap pools so the schools will have a place to practice and compete," Tarkanian said. "There wasn't a place to do that anywhere around there. The lap pools will be solar-heated."
The pool is set to have a paleontology theme and include art and displays of some of the valley's extinct animals.
"We've been working on that with Helen Mortensen of the Protectors of Tule Springs," Tarkanian said. "There will be an educational aspect to the pool along with the recreation."
The pool is close to completion and expected to be open for the summer.
"We're happy with it," Galati said. "It's a big change and something that the community needs. It's also a good infusion of capital into that part of town."
Contact Paradise/Downtown View reporter F. Andrew Taylor at ataylor@viewnews.com or 702-380-4532.