Dining events and news for June 9-15, 2016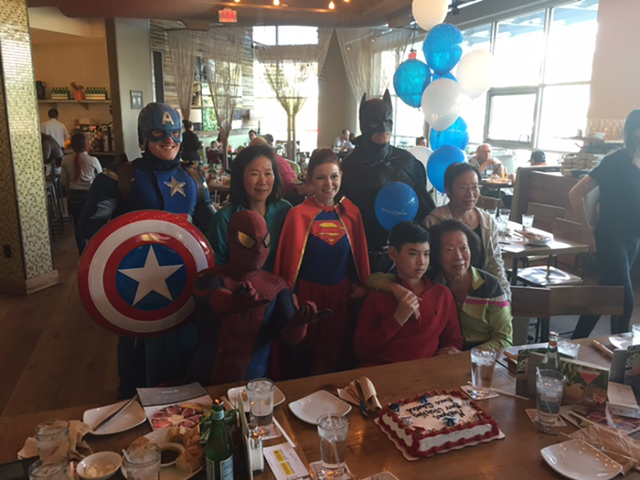 Support Camp Sunshine: On June 17, Tropical Smoothie Cafe locations will be offering free 24-ounce Jetty Punch smoothies to guests wearing flip flops from 2 to 7 p.m. to encourage donations for Camp Sunshine. Additionally, the 8426 Farm Road, Suite 150, location is set to host its grand opening event at 9 a.m. with tastings, 99-cent smoothies and giveaways. The first 50 customers to line up will receive free smoothies for a year. Visit TropicalSmoothieFranchise.com.
RED benefit dinners: In an effort to #86AIDS, Batali & Bastianich Hospitality Group's Las Vegas collection of restaurants is serving specials and hosting special suppers June 15 to benefit (RED), the nonprofit organization founded by Bono and Bobby Shriver dedicated to fighting AIDS. Restaurants slated include B&B Burger & Beer; B&B Ristorante; OTTO Enoteca e Pizzeria, all at The Venetian; and Carnevino Italian Steakhouse at The Palazzo. Each of the restaurants will host a one-night-only (RED) Supper with special menus and pairings June 15. The multi-course dinners will feature a mix of signature dishes as well as specially prepared (RED) dishes. Pricing for the dinners range from $35 (at B&B Burger & Beer) to $99 at Carnevino. Limited seating is available. To purchase tickets or to view menus, visit bandbburgerandbeer.com/news-events/red-supper; bandbristorante.com/news-events/red-supper; carnevino.com/news-events/red-supper; or lasvegas.ottopizzeria.com/news-events/red-supper.
Social services fundraiser: ​Lutheran Social Services of Nevada is planning its 20th anniversary Tasting/Silent Auction fundraiser from 5 to 7 p.m. June 9 at Cili Restaurant at Bali Hai, 5160 Las Vegas Blvd. South. Attendees can sample a range of wines and signature appetizers and bid on a variety of "Very Vegas" items during a live and silent auction. Proceeds from the event will support a variety of programs that serve low­-income individuals, families and seniors. RSVP is required. Tickets are $65. Visit lssnv.org.
Coffee Bean & Tea Leaf troop support effort: Las Vegas locations have announced the return of their annual Support at Home campaign through July 10 in which $1 of every 12-ounce Support at Home Ground Coffee ($9.99) or 20-count Support at Home Tea Tin ($8.99) sold will be donated to Operation Homefront. Patrons may also purchase Support at Home retail coffee and tea products for donation to military families. Customers are encouraged to write a message of thanks on the blank label of each coffee bag and tea tin. Visit coffeebeanlv.com.
Summer Wine Walk: The event is planned from 6 to 9 p.m. June 11 at the Downtown Container Park, 707 Fremont St. Bubbly and wine stations will be available throughout the park. Tickets range from $20 to $25. Visit ticketfly.com/event/1190733.
Summer grilling: The class is planned from 6 to 8:30 p.m. June 14 at Ferguson Enterprises, 4175 S. Grand Canyon Drive. The session walks attendees through techniques for grilling meat, vegetables and bread and is $55. Register at continuingeducation.unlv.edu or by calling 702-895-3394.
Hard Rock birthday celebration: Hard Rock Cafe, 3771 Las Vegas Blvd. South and 4475 Paradise Road, are set to celebrate their 45th birthdays from 11 a.m. to cose June 14 with 71 cent Legendary Burgers and '70s music all day. Call 702-733-7625 for the Strip location or 702-733-8400 for the Paradise location.
French cuisine and tea pairing: A tea pairing dinner hosted by Barbara Fairchild, former editor-in-chief of Bon Appetit, is planned to start with a VIP cocktail reception at 6 p.m. June 16 at Alize at the Palms, 4321 W. Flamingo Road. Tickets are $225 per person. In addition, Fairchild will be awarding people in the tea industry who have contributed work for establishing standards for tea quality over the past year. Visit eventbrite.com/e/tea-pairing-in-the-sky-tickets-23479435624.
Restaurant Week:
Las Vegas Restaurant Week is planned through June 17, and restaurant owners and chefs can register early by contacting Three Square food bank's Kari Goldberg at 702-644-3663, ext. 332, or restaurantweek@threesquare.org. During the event, participating restaurants develop prix fixe menus offering breakfast, lunch and/or dinner at price points ranging from $20 to $80, with a fixed portion of the meal's cost donated to Three Square. Approximately two weeks before Las Vegas Restaurant Week begins, the mobile-friendly website helpoutdineoutlv.org will launch, providing a list of participating restaurants, prix fixe menus and directions on how to make reservations. All proceeds benefit Three Square.
— Station Casinos plans to commemorate the 10th anniversary of Las Vegas Restaurant Week with special prix fixe menus in eight of its steakhouses. Station Casinos will donate $4 to Three Square food bank for every meal purchased on select menus. For a full list, visit helpoutdineoutlv.org.
— Ferraro's Italian Restaurant & Wine Bar plans a special menu at $50 per person, a portion of which will be donated to Three Square. To RSVP, call 702-364-5300.
— Triple George Grill, 201 N. Third St., is planning to participate with a three-course lunch menu from 11 a.m. to 4 p.m. for $20 and a dinner menu from 4 to 10 p.m. for $40. Call 702-384-2761.
Tequila dinner: The quarterly event is planned to start with cocktails at 7 p.m. June 18 at Cantina Laredo inside Tivoli Village, 430 S. Rampart Blvd., Suite 110. The event includes a four-course meal of Mexican fare and tequila cocktails.Tickets are $49.99 a person. Space is limited. RSVP by calling 702-202-4511.
Summer pastas: The class is planned from 6 to 8:30 p.m. July 12 at Ferguson Enterprises, 4175 S. Grand Canyon Drive. The session teaches how to incorporate pastas as entrees or side dishes and is $45. Register at continuingeducation.unlv.edu or by calling 702-895-3394.
Vegetarian summer favorites: The class is set from 6 to 8:30 p.m. July 19 at Ferguson Enterprises, 4175 S. Grand Canyon Drive. It teaches attendees how to prepare meatless entrees, salads and more. It costs $55. Register at continuingeducation.unlv.edu or by calling 702-895-3394.
Late-night events: Ferraro's Italian Restaurant and Wine Bar, 4480 Paradise Road, is planning a series of late-night events every Thursday thereafter, Ferraro's will host Jazz Workshop, a traditional jazz band, in its lounge from 11 p.m. to 2 a.m. In May, Ferraro's launched Mezzanotte Grill from 11 p.m. to 2 a.m., which is planned on the restaurant's patio and is to feature unlimited beer and pizza and house-made Italian sausages and Hofmann hotdogs. The cost is $25 per person. Subsequent Mezzanotte Grill events are planned. Call 702-364-5300.
Wine Pairing Dinners: The events honoring chef Bernard Tordjman are planned from 4 to 9 p.m. every first Wednesday at CB's Legacy, 2021 W. Sunset Road. They are $55 per person and include food and wine specials. RSVP by calling 702-702-558-3366.
Shake Shack partnership: Shake Shack at New York-New York resort announced its charitable partnership with the Children's Heart Foundation in Southern Nevada. Both Las Vegas Shake Shack locations also have a new local bakery partner, teaming up with The Cupcakery for two specialty concretes. Five percent of sales from the New York-New York's location-specific frozen custard concrete All Shook Up are to benefit the Children's Heart Foundation. At the Downtown Summerlin Shake Shack, guests can purchase the Red Velvet Rocks with 5 percent of sales benefiting Communities In Schools of Nevada. Visit chfn.org and CISNevada.org.
Vino With a View: Ascaya development is planning the event with wine tastings and refreshments from 3 to 6 p.m. Wednesdays at 1 Ascaya Blvd. Call 702-978-5800.
The Made Experience: Triple George Grill and the Mob Museum invite guests to travel back to a time when neighborhood speakeasys were a regular occurrence and classic mobsters ruled the town. The Made Experience is priced at $89 per person (two-guest minimum) and consists of a three-course prix fixe menu at Triple George Grill and a ticket to the Mob Museum. Visit tinyurl.com/madeexperience.