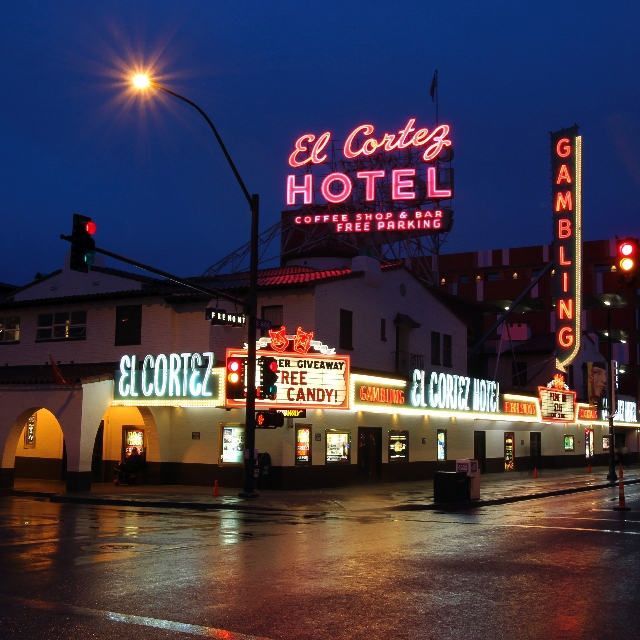 The El Cortez, the longest continually operating casino in Las Vegas, recently landed a spot on the National Register of Historic Places.
Since 1941, the downtown icon has stood at the corner of Fremont and Sixth streets. Executive Vice President Alexandra Epstein said the recognition of the property's historical value goes a long way to legitimizing its role in the city's history.
"The recognition strengthens our image," she said. "It really transitions us from being an old building into a historic one."
As a self-proclaimed history buff, Epstein said it is better to be historical than simply old.
"Clearly, we've contributed some value to the colorful, interesting history of Las Vegas rather than just having been around a long time," she said.
Those involved credit the building's architecture as a significant factor in the designation. The casino is an example of a Spanish Colonial Revival-style structure with a Western flair, which was popular in the Western United States around World War II.
Its neon sign was added in 1952, parking garages in 1970 and 1976, and a 15-story hotel tower was finished in 1984, according to the application.
"Having a property such as the El Cortez that represents the early days of gaming and entertainment is absolutely critical," architectural historian Peter Moruzzi, who put together the El Cortez application for historical designation, told the Las Vegas Review-Journal in a recent interview. "Every city has courthouses, city halls, old banks and old hotels."
Downtown advocate and blogger Brian "Paco" Alvarez said the decision will open the door for others in the area.
"I predict in the near future every hotel on Fremont Street is going to want historic designation, and rightfully so," he said. "With El Cortez leading the way, we have the makings of a vibrant historical district."
Alvarez credits the work of longtime casino owner Kenny Epstein and his family for "celebrating the hotel's history," adding to the uniqueness of downtown.
"Instead of the slash-and-burn mentality of the Strip, these hotels are taking pride in their properties," he said. "If downtown is going to continue to compete with the Strip, they are going to have to sell themselves as vintage Vegas."
Alexandra Epstein expressed appreciation over the support received from the community and said she hopes the El Cortez can continue to be a positive influence in the revitalization of downtown.
"It is exciting to see the oldest casino in the city remain the center of a new Las Vegas," she said.
Contact Paradise/Downtown View reporter Nolan Lister at nlister@viewnews.com or 702-383-0492.