Experts urge better staffing, more funding to begin to fix Nevada's mental health programs
October 27, 2016 - 5:03 am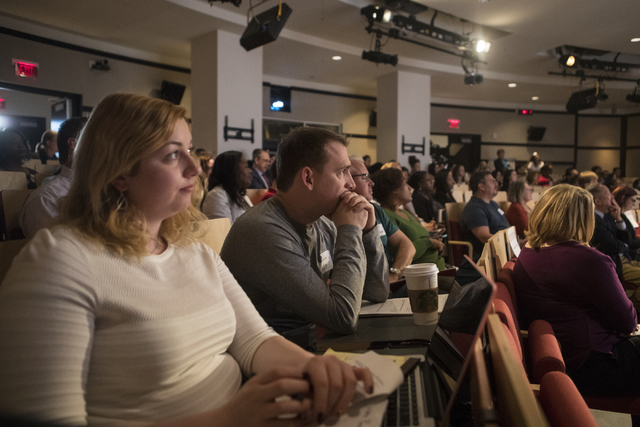 Experts from across the valley have taken a hard look at both the city and state's mental health care situation, and most agreed that, in order to fix things, it will take time, new professionals and lots of money.
"Mental health funding draws from several fronts, and there is room for growth in all those fronts," said Jim Jobin, president of the National Alliance on Mental Illness. "Nevada has the fewest clinicians of any state — that's providers who can sit with you and know what to do. In Nevada, only one in three adults that has mental illness will be able to get help. Only one in two children who have severe mental illness can get any help. There's not enough of us to go around."
Funding holding back efforts to train more professionals
A psychotherapist and addiction counselor, Jobin has strong opinions about what can and should be fixed but thinks the shortage of professionals is the root of many of the problems. He said part of that is infighting between various designations of health care professionals, which ultimately leads to state licensing complications.
"We don't have enough professionals, and when professionals try to move here from out of state, we don't certify them so they can get to work," Jobin said.
He sees it as a positive sign that the Nevada Legislature is discussing collapsing all of the licensing boards — for anything to do with behavioral health — into one entity.
"You would think most professionals would recoil at this and want to run their own systems," Jobin said. "The irony is that our system is so poor that most professionals are celebrating this. We believe it will streamline the system, provide resources and bring professionals into the field."
An Oct. 7 Mental and Behavioral Health Coalition forum at UNLV's Greenspun Hall attempted to address the state's shortage of mental health care workers. Forum organizers included the UNLV School of Social Work, the Lincy Institute at UNLV, the University of Nevada, Reno, Great Basin College and Western Nevada College.
During a presentation by Angela Beck, Ph.D., director of the Behavioral Health Research Center at the University of Michigan, many statistics cited Nevada's shortfalls. Among the studies:
A 2015 Substance Abuse and Mental Health Services Administration's Behavioral Health Barometer, which noted that Nevada has prevalence rates of various mental illnesses at or above the national average.
A 2015 Nevada Department of Health and Human Services report highlighting challenges with mental health service utilization, including long waiting periods and not enough providers.
A 2016 Health Services Resource Association report outlining 54 Health Resources and Services Administration-designated mental health professional shortage areas in Nevada.
Those at the forum claimed finding and training individuals to fill the large shortfall was hampered by funding.
"We notoriously have problems recruiting the best aides for our training program because our (graduate assistant) stipends are way lower than other programs across the country," said Noelle Lefforge, Ph.D., assistant director of The Practice, a community mental health training clinic at UNLV.
"Even when we do train someone here, we run the risk of losing them because they're going to places where they can earn more money because the salaries here are not competitive," Lefforge said.
Screen children before starting school
Beyond filling gaps in positions and services already underserved, more professionals could be utilized for things such as mental health screening for children entering elementary schools, an idea many Nevada professionals feel has merit.
"I think we're better off catching a problem, monitoring it and possibly treating it versus dealing with a problem after it has progressed," said Lawanna Calhoun, supervisor of WestCare Nevada Community Triage Center. "I think mental health screening should start anywhere from (age) 2 on."
Lefforge agreed that early screening was on the wish list.
"I'm in favor of any effort at prevention as early as possible," she said. "Figuring out which groups of kids are vulnerable and how to provide services early on would save money in the long run."
Michelle Paul, director of The Practice, felt that while useful, screening children prior to school would be putting the cart before the horse.
"The efforts have to be thought through," Paul said. "It wouldn't be that helpful if we screened all kids, and we know that they need resources, but there's nowhere to send them to."
Currently, the Clark County School District doesn't have the resources to implement such a massive across-the-board screening. Each of the schools has a psychologist assigned to it, although some might be assigned to several schools.
"The recent influx of funds through the Nevada Legislature and the Nevada Department of Education relative to (Senate Bill) 515 (a school funding bill) helps," said Robert Weires, director of psychological services for the school district. "We have additional mental health providers in the schools, and we're getting organized so we can become more effective and efficient in meeting the needs of our kids. A number of our schools have one or more health professionals now. That's new, and it helps."
Weires said mental health screening was part of the district's long-term goals but it was financially challenging to achieve everything planned.
"We look at a multi-tiered system of support, which is looking at various levels of support screening," Weires said. "We look at the needs of all kids relative to academics, behavior and even mental health. Under that model, we would like to get to the point where we have additional information for screening relative to behavior and mental health. We're still trying to build an adequate infrastructure for kids who are at risk and those who need intensive services across academics, behavioral and now mental health."
Creating a 'one-stop shop' for physical and mental health care
Jobin sees the problem of the state's mental health care as being complex but said it can be broken down into three main issues.
He places the need for more professionals second, followed by funding, but believes the primary need is for the implementation of integrated care, a blending of physical medicine and mental health.
"The idea is that when you go to your family physician, there you will find a mental health care professional as well," Jobin said. "It should be a one-stop shop. This is something that was born out of a desire to save money in the health care system."
Jobin cited a hypothetical patient with diabetes who is told by his doctor that he has to change his diet, and even though the patient agrees, he makes no changes. Jobin feels that a mental health care professional should also be on site to work with the patient's behavioral and lifestyle issues.
Dr. Leighton Y. Huey, associate dean and chairman of the Department of Psychiatry at the University of Connecticut Health Center, also cited integrated care in his presentation at the UNLV forum. But he carried the idea even further, noting that the mental and physical health of individuals is directly related to the economic health of a city.
He said that, statistically, even adjusting for expensive life-saving medical procedures, people who lived in more economically depressed areas live shorter lives.
"We know that there is a shared accountability that's necessary for us to reach the vision and the goal," Huey said. "The goal is an integration of physical health, behavioral health and community health."
Jobin hopes this holistic approach will become widely accepted and even legislated into law, but he fears funding cuts may further strain the system.
"Just three years ago, we got caught busing patients to California, and the state got sued for half a million dollars," he said. "Gov. (Brian) Sandoval put a lot of money and effort into studies to revamp the mental health infrastructure, but I'm afraid when they go to balance the budget, it's mental health services that are going to be cut."
To reach East Valley View reporter F. Andrew Taylor email ataylor@viewnews.com or call 702-380-4532.
Mental Health in Nevada
In its Mind Matters series, the View staff explores different aspects of mental health care and living with mental disorders in the Las Vegas Valley.