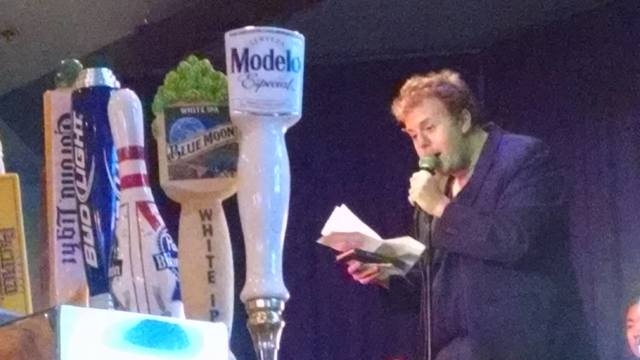 JACK SHEEHAN TO TALK ABOUT WRITING
Author and journalist Jack Sheehan is set to discuss making a living as a writer from 11:30 a.m. to 12:30 p.m. April 30 in the Greenspun Hall Auditorium at UNLV, 4505 S. Maryland Parkway. Sheehan is the author of 18 nonfiction books, including "Buried Lies," "Skin City," "Class of '47" and "Quiet Kingmaker." The event is free and open to the public. For more information, visit unlv.edu.
RICHARD SIKEN TO SPEAK AT UNLV
The Black Mountain Institute is set to host a presentation by poet, editor, painter and filmmaker Richard Siken at 7 p.m. April 30 in the Greenspun Hall Auditorium at UNLV, 4505 S. Maryland Parkway. For more information, visit blackmountaininstitute.org.
NIKKOS ZORBAS PLANS SIGNING
Local author Nikkos Zorbas plans to sign his books "Discovering Your Personal Power" and "Discovering Your Business Power" at 1 p.m. April 25 at the 567 N. Stephanie St. Barnes & Noble.
PARENTING AUTHOR PLANS EVENT
Vickie Hoefle is scheduled to sign "The Straight Talk on Parenting: A No-Nonsense Approach on How to Grow a Grown-Up" at 6 p.m. April 30 at the 567 N. Stephanie St. Barnes & Noble.
'VOICES OF RUDY: THE JOURNEY TO THE MOVIE' TO HIT STAGE
Local author Rudy Ruettiger plans to take the stage at The Smith Center for the Performing Arts at 7 p.m. April 25 in "Voices of Rudy: The Journey to the Movie," produced and directed by Tony Sacca. Tickets are $34 to $39. For more information, visit thesmithcenter.com or call 702-749-2000.
MARRIAGE AUTHOR TO OFFER ADVICE
Bryan Sanford plans to sign "Balance of Passion: How to Stop Pretending and Going Through the Motions of Marriage" at 2 p.m. April 26 at the 567 N. Stephanie St. Barnes & Noble.
LAS VEGAS COMIC CON SET FOR APRIL 24-26
The inaugural Wizard World Las Vegas Comic Con is scheduled for April 24-26 at the Las Vegas Convention Center, 3150 Paradise Road. The event is set to feature comic artists and writers, an assortment of television and movie actors and fans dressed in costumes. For more information, visit wizardworld.com/home-lasvegas.html.
LIBRARY DISTRICT TO ACCEPT FOOD TO PAY OFF FINES
The Las Vegas-Clark County Library District plans its first Food for Thought drive to allow patrons to bring in food donations to pay off library fines through April 25. For every nonperishable canned or packaged food item brought in, the library district is set to waive $2 toward patron fines. There is no limit to the dollar amount that can be waived. Food will be donated to Three Square food bank. For more information, visit lvccld.org.
LEE MALLORY LAUNCHES SEVENS LIVE!
Poet Lee Mallory plans to present Sevens Live!, a new music, comedy and spoken arts showcase, from 7 to 9 p.m. Mondays inside the Cantina at the Silver Sevens, 4100 Paradise Road. Upcoming dates are April 27, May 4, 11, 18 and 25 and June 1.
Admission is free with a one-drink minimum. For more information, call 702-733-7300.
THE WRITER'S BLOCK EXPANDS WEBSITE AND OFFERINGS
The new downtown bookstore The Writer's Block, 1020 Fremont St., recently expanded its website with the addition of a full schedule of literary events, including readings and signings for adults and free workshops for students ages 5 to 18. Kids' workshops are each limited to six students who are selected via lottery. Topics range from printmaking to flash fiction. Upcoming adult events include an illustrated lecture and book signing with Paul Koudounaris, author of "Memento Mori" at 7 p.m. April 23. For more information, visit thewritersblock.org.
POETRY TO BE FEATURED AT 5/5+
Poets are invited to share original work for five minutes followed by attendees offering comments for five minutes during 5/5+, a workshop series put on by Nick Marco, Lana Hanson and Lee Mallory, scheduled every two weeks at BooksorBooks, 3460 E. Sunset Road, Suite R. The next session is planned from 3 to 5 p.m. April 25. For more information, call 702-754-5971, email jtjmarco@live.com, raisewomenup@gmail.com or leewmallory3@gmail.com or search for 5/5+ on Facebook.
FREE CREATIVE WRITING WORKSHOPS PLANNED AT LIBRARY
A free Creative Writing @ Your Library series is scheduled from 10 to 11:30 a.m. on the second and fourth Tuesdays of the month at the Gibson Library, 100 W. Lake Mead Parkway. Writers 18 or older are encouraged to participate and share.
Members of the Henderson Writers' Group are slated to facilitate workshop sessions on a variety of topics, including screenwriting on April 28, editing your own work on May 12 and publishing options on May 26. For more information, visit mypubliclibrary.com.
The Henderson Writers' Group also plans to host its 2015 Las Vegas Writer's Conference April 23-25 at Sam's Town, 5111 Boulder Highway. For more information, visit lasvegaswritersconference.com.
SHARE POEMS AT HUMAN EXPERIENCE
Polish up a poem or two and try them out at Human Experience, a free spoken word event scheduled from 7 to 11:30 p.m. Mondays in its new home at The Center, 401 S. Maryland Parkway. Participants 18 or older are welcome. For more information, visit facebook.com/humanexperiencelasvegas.
WRITING ADVENTURES STUDIO TO OFFER CAMPS
Summer camps are scheduled from June 8 through Aug. 14 at the new Writing Adventures studio, 3227 E. Warm Springs Road. Camp fees are $199 a week, with classes from 9 a.m. to 4 p.m. Additional extended care is available from 7 a.m. to 6 p.m. The studio also offers ongoing tutoring and classes. For more information, visit writingadventuresusa.com or call 702-413-6199.
CLARK COUNTY SEEKS POET LAUREATE NOMINATIONS
Clark County is seeking applicants for the honorary position of Clark County Poet Laureate. The two-year term for the volunteer post is set to begin June 1. Poets must live in Clark County and be at least 18. A committee of five county residents will make the selection. Candidates must be willing to participate in public and educational gatherings. An application packet should include a resume, a biography, work samples totaling 20 pages or fewer, publication credits, a list of public appearances and accomplishments, three letters of recommendation and a one-page statement on the role of poet laureate and how the applicant might fulfill it. The submission deadline is May 1. Packets may be emailed to gaffeypj@clarkcountynv.gov or mailed to Poet Laureate Nominations, Attn: Patrick Gaffey, Winchester Cultural Center, 3130 McLeod Drive, Las Vegas, NV 89121. For more information, email Gaffey at the address above or call 702-455-7340.
LIBRARY TEAMS WITH MOB MUSEUM FOR CARD DRIVE
The Las Vegas-Clark County Library District and the Mob Museum have teamed for a library card sign-up campaign throughout April. Patrons who sign up for a library card or like the district's Facebook page during April will be entered for a chance to win a gift basket from the museum that includes a one-year family membership. Nevada residents can also present their library card at the museum during April for a $2 discount. For more information, visit lvccld.org or themobmuseum.org.
COOKING AUTHOR SET TO TALK
An author event is event is set for 2 p.m. April 30 at the Jewish Community Center of Southern Nevada, 8689 W. Sahara Ave., Suite 180.
The Women Enjoying Leisure Taste of Bali event features Dr. Vivienne Kruger, who will present recipes, photos and stories from her book about the cuisine and food culture of Bali.
Books are set to be available for purchase and signing as well as samples of the tastes of vegetarian Balinese dishes.
The cost is $5 for members or $10 for non-members. Space is limited. Register online at goo.gl/Gbtw6U or call 702-794-0090.
SCIENCE FICTION AND FANTASY GROUP UNDERWAY IN LIBRARY
Readers, writers and editors of science fiction and fantasy are invited to check out a new group scheduled to meet at 2 p.m. Saturdays in meeting room two at the Green Valley Library, 2797 N. Green Valley Parkway. For more information, call 702-334-0204.
UNLV WRITERS WELCOME ALL TO NEON LIT
Neon Lit, a public reading featuring writers from UNLV's Master of Fine Arts and Ph.D. writing programs, is scheduled the fourth Friday of most months at The Writer's Block, 1020 Fremont St., No. 100. For more information, visit neonlit.org.
BARNES & NOBLE TO HOST WRITING GROUP
The 2191 N. Rainbow Blvd. Barnes & Noble plans to host a writing critique group at 5:15 p.m. the fourth Monday of each month. The group is limited to the first 20 participants per meeting. Sign up at meetup.com/las-vegas-creative-writing-class.
UNITED WAY PLANS FREE FLIP THROUGH SUMMER READING KICKOFF
The United Way of Southern Nevada's Flip Through Summer reading kickoff is set to return from 10 a.m. to 1 p.m. May 16 at the Springs Preserve. The annual event is set to feature six book nooks with live readings and activities. Children are invited to explore favorites such as "The Cat in the Hat," "Clifford the Big Red Dog," "Stuart Little," "Charlotte's Web," "Dora the Explorer" and the Harry Potter series.
Families can also participate in a book swap where each individual can bring two books and swap them for two new books. To learn more about sponsorship, contact Chris Cappas at 702-892-2322 or chrisc@uwsn.org. For event details, visit uwsn.org/flipthroughsummer.
ACTRESS, AUTHOR CYNTHIA PEPPER TO SIGN BOOK
Las Vegas author Cynthia Pepper is set to sign her book "Pigtails, Presley, and Pepper" from 1 to 4 p.m. May 2 at the Boulder City Library, 701 Adams Blvd. Pepper played the romantic interest of oldest son Mike on "My Three Sons," did a season as the title character "Margie" and she played "Midge" in "Kissin' Cousins" with Elvis Presley. Her father, Jack Pepper, was a vaudeville and nightclub entertainer whose first wife was Ginger Rogers.
For more information, visit bclibrary.com.
'CHAPEL OF ETERNAL LOVE' AUTHOR TO SPEAK
Local author Stephen Murray is set to sign discuss his novel "The Chapel of Eternal Love" at 2 p.m. May 16 at the Sahara West Library. For more information, visit lvccld.org or call 702-507-3631.
WRITER'S BLOCK CO-OWNERS TO SPEAK TO WRITERS GROUP
The Writer's Block co-founders Scott Seeley and Drew Cohen are scheduled to speak about the independent bookseller's mission and role in the community during a meeting of the Las Vegas Writers Group scheduled for 7 p.m. May 21 at the Tap House, 5589 W. Charleston Blvd. A $5 meeting fee is charged. For more information, visit meetup.com/las-vegas-writers.
ALIANTE LIBRARY TO HOST WRITERS CLUB
The Aliante Library Writers Club is scheduled to meet from 5:30 to 7:30 p.m. the first and third Tuesday of each month at the Aliante Library, 2400 W. Deer Springs Way. For more information, email facilitator Glory Wade at glorywadewriter@gmail.com.
ARTS CENTER TO HOST POETS CORNER
The West Las Vegas Arts Center, 947 W. Lake Mead Blvd., plans to host poets corner readings with Keith Brantley at 7 p.m. the first and third Friday of each month. For more information, call the center at 702-229-4800.
LIBRARY CAN BENEFIT FROM AMAZON PURCHASES
At no cost to you, purchases made at amazon.com can help the Las Vegas-Clark County Library District. The district benefits not only when you buy books but also movies, CDs, electronics, appliances and more. To start, visit wowbrary.org/lasvegas and the online retailer will donate roughly 7.5 percent of your purchases to the district.
For more information, email ask@lvccld.org or call the Virtual Library section at 702-507-6300.
FREE READ TO ME PROGRAM OFFERED
Celebrity storytellers Oscar Goodman, Rita Rudner, Clint Holmes, Terry Fator, Carrot Top, The Scintas and others have donated their talents to the Clark County Education Association Community Foundation's Read To Me program. Children can view more than 15 videos of celebrities reading books on the website at readtomelv.com. Stories also can be accessed by calling 702-240-2665. Both databases are frequently updated with fresh stories. Parents and teachers can download lesson plans for each book on the website.
HENDERSON WRITERS GROUP MEETINGS SET
The Henderson Writers Group plans to meet from 6:30 to 8:45 p.m. Mondays in Room C-2 at Community Lutheran Church, 3720 E. Tropicana Ave. Meetings are typically canceled on holidays. For more information, visit hendersonwritersgroup.
MEMOIR-WRITING WORKSHOPS SLATED
An ongoing series of free four-week memoir-writing workshops is scheduled at noon Wednesdays and 10 a.m. Fridays at the Las Vegas FamilySearch Library, 509 S. Ninth St. Four-week sessions are set to begin the first week of every month. For more information, call 702-382-9695.
ACCESS RECORDED BOOK PROGRAMS ONLINE
Too busy to get out to book programs? The Las Vegas-Clark County Library District posts videos and podcasts of many of its programs online. Selections available include: "An Afternoon with Tony Curtis," John L. Smith's presentation "Amelia's Long Journey: The Challenge of Writing What You Know," "Batman" movie producer Michael Uslan's presentation at the 2009 Vegas Valley Comic Book Festival, Jami Carpenter's "ABCs of Editing" workshop and Brian Rouff's "Getting Published: A Long Strange Trip." To access the programs, visit lvccld.org, select "Books, Movies & More" and then "Video and Podcasts."
The Black Mountain Institute has offered recordings of its programming since 2006. To access recordings of a gamut of writers from E.L. Doctorow to Alissa Nutting, visit blackmountaininstitute.org and select "multimedia."
NEVADA STATE MUSEUM COLLECTING PHOTOS FOR BOOK ABOUT THE HISTORY OF NORTH LAS VEGAS
The Nevada State Museum is looking for photos for a book about the history of North Las Vegas.
Photos are sought that document regular life and special events, from family barbecues to award ceremonies, or show what the city looked like back in the day. Photographs from the 1930s and 1940s are of particular interest.
Museum professionals are set to scan photographs, and the originals will remain with the donors.
For more information, call Crystal R. Van Dee at 702-822-8751.
POP-UP POETRY SERIES SLATED
The Las Vegas Poets Organization, in conjunction with Nevada Humanities, plans to present a monthly series in the 18b Las Vegas Arts District every First Friday at the Nevada Humanities offices at Art Square, 1017 S. First St. Each month, featured poets are set to present a reading from their works at 7 p.m. In upcoming months, the organiztion plans to feature poets Jess Flo, Bakeem Lloyd, Elizabeth Quinones Saldana, Madeline Beckwith and more. For more information, visit lasvegaspoets.org.
WALTER MOSLEY TO DELIVER LECTURE ON HIGHER EDUCATION
Easy Rawlins mysteries series author Walter Mosley is set to deliver a Black Mountain Institute hosted Jim Rogers Contrarian Lecture on higher education at 7 p.m. May 7 in the Student Union Ballroom at UNLV, 4505 S. Maryland Parkway. For more information, visit blackmountaininstitute.org.
Share Your News
Information about Las Vegas book events can be sent to gmeurer@viewnews.com. Space is limited and notice is required at lest two weeks in advance.