Las Vegas car decked out like 'Star Trek' shuttlecraft heading to Burning Man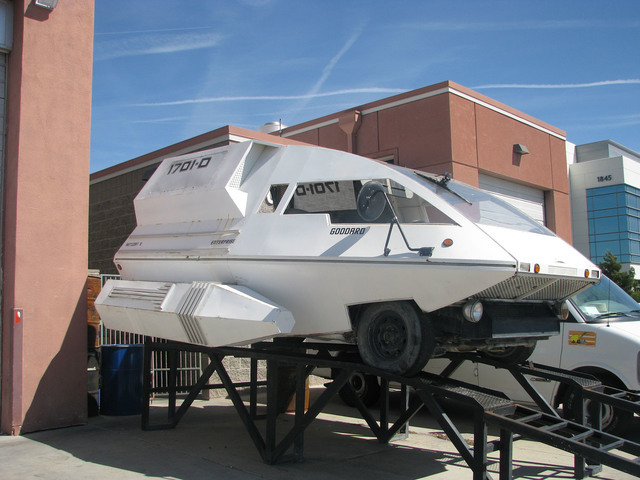 This spring, someone was casually looking through Google Street View when he spotted a spacecraft near McCarran International Airport. Certain segments of the internet went a little crazy as the word spread, and just as quickly, the buzz buzzed away.
The spacecraft in question is an art car built to look like a "Star Trek" shuttlecraft, and it is owned by Cory Mervis-Bocskor. The nondescript building it is parked in front of is Sin City BMW, an auto repair shop inside a former fire station at 5710 Spencer St., where it is undergoing repairs and conversion to be a street-legal vehicle. How it came to be and how it came to be there is a longer story.
"I had two friends from high school who were 'Star Wars' freaks," said Robert Strever, who built the shuttle. "I was building movie and custom cars for a private company, and they were after me to build a landspeeder so they could meet girls in it, so I did."
Strever and his friends had a good time showing off the vehicle, but eventually, he put it on eBay, where it was purchased by a science fiction fan.
"He was a big 'Star Trek' fan, and he told me he had helped produce 'Trekkies' (a 1997 documentary about 'Star Trek' fans)," Strever said. "He said he wanted to make another one, and I told him I could build a shuttlecraft, and I did, in 2003, just before I moved from Southern California to Crescent City (Calif.), but I never got to really finish it."
Strever's father was going through cancer treatments, and he moved to the rural community in Northern California to help him through it. He liked the area and never left.
The shuttle also ended up on eBay, where Mervis-Bocskor spotted it and began trailering it up to Burning Man north of Reno as an art car. The playa has been rough on the shuttle, which is how it ended up at Chris Willett's Sin City BMW.
"The playa dust is really fine, and it clogged the filters and just wiped out a lot of the mechanical," Willett said. "We did a new transmission and some steering."
Mervis-Bocskor not only wants to bring it back up to Burning Man, but she and her husband, Leslie Bocskor, want to bring it to the 50th anniversary Star Trek Convention scheduled for Aug. 3-7 at the Rio, 3700 W. Flamingo Road, and they want to drive it there. To do that, they need to make it street-legal.
"It was originally built on the chassis of a Ford Aerostar," Willett said. "Right now, we're completing all of the safety points that have to be done, which have to be current to the chassis. That means seatbelts, airbags, a catalytic converter, headlights, taillights, blinkers, signals, all of that."
Willett's staff already found and installed rearview mirrors and windshield wipers salvaged from a bus that was being converted to be the setting for military training. His shop also builds rat rods for Rockabilly shows and specializes in BMW specialty builds. It has a long waiting list for what Willett calls "Nut and Bolt BMW restorations," but he's confident the shop will have the shuttle ready in time.
"Not all repair shops will work on art cars because it's very time-consuming," Willett said. "For instance, this won't fit on the lift."
Strever still builds unusual vehicles when he has the time and is currently building another landspeeder. He's seen the shuttle twice, and he's pondering heading out to see it again this year.
"That thing has unlimited potential," Strever said. "If the interior was all decked out with lights and electronics, that thing would be in all kinds of magazines."
To reach East Valley View reporter F. Andrew Taylor, email ataylor@viewnews.com or call 702-380-4532.