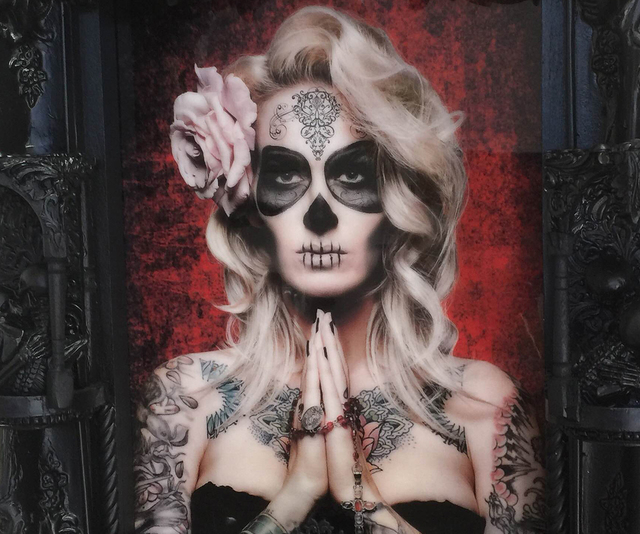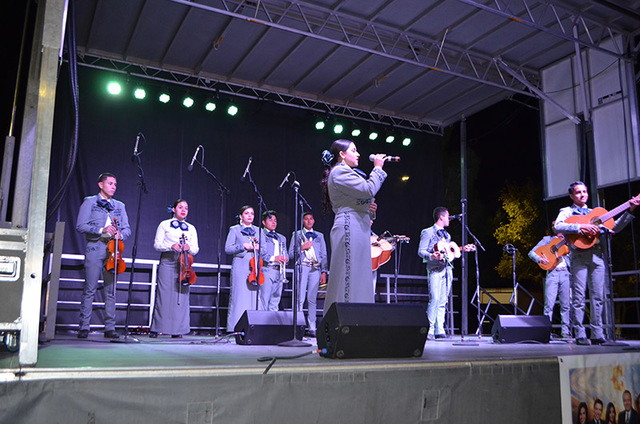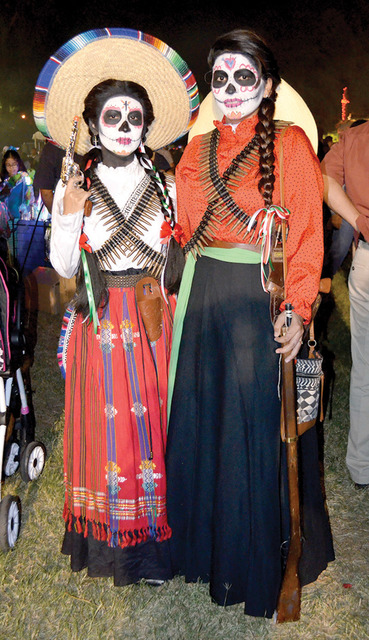 Art aficionados know that October is likely to inspire galleries full of spooky and weird paintings, but several venues in the valley are hosting shows full of art that seems spooky on the surface, but is actually a celebration of life through the embrace of death.
"It isn't meant to be frightening," said artist Lynne Adamson Adrian of Dia de los Muertos, or Day of the Dead. "It's supposed to celebrate the lives of people who are no longer with us and to bring back memories of dead loved ones and people who inspired us."
Adamson Adrian is the co-owner of Wonderland Gallery in The Arts Factory, 107 E. Charleston Blvd., which debuted its own Day of the Dead show during October First Friday.
"The holiday focuses on gatherings of family and friends to pray for and remember friends and family members who have died and help support their spiritual journey," she said.
Dia de los Muertos is celebrated Oct. 31 and Nov. 1 and 2 in Mexico and in many places in the U.S., especially the Southwest. Southern Nevada is no exception, with several galleries featuring Day of the Dead-inspired art, including The Corner Gallery, Jana's RedRoom and several others in The Arts Factory.
The shows at The Arts Factory are set to come down prior to the holiday, so the artists and gallery owners are hoping the pieces will be sold and become beloved additions to many people's celebrations this year.
The Corner Gallery plans to have an installation in the Entry Gallery, a Bone Room with nature-to-art works by Maria von Volborth. The large Middle Gallery is set to have the main Day of the Dead show with works by local artists Bill Bon, Kellie Archuletta and Noe Cova, and California artists Johnnie Dominquez and Gregg Stone.
Visit lasvegascornergallery.com or call 702-501-9219.
Mandy Joy's show in Jana's RedRoom is inspired by and uses some of the imagery of the Day of the Dead, but with more of a focus on the artist's inner journey.
"I had never heard of the Day of the Dead, but someone commissioned me to do a Day of the Dead painting from a photo of a girl that he provided," Joy said. "I was a new artist and didn't know enough to get a deposit up front, and even though he loved the piece, he didn't want to pay the price we'd agreed on in writing. I wouldn't go down on the price and ended up keeping the painting."
Gallery owner Jana Lynch liked the work so much that she encouraged Joy to create a series of paintings using imagery from the Day of the Dead. Last October, the four works hung in Jana's RedRoom. In December, two were stolen from a hallway wall in The Arts Factory, including the original painting that started the series.
"I filed a police report, but they haven't turned up, so this October, I've created another Day of the Dead-inspired show," Joy said. "This one is called 'Revenge of the Dead' that features paintings with the same models with the same face makeup as the works that were stolen, but this time they're in revenge poses."
Visit janasredroom.com or call 702-454-3709.
Adamson Adrian and fellow Wonderland Gallery artist Kat Tatz have been planning their juried show since they opened the gallery in January. They solicited entries exclusively through Facebook and received more than 45. The paintings and sculptures will fill their newly expanded space.
"I just received an entry from Texas this morning," Adamson Adrian said. "We had to jury the show and pick and choose the best pieces. I love the colorful and happy art associated with this holiday."
Visit wonderlandgallery.com or call 702-686-4010.
Wonderland Gallery will also be one of several galleries to have a booth at Springs Preserve, 333 S. Valley View Blvd., during its Dia de Muertos celebration, set from 4 to 9 p.m. Nov. 4-6. While the celebration is set to include an art exhibition, live theater and dance performances, mariachis, face painting and sugar skull decorating, Diana Diaz, public information coordinator for the Springs Preserve, said the main attraction is the "ofrendas," or altars, that are set to be on display and in competition.
"They are created to remember a loved one who has passed away, or sometimes a nonprofit will do it to educate the community about a cause," Diaz said. "We usually get 30 or more altars. They'll be set up all three days of the event, and this year, we're offering nearly $5,000 in prizes."
Advance admission is $8 for adults and $5 for children ages 3 through 12. Admission on the day of the event is $10 for adults and $6 for children. Visit springspreserve.org or call 702-822-7700.
One of the valley's longest-running Day of the Dead celebrations is the Life in Death Festival, set from 5 to 9 p.m. Nov. 1 and 2 at Winchester Cultural Center, 3130 S. McLeod Drive.
"This will be our 16th year of doing the festival, and it is our favorite art show," said cultural specialist Erika Borges. "That's because it brings in work in so many different mediums by artists of so many ages. Anyone and everyone who loves the Day of the Dead and art participates."
Borges said the show receives nearly 100 submissions, and a different judge chooses the best for display each year. This year, it was UNLV professor Emmanuel Ortega.
The work submitted ranges from traditional to modern. One of Borges's favorite pieces was a work done by artist Juan Varella.
"It was all in colored pencil, and it told the history of the Day of the Dead festival through art," Borges said. "It featured Jose Guadalupe Posada, the main person who started Day of the Dead art."
Posada was a political cartoonist and artist active in the latter part of the 19th century who used well-dressed skeletons in his work. It was originally a tool to drive home the satirical point, but it has since become associated with Dia de Muertos.
The festival is also set to feature ofrendas, crafts, food and demonstrations. Performances are set to include traditional Mexican folkloric dance performances and readings of "calaveras," or skulls, which are satirical poems written to commemorate people still alive.
The Day of the Dead Juried Exhibition is set to be on display from 10 a.m. to 8 p.m. Tuesdays through Fridays and 9 a.m. to 6 p.m. Saturdays, Oct. 25 through Nov. 10. The gallery is set to remain open until 9 p.m. during the festival, Nov. 1 and 2.
Submissions are set to be accepted from 10 a.m. to 8 p.m Oct. 21 and 9 a.m. to 6 p.m. Oct. 22 at Winchester Cultural Center. The center is accepting applications for ofrendas through Oct. 21.
Visit tinyurl.com/lidf2016 or call 702-455-7340.
To reach East Valley View reporter F. Andrew Taylor, email ataylor@viewnews.com or call 702-380-4532.