Life is Beautiful festivalgoers invited to check in for creativity at Art Motel
September 18, 2015 - 1:22 pm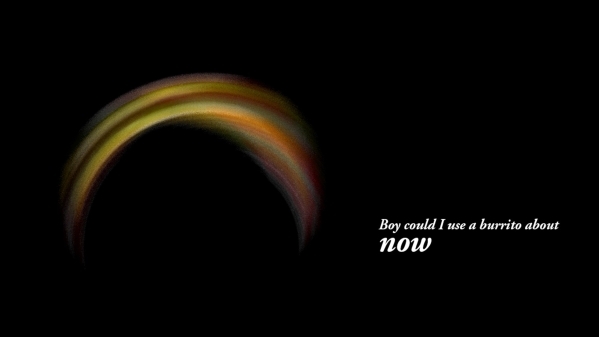 While thousands of people will be heading into the Life Is Beautiful festival Sept. 25-27 to see musical acts such as Stevie Wonder, Imagine Dragons, Duran Duran and Night Terrors of 1927, some will be there to see the art, including live painting, murals and the Art Motel, featuring a mix of international and local artists transforming dilapidated motel rooms into temporary art spaces.
The Town Lodge Motel at 225 N. Seventh St. has seen better days, but with a little elbow grease and some imagination, artists such as Jim Briare hope to make it a destination for inspiration.
"I'm doing an expansion of the piece I did last year," Briare said. "I came up with a process that converts tweets into abstract digital art. I'll be displaying it in my space with a projector."
Briare has a multi-step process to create his work. It begins with a mechanical translation of the tweet to a visual element. For example, an "A" might be represented by the color blue, a "B" by orange, a "C" by yellow, and so on.
"It gets much more complicated than that because I'm not limited to colors," Briare said. "I can also convert it to things other than solid colors. After that, it looks a bit like a checkerboard."
The next step is more intuitive and brings the human hand and mind further into the process. He ponders the basic work and alters it based on the emotional and environmental content of the message. He considers showing the work and sharing it with the public to be the third phase, an integral part of the process.
"I'll be working on pieces live during Life Is Beautiful," he said."I can snag anything tagged with jimbriareart or lifeisbeautiful and put it through the process, make it into a work of art, project it, and I can also retweet it."
When he did a similar show last year, he was delighted to discover that some people began to craft their tweets to try to manipulate the finished work, typing recurring patterns and working with what they could sort out to create an image with the artist.
"They were collaborating with me in a way," Briare said. "It was very exciting."
Longtime local art fixture Anthony Bondi will be displaying work at the Art Motel, too. He said his work will be both traditional and innovative.
"I've got the walls and the floor to work with," Bondi said. "I'll hang visual art on the walls of images that I feel are appropriate for the environment. On the floor, I'll have sculpture."
Where Briare's work will be interactive but primarily visual, Bondi's main piece will be a work called "The Iron Curtain," which he has been crafting for years that does not consider the visual element. The work is made up of about a mile of ball chain, the lightweight chain used for things such as the on-off switch for a light bulb or a keychain.
"It's a corridor, an immersion space," Bondi said. "It's designed to be walked through. The aesthetic experience is tactile rather than visual. What it looks like is of no consequence in terms of the experience of the piece."
Bondi was one of the early Burning Man participants, and "The Iron Curtain" was originally presented there.
"I'm not suggesting a contemplative experience in a festival environment," Bondi said. "I want people to take the enthusiasm they have at a short-term event and play with it."
For more information about the Art Motel, visit lifeisbeautiful.com/art.
— To reach East Valley View reporter F. Andrew Taylor, email ataylor@viewnews.com or call 702-380-4532.
The Art Motel
The Art Motel is set to feature a mix of international and local artists transforming dilapidated motel rooms into temporary art spaces at The Town Lodge Motel at 225 N. Seventh St. during the Life is Beautiful festival Sept. 25-27 in downtown Las Vegas.
Visit
lifeisbeautiful.com/art
.