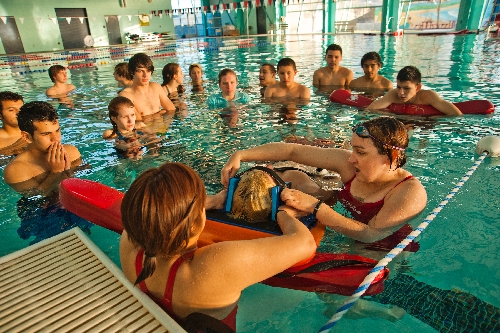 Summertime is soon approaching, which means extreme heat and trips to the pool. That's where dozens of lifeguards trained through the American Red Cross of Southern Nevada come into the picture.
The city of Las Vegas is offering lifeguard certification classes through May for participants 15 or older at its municipal pool, 431 E. Bonanza Road, and the Pavilion Center Pool, 101 S. Pavilion Center Drive .
Tammy Hawkins, aquatics coordinator with the city of Las Vegas, said that from January to May, up to 200 lifeguards will be certified through the course, and almost half of them will be employed at city pools.
"After (participants) are certified, they can go anywhere across the nation," Hawkins said. "The city of Las Vegas employs about 80 guards each summer season, and 40 of those stay year-round."
The course, which costs $90 and runs for about two weeks, provides two-year lifeguard, first aid and CPR/AED training. Hawkins said some prerequisites are required, such as swimming skills tests and ways of demonstrating physical ability.
Some participants choose to further their training by obtaining certification in water-safety instruction, which opens doors to opportunities for teaching children's swim lessons.
Byron Vison, 16, is taking one of the city's lifeguard training courses. Vison said he decided to enroll in the course after an episode a few years ago .
"I've wanted to be a lifeguard since I was 10 because I've been around pools all my life," Vison said. "A few years ago, my sister fell in the pool, and I saved her life. That's what made me want to take the course."
Vison said he hopes to land a job as a lifeguard at Mandalay Bay or Planet Hollywood and is interested in teaching a certification class in the future. The course, he said, has been intense, motivating and a learning experience, beginning with the first day in which prerequisite tests were taken.
"We ended up with 14 (of 20) people after the first day," Vison said. "On the first day, you had to know how to tread water for two minutes, swim a 300 and swim to the bottom of the deepest end of the pool, grab a 10- pound weight and swim to the other side in less than a minute and 40 seconds."
The remainder of the course, he said, focuses on recognizing and preventing accidents, assessing people when assistance is needed and CPR training. Vison said taking the course through the city is an ideal way to obtain American Red Cross lifeguard certification.
"These instructors are teaching me the right way to do things," Vison said. "The teachers … know your strengths and weaknesses and help you get a job that's right for you."
The city isn't the only entity offering American Red Cross training for potential lifeguards. Courses are offered in Henderson, North Las Vegas, Boulder City and Clark County.
Hawkins said the course is designed to encourage teenagers and young adults to learn proper safety techniques and to provide training for employment that makes a difference in the community.
"It's a great opportunity for anyone that wants a job and can use these valuable skills," Hawkins said. "Being a lifeguard can enhance the life of a child."
For more information on the city's American Red Cross lifeguard training courses, call 229-6309 or visit tinyurl.com/lifeguardcourse.
For information on courses in other areas of the valley, contact the Southern Nevada Chapter of the American Red Cross at 791-3311 or visit tinyurl.com/arclifeguard.
Contact Paradise/Downtown View reporter Lisa Carter at lcarter@viewnews.com or 383-4686.