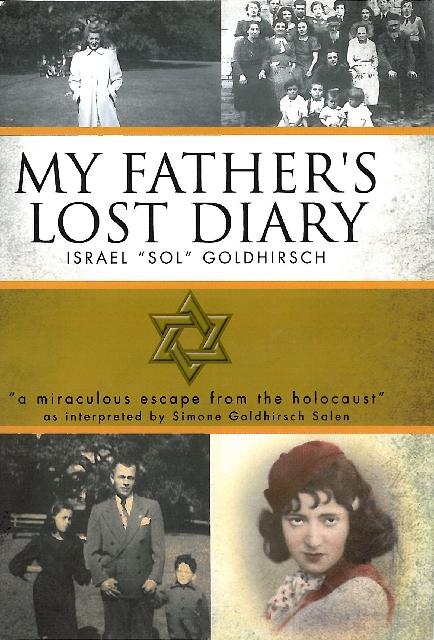 Las Vegas resident Simone Salen remembered her father, Israel "Sol" Goldhirsch, reading from his diary when she was a child. He had carefully recorded his arrest by the Gestapo and his family's escape from Vienna to the Netherlands in 1938 and then to England in 1939. Salen's mother was four months pregnant with Salen when the Nazis began taking over Austria. Her father talked about one day finishing the book, but he died at 39, and soon after, the diary was taken by an intruder along with many personal family treasures. In 2012, the diary resurfaced, and Salen was finally able to read her family's story. She shares the tale in the book "My Father's Lost Diary: A Personal Account of the Jewish Holocaust in Europe (1937–1942)." Salen is scheduled to sign copies of the book at 7 p.m. Saturday at the 2191 N. Rainbow Blvd. Barnes & Noble. For more on the book, visit simonesalen.com.
Excerpt from 'My Father's Lost Diary'
My dear wife is expecting a baby any day.
This is the reason why I couldn't even think of illegally crossing any border as many others successfully did. But many were sent back to the German border from Belgium to the Netherlands, for example. From there, all of them were sent to Dachau into the camp. I would have also risked this, but how could I leave my dear wife?
On May 3, 1938, I received a letter from the Luziner hospital that said that because my wife is Jewish, they regret not allowing her to deliver the baby in the hospital. I made a remark that I had made a reservation in the hospital for a bed four weeks ago and that I had also paid for it. I never got the money back. I hardly had any money left in the house. My warehouse was taken away from me. I had beautiful new furniture, which I sold piece by piece to the neighbors who paid well out of pity. I got into contact with Dr. Spitzer, a good pediatrician. He was fired from the hospital, as were all the other Jewish doctors. That's why he had time for me. I also hired a midwife.
My dear wife brought a daughter into the world. Another Jew who will suffer. Daily, hundreds of Jews are murdered, and others are born anew for the executioner.