Mint Indian Bistro packs plenty of flavor into Las Vegas lunch buffet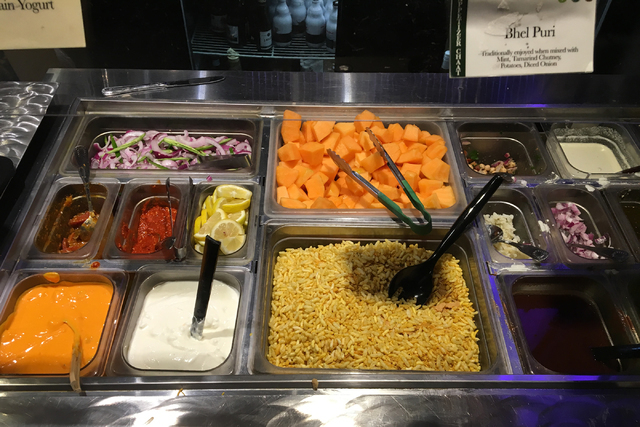 Since 2008, Mint Indian Bistro, 730 E. Flamingo Road, Suite 10, has brought heat, spice and everything nice to the Las Vegas Valley.
With a food mantra that stresses simple, fresh, flavorful and colorful foods that appeal to all senses, its menu is sure to attract customers from all walks of life — whether spiritual, religious or atheist.
The restaurant includes a wide selection of gluten-free, vegetarian and vegan-friendly dishes, while also catering to omnivore patrons. Most recipes come from Southeast Asia and can be custom-built to fit a particular taste.
The daily lunch buffet is from 11 a.m. to 4 p.m. and costs $12.99. Children 3 or younger eat free, and children between 4 and 7 eat for $8.99.
The buffet serves a mixture of foods starting with the mixed vegetable pakoda, which is spiced perfectly without being overwhelmingly hot. Salad options include the mixed green salad with house dressing and the chana or garbanzo bean chaat.
Even on a hot summer day, the soup options seem attractive with an even more spiced version of tomato soup and sambhar (spicy lentil) soup, which goes perfectly with the complimentary roti (vegan) or garlic or plain naan given upon arrival.
Appetizers include warm and crispy potato wedges, idli (a savory rice and lentil cake known as a South Indian specialty) and bhel puri (a type of snack made of puffed rice).
Entrees include the vegetable chow chow (noodles and vegetables), and masala and balsamic rice.
While the names may not sound familiar, the dishes are well-known in the Western world. There's dal tadka, made of cooked lentils with spices and herbs, and baingan bartha, potatoes and cauliflower, chana chole or mix vegetable curry.
Make sure to leave room for dessert (which is harder than it sounds). The buffet typically offers khir (rice pudding) or mango custard, and cantaloupe, honeydew, oranges and watermelon.
Dinner starts at 4 p.m. and includes a variety of curries, samosas, baked breads, rice and noodles, averaging about $12 per dish.
Those looking for a summer kick are challenged to the restaurant's Inferno Curry, made with the world's hottest chilies. Dishes include fresh veggies ($17.99), chicken thigh ($18.99), and boneless lamb ($19.99). It has defeated more than 1,700 guests since 2008. A liability waiver is required for this challenge, which earns those victorious a photo on the Wall of Flame, as well as a $50 Mint Indian Bistro gift card.
The restaurant also includes an extensive alcoholic drink selection with stouts, brown, pale and light ales and premium lager beers from around the world. The spirits menu features some exclusive and best selections of vodkas, rums and gins.
Mint Indian Bistro is open from 11 a.m. to 11:30 p.m. daily. Call 702-894-9334 or visit mintbistro.com.
Mint Indian Bistro
Address: 730 E. Flamingo Road, Suite 10
Hours: 11 a.m. to 11:30 p.m. daily
Call 702-894-9334 or visit mintbistro.com.