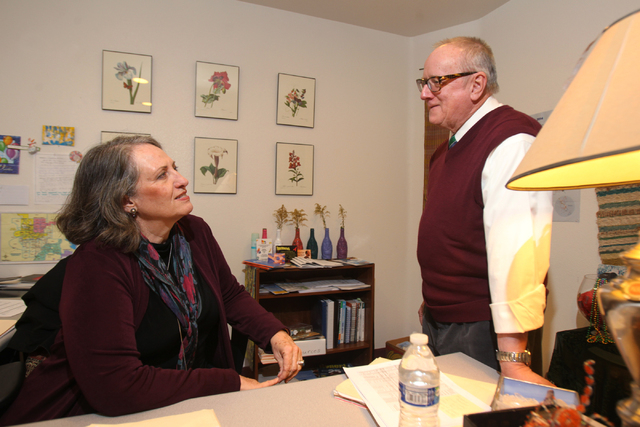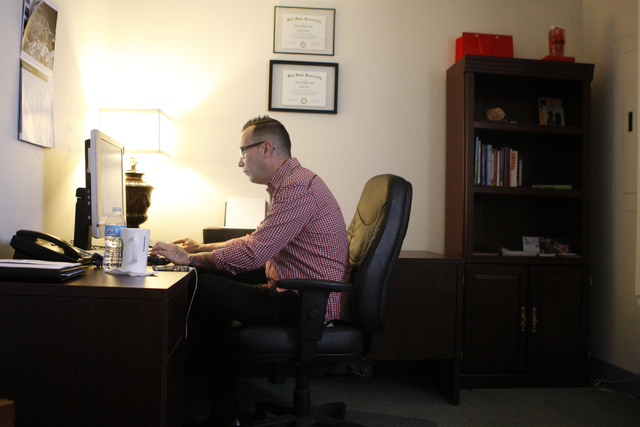 In 1887, a young reporter was driven to the insane asylum by her lackluster writing assignments.
Her publisher demanded her release 10 days later, and Nellie Bly entered the annals of undercover and advocate journalism. A local charity hopes Bly's exploits inspire a new generation of philanthropists.
"She was a journalist and feminist who was regularly relegated to the back pages of the paper, covering flower shows and that sort of thing," said Ronald Lawrence, executive director of the Community Counseling Center of Southern Nevada. "She went undercover, pretending to be insane. She wrote her story, Ten Days in a Mad-House, and what followed was a public outcry and a slew of new laws to protect the mentally ill."
The society is aimed at bolstering mental health services in Southern Nevada, particularly for underserved and at-risk residents.
Terry Guesman, development director for the center, cited her willingness to sacrifice her health, freedom and well-being to help people she might never know. It makes her the perfect symbol for the charity's drive, aimed at drawing new interest and raising funds to bolster mental health services, Guesman said.
"We think she's a figure from American history that is the perfect embodiment of the kind of philanthropist that we want to get involved with at the Community Counseling Center," Guesman said. "That's the idea behind the Nellie Bly Leadership Society. We want to mobilize the community and get those with a giving capacity involved."
Guesman said a growing demand for local mental health services has created major issues with wait lists in Southern Nevada, and as a result, individuals who need the help are being left untreated.
The charity's staff includes three dozen masters-level mental health counselors and a team of psychiatrists, but the demand is outstripping the resources.
"No one wants to hear about the beloved comedian who kills himself," Guesman said. "No one wants to hear about another violent rampage. No one wants to hear statistics about veteran suicide. The cost of not doing anything about mental health is too high."
Lawrence founded the center in 1990 following the massive cuts in federal funds to mental health services and the end of the federal government's direct role in providing such services. He was a counselor at a local mental health nonprofit, and word got out that he was willing to take on patients dying of HIV-AIDS.
"He was perhaps the only one in town taking those clients on," Guesman said. "The director of that nonprofit said the HIV patients with their lesions and their weakness and wheelchairs were making the 'normal' clients uncomfortable. He asked Ron to wean them off of his services. Of course, he didn't. He created the Community Counseling Center. We're going to reach our 25th anniversary this year, and we're the largest nonprofit provider of mental health services in Las Vegas."
The charity has grown in size and scope over the last 25 years. It helps people with mental illnesses and substance abuse issues. It also deals with the complicated challenge of individuals with both. Many of the clients require long-term interaction — the sort of thing that isn't going to happen in an emergency room or over-burdened clinic.
"We have discovered by studying our population of folks that are seriously mentally ill that 75 percent of them have undiagnosed post-traumatic stress," Guesman said. "That's not going to come out in one interview. If we send that person back into the community without treating that PTS, they're only going to recycle back into the system."
Lawrence is a believer in psychotherapy and frequently fields questions from people who doubt the effectiveness of the practice or don't understand how it works.
"It' kind of like when someone has a stroke and they lose their ability to walk," he said. "Through help and physical therapy, they learn how to walk again. Because the brain has a quality known as plasticity, new ideas make a difference, and different parts of the brain can take over. One of the things that we know is that when someone's had an effective dose of psychotherapy, they keep getting better, even when the psychotherapy is over. They're going away with new ideas, new coping skills. To me, psychotherapy is the magic bullet."
The charity is also concerned with removing the stigma of mental health issues. Often, clients have failed on several levels of societal interaction. Many have lost jobs, homes and have been separated from their families by mental health or substance abuse issues. Lawrence and his staff strive to bring these things back to restore what clients have lost.
"Broken arms can be fixed, and broken minds can be fixed, as well," Lawrence said. "Mental health is the key to human functionality, and we're happy to be able to offer the community that service."
Guesman hopes the center helps stem the tide of many of society's woes, including homelessness, suicide and violence.
"The United States spends over $300 billion a year on mental health, and the majority of those costs come from untreated mental illness," he said. "We are in a position to effect change if the community mobilizes. We need men and women of action. That's what the Nellie Bly Leadership Society is all about."
For more information on the society, visit the counseling center's website at tinyurl.com/nbcccsn.
Contact East Valley View reporter F. Andrew Taylor at ataylor@viewnews.com or 702-380-4532.